FCBD13 Interview: Chris Roberson Discusses The Strangers
Feb 07, 2013
Chris Roberson explains the swingin' sixties, supernatural spies, and a world without comics (oh no!) in this freecomicbookday.com exclusive interview.
---
FCBD: For those who might be new to your comic book, give a quick rundown. What can we expect to see in terms of story and art?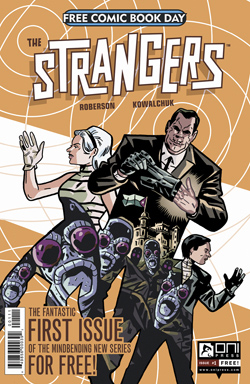 Roberson: THE STRANGERS = Swinging Sixties supernatural superspies! How's that for alliteration?

FCBD: What has been your favorite part of book or character to tackle?

Roberson: This will be the first STRANGERS story that anyone sees, and much of the fun so far has been collaborating with Scott Kowalchuk, figuring out just who our characters are and what kind of world they inhabit. And now we get to EXPLORE that world!

FCBD: Tell FCBD fans why they should pick your book first on Free Comic Book Day!

Roberson: The swinging sixties. Occult organizations gent on world domination. And three people touched by the strange and made even stranger.

FCBD: What other titles would you associated with your FCBD book? "If a comic reader likes _______ , they should pick up my title"?

Roberson: I'm tempted to say SIXTH GUN, not because our two books are similar in terms of tone or style, but because I think that Cullen Bunn and Brian Hurtt approach the western genre in much the same way that Scott Kowalchuk and I are approaching superspies: with a deep respect and love for what's been done before, but with the desire to find something new to do with the genre.

FCBD: What's your favorite part about working in comics?

Roberson: Seeing my humble words brought to glorious life under the skilled hands of artists and colorists.

FCBD: Many newcomers will pick up comics for the first time on FCBD—what was the first comic you remember reading?

Roberson: I honestly don't have any memory of my first comic. I don't remember a time when I WASN'T reading comics.

FCBD: Where will you be for this year's FCBD? Do you have any annual FCBD traditions?

Roberson: Not sure yet where I'll be on FCBD itself. But my only annual FCBD is to get in line with my wife and daughter at the nearest shop and get a big stack of great free comics to read!

FCBD: Looking to the future of the book, is there anything you can tease about what's upcoming?

Roberson: If readers enjoy the little glimpse that we get into the world of the Strangers with this first issue, they should know that this is only the tip of the iceberg. In coming issues, we'll be learning a LOT more about our heroes and the world they fight to protect.

FCBD: Tell us why everyone should read comic books?

Roberson: Because a life without comics is a life only half-lived.