Free Comic Book Day Sales, Treasure Hunt, and CGC signing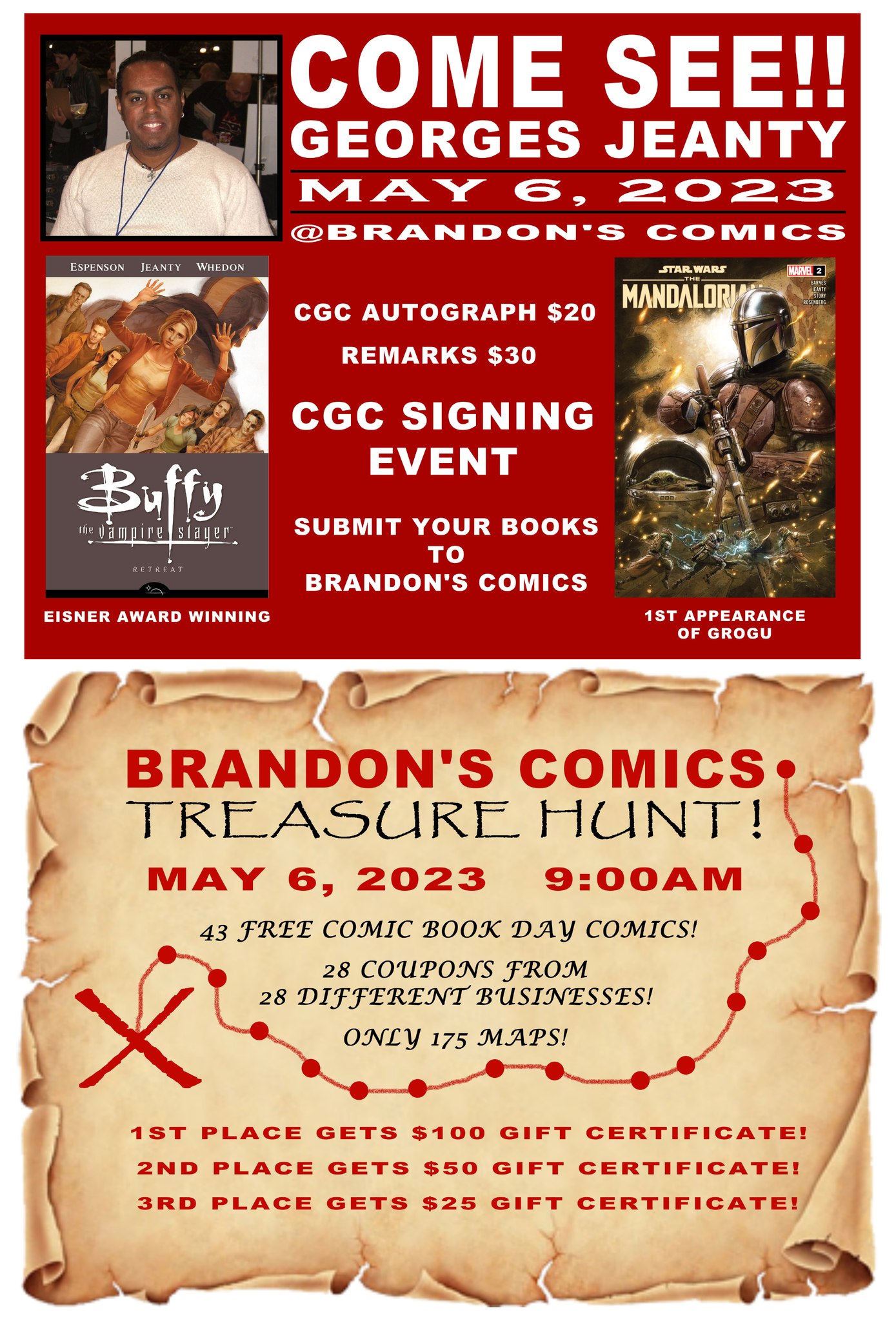 Saturday, May 6, 2023
9:00 AM - 4:00 PM
Do You Want All 45 Free Comic Book Day Comics?
and 33 coupons to 33 different businesses for free? Start out at Brandon's Comics for our insane sale. Pick up your first 12 free comics from us. Then go on the treasure hunt. It's 1 copy per map. 1 map per household. If you're a family of 10 you get 1 map. I included 2 other comic book stores in the Map in case your adult/child kids wanted the same comics. 1st place to complete the map gets a $100 gift certificate to my store. 2nd gets a $75 3rd gets a $50. 1 winner per household.
We only have 175 maps.
Go to Brandonscomics.com and sign up to be a member and order yourself a treasure map. They are completely free. It's listed at $1 because the computer won't let us do a free button. You will get an email conformation once this process is complete.

Georges Jeanty of the Mandalorian will be here. I have over 80 sets left of 1-8! Did you know that the Mandalorian is almost identical to the T.V. show? Meaning that issue #....
#1 1st appearance of Din Djarin
#2 1st full Grogu
#3 1st Paz Vizsla ??
#4 1st Cara Dune
#5 1st Fennec Shand
#6 1st Burg, Jib Dodger, Migs Mayfeld (Bill Burr), Xi'an, Carson Teva, and Trapper Wolf.
#7 1st Moff Gideon ( Giancarlo Esposito)


If you have your own CGC account you can put it on yours if you don't you can put it on mine. Our facilitating fee is $20 an autograph or remark, plus shipping on the books. If you have any questions feel free to come down to the store or call us (480)838-0467.


THE NEXT DAY we are doing a CGC signing with Darick Robertson from my favorite tv show THE BOYS from 1pm-3pm. I have a ton of The Boys Dynamite reprints of #1 (Hughie, Billy Butcher, and A-Train and #3 (1st appearance of the 7) and almost full runs of the original series. Stop in and drop off your books for these signings.


We are also going to be having an insane sale on bags and boards and toploaders that starts now and ends May 7th. Stop in and see us! 1833 E. Southern Ave 85282 right next to Bosa doughnuts!