Which FCBD Title is Best for You?
Apr 13, 2023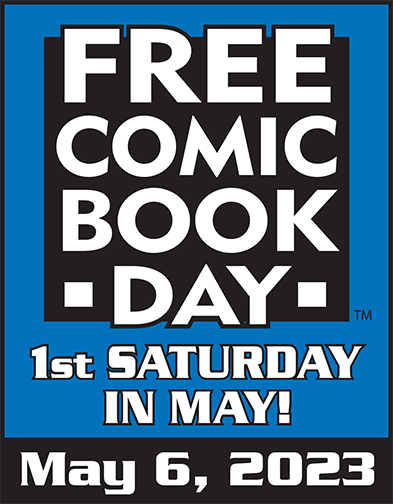 Free Comic Book Day is coming up fast, and we want to make sure everyone gets a comic book that is right for them! We use a color-coded logo system to make it easy to identify the age rating of each title on event day. On the front cover of each book, there is a color-coded Free Comic Book Day logo that corresponds to the books age rating. Make sure you take note of the logo on the front to better understand what kind of content to expect in the pages of the comic!

GREEN: All Ages/ Everyone
Appropriate for children, teens, and adults.

BLUE: Teen(+)
Appropriate for teens and readers 13+

RED: Mature
Appropriate for mature audiences or 18+ only
All Ages
| | |
| --- | --- |
| Publisher | Title |
| Arcana Comics | Kotto Kotorra |
| BOOM! Studios | Ranger Academy |
| BOOM! Studios | Mech Cadets |
| Dark Horse Comics | Star Wars/ Avatar: The Last Airbender |
| Dial Books | Mexikid |
| Dynamite Entertainment | Madballs vs. Garbage Pail Kids |
| First Second Books | InvestiGators: All Tide Up |
| Gemstone Publishing | The Overstreet Guide to Collecting Comics |
| Graphix/ Scholastic | Dog Man and the League of Misfits |
| Graphix/ Scholastic | Babysitter's Little Sister: Karen's Haircut |
| IDW Publishing | Teenage Mutant Ninja Turtles |
| Marvel | Spidey and His Amazing Friends #1 |
| Oni Press | Punch Up! Preview |
| Papercutz | Smurfs 65th Anniversary Special |
| Random House Children's Books | Sweet Valley Twins: Teacher's Pet |
| Rebellion Publishing | 2000 AD Regened Presents: The Best Comic Ever! |
| Ten Speed Press | I Am Stan |
| TOKYOPOP | The Nightmare Before Christmas: The Battle for Pumpkin King |
| Viking Books | The Last Comics on Earth |
| VIZ Media | Animal Crossing/ Kirby Manga Mania |
Teen
| | |
| --- | --- |
| Publisher | Title |
| ABLAZE | Animal Castle |
| AfterShock Comics | Seismic Stories |
| American Mythology | Tom Holland's Fright Night |
| Archie Comics | Archie Horror Presents: The Cursed Library |
| Dynamite Entertainment | Red Sonja: She-Devil with a Sword #0 |
| Fantagraphics Books | Fabulous Furry Freak Brothers |
| IDW Publishing | Star Trek |
| Image Comics | The Sacrificers #1 |
| Kodansha | Shaman King Flowers & Welcome to Demon School |
| Lev Gleason/ Comichouse | Crimebuster Season 1, Issue 1 |
| Marvel | Amazing Spider-Man/ Venom |
| Marvel | Avengers/ X-Men |
| Marvel | Marvel Voices #1 |
| Titan Comics | Runescape: Untold Tales of the God Wars |
| UDON Entertainment | Street Fighter 6 #0 |
| Valiant Entertainment | Shadowman Dark Legacy |
| VIZ Media | Choujin X/ Rooster Fighter |
Mature
| | |
| --- | --- |
| Publisher | Title |
| Dark Horse Comics | Umbrella Academy/ The Witcher |
| Image Comics | FishFlies #1 Preview Edition |
| Opus Comics | FrazettaVerse #0 |
| Titan Comics | Conan the Barbarian |
| Vault Comics | West of Sundown |