FCBD23 Interview: InvestiGators All Tied Up Sneak Peek
Mar 16, 2023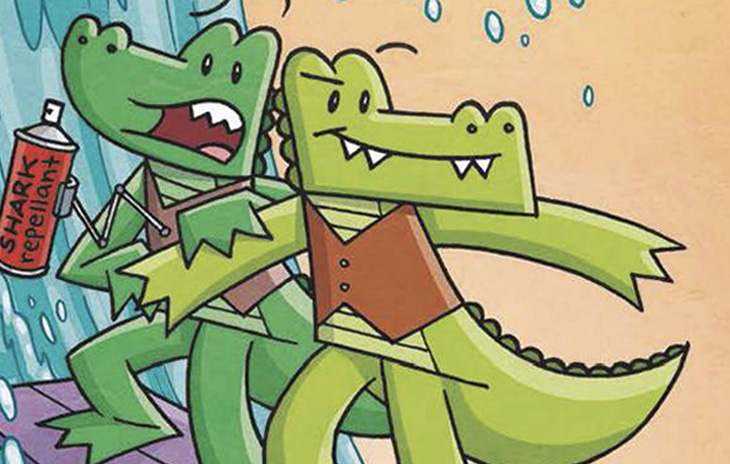 Get a sneak peek at book 7 in the bestselling InvestiGators series! When a cruise captain is found drifting at sea, super-sleuths Mango and Brash begin the search for his missing ship and passengers! Did it sink? Was it boat-napped? Are supernatural forces at play? And can the InvestiGators unravel this maritime mystery before a second cruise befalls a similarly unfathomable fate?
We caught up with series writer John Patrick Green to learn more about what inspired the extraordinary characters, what we can expect from their upcoming titles, AND to rifle through some really fun rapid fire questions!
Check out the full interview below and be sure to head to your local comic shop on Saturday, May 6 to celebrate FCBD in all it's glory! To find a participating comic shop near you, use our FCBD Store Locator.
---
Free Comic Book Day (FCBD): Set up your title for those that might be new to your comic book: What will new readers need to know before diving into your Free Comic Book Day issue?
John Patrick Green: This FCBD issue is a preview of InvestiGators: All Tide Up. All you really need to know is that the series is about two alligators, Mango and Brash, who wear vests and solves crimes. That's what makes them InvestiGators!
FCBD: What are some of the core themes present in your book? What do you hope readers take away from your title?
John: This book mostly focuses on being selfish versus treating others right and fairly. But hopefully readers at least enjoy the silly antics and jokes!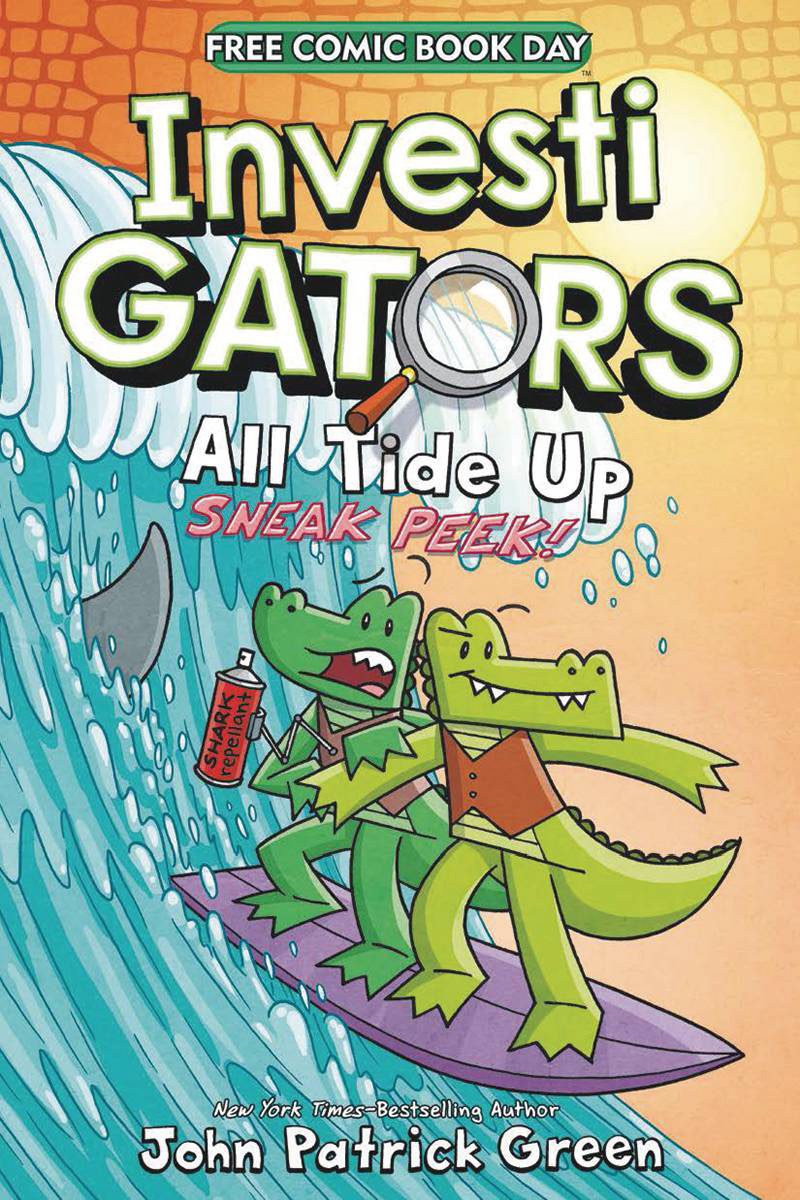 FCBD: What part of the book was most fun to write?
John: There are pirates in this book, so those were very fun to write (all the pirate lingo) and had really cool costumes to draw. Putting Mango and Brash in pirate disguises was a blast.
FCBD: Can you share some of the inspiration behind certain characters, settings, etc.?
John: Classic pirate stories were the biggest inspiration. Plus, a certain dangerous slide from Action Park.
FCBD: If you could meet your characters, what would you say to them?
John: Probably that they need to focus and not get distracted so easily!
FCBD:Looking to the future, is there anything you can tease about what's coming up for the title and its characters?
John: There are always new adventures, mysteries, and crimes to solve on the horizon for Mango and Brash. You never know when they'll next turn up on an undercover assignment!
FCBD: Many newcomers will pick up comics for the first time on FCBD – what was the first comic you remember reading?
John: I believe the first comic book I ever read was either a Spider-Man or a G.I.Joe. But the first one I ever bought with my own money was issue 2 of the Gargoyle miniseries by Marvel.
FCBD: What is your favorite part about working in the comic book industry?
John: Getting to hear from readers who enjoy my work. That's really what makes it all worth it!
FCBD: Tell us why everyone should read comic books!
John: Comic books are my favorite way of telling stories, because they combine pictures and words in a way that enhances and elevates the experience. So that's why I read them, and I think other people will enjoy them as well.
FCBD: Now, we have a series of rapid-fire questions for you! They're, ya know, mostly related to comics... Answer as quickly as you can and try not to over think it!
Do you listen to music while you're creating?
John: No, but I usually have the TV on with some familiar show or movie
What's your favorite comic book genre?
John: Probably humor? I like a lot of stuff, but that might be what I gravitate to the most.
Are you more productive in the morning or at night?
John: Both! Really it's just whenever the mood strikes me.
Do you think you could survive in a zombie apocalypse?
John: Nah, once my asthma inhaler runs out, I'm done for.
Would you rather be invisible or have the ability to fly?
John: Probably invisibility? Flying seems cool, but also seems exhausting!
If you were a comic book character, would you rather be the hero or the villain?
John: Hero. Villains are losers! :P
What's your favorite comic book or graphic novel?
John: Aw man, I don't really have a favorite! My tastes change a lot over time. But one I will always remember having a big impact on me as a kid was Garfield: His Nine Lives. It had different Garfield stories by different writers and artists and it showed me that with comics there are pretty limitless possibilities for telling all sorts of adventures with familiar characters, and they can be put in different genres and art styles.
{FULLDETAIL-DEC220020}