FCBD22 Interview: Clementine
Apr 27, 2022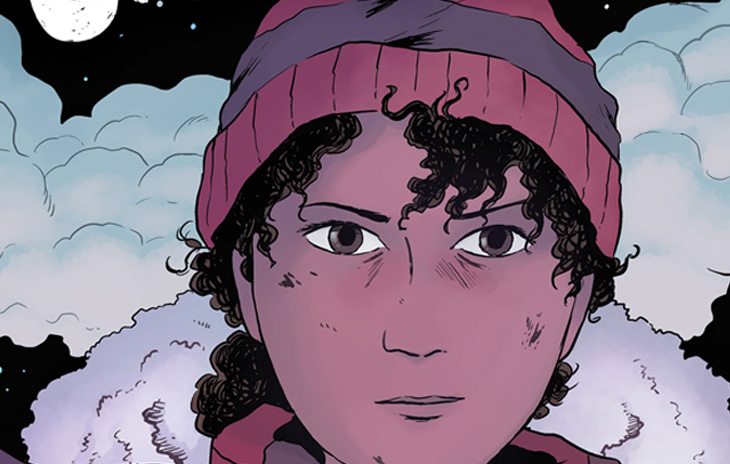 It's a new beginning for Clementine, the star of the bestselling video game franchise Telltale's The Walking Dead, in Clementine Book One, as she's back on the road, looking to put her traumatic past behind her and forge a new path all her own. But when she comes across an Amish teenager named Amos, the unlikely pair journeys north to an abandoned ski resort in Vermont, where they meet up with a small group of teenagers attempting to build a new, walker-free settlement. As friendship, rivalry, and romance begin to blossom amongst the group, the harsh winter soon reveals that the biggest threat to their survival…might be each other.
We caught up with the series writer Tillie Walden to learn more about what inspired their extraordinary characters, what to expect next in the series, AND to rifle through some really fun rapid fire questions!
Check out the full interview below and be sure to head to your local comic shop on Saturday, May 7 to celebrate FCBD in all it's glory! To find a participating comic shop near you, use our FCBD Store Locator.
---
Free Comic Book Day (FCBD): Set up your title for those that might be new to your comic book: What will new readers need to know before diving into your Free Comic Book Day issue?
Tillie Walden : Well, you may be familiar with The Walking Dead universe, you may also be familiar with a video game character named Clementine. If not, don't worry. This is story for anyone that likes adventure! It's about Clementine, a teenage girl in the zombie apocalypse trying to find her place in the world, and within herself.
FCBD: What are some of the core themes present in your book? What do you hope readers take away from your title?
Tillie: I think one of the core themes is about the challenge of growing up. I think being a teenager is really hard, regardless of whether or not there are zombies around. If anything, the zombies help make the pain she feels more clear. Growing up and discovering who you are can be a beautiful and violent process. I hope readers enjoy the story, and that it leaves them wanting more, because it's a trilogy!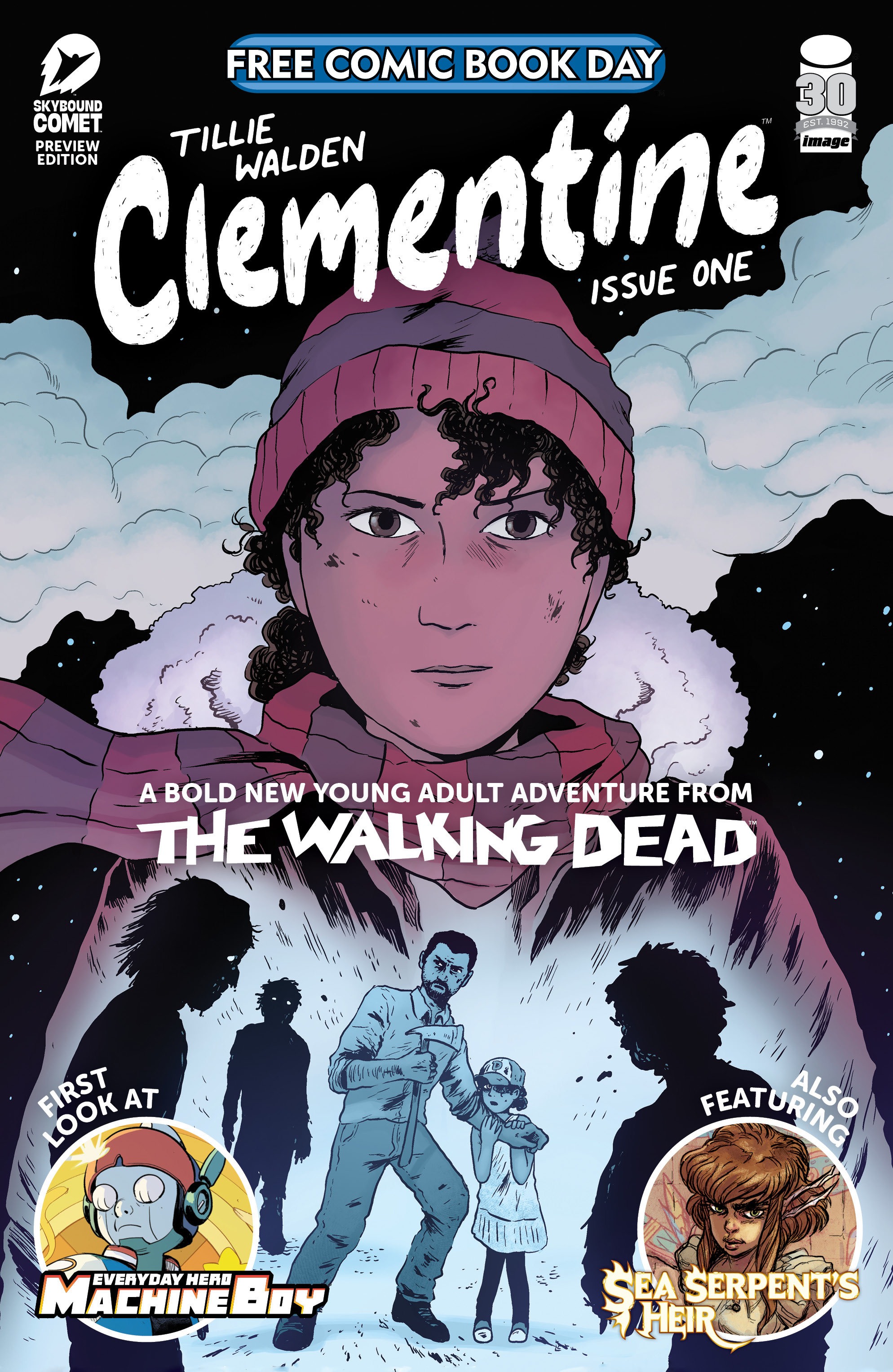 FCBD: What part of the book was most fun to write/draw?
Tillie: It was really fun drawing these characters trying to live on a mountain in Vermont in the middle of winter. I had to draw a LOT of snow, a lot of bluster. It was a delight!
FCBD: Can you share some of the inspiration behind certain characters, settings, etc.?
Tillie: I've always wondered how the Amish would fare in a zombie apocalypse, and in general, I wonder how communities that mostly live apart from modern society would experience the disintegration of society. So that was the inspiration for the character Amos, and his community that is built around the rubble of Penn State. Other than that, I live in Vermont, not far from Killington Mountain, so it felt like a natural setting for the book.
FCBD: If you could meet your characters, what would you say to them?
Tillie: Oh my god, I would say, you want some dinner? Let me cook some pasta for you, also, please use my shower and take as long as you need.
FCBD: Looking to the future, is there anything you can tease about what's coming up for the title and its characters?
Tillie: Hmm… no one is ever really safe in a zombie apocalypse, are they?
FCBD: Let's pivot a little bit here to talk about your personal experience with comics. Many newcomers will pick up comics for the first time on FCBD – what was the first comic you remember reading?
Tillie: Oh wow, good question. I remember reading Buddha by Osamu Tezuka at a very young age and being totally smitten. The black and white art, the serious tone paired with goofy moments… also it made me a Buddhist for a year or two.
FCBD: What is your favorite part about working in the comic book industry?
Tillie: That I can work from literally anywhere. My wife and I live in Vermont in the woods, with no cell reception. And yet, I can be a full-time cartoonist from right here! It's lovely.
FCBD: Tell us why everyone should read comic books!
Tillie: Because they're so much fun, art is great, and words are great, so why not enjoy them together? Comics brings the best from other mediums together!
FCBD: Now, we have a series of rapid-fire questions for you! They're, ya know, mostly related to comics... Answer as quickly as you can and try not to over think it!

Do you listen to music while you're creating?
Tillie: Only sometimes, I'm more of a 'watch tv while I draw' kind of gal
What's your favorite comic book genre?
Tillie: Is gay a genre?
Are you more productive in the morning or at night?
Tillie: MORNING
Do you think you could survive in a zombie apocalypse?
Tillie:I think I could survive for just long enough to pass on important skills to my family, then it's up to them.
Would you rather be invisible or have the ability to fly?
Tillie: Who on earth would pick invisible? Obviously flight. I could fly down my driveway to get the mail, how cool is that.
If you were a comic book character, would you rather be the hero or the villain?
Tillie: Villain. Not enough lesbian villains out there.
What's your favorite comic book or graphic novel?
Tillie: Sunny by Taiyo Matsumoto!
IMAGE COMICS BUY-SELL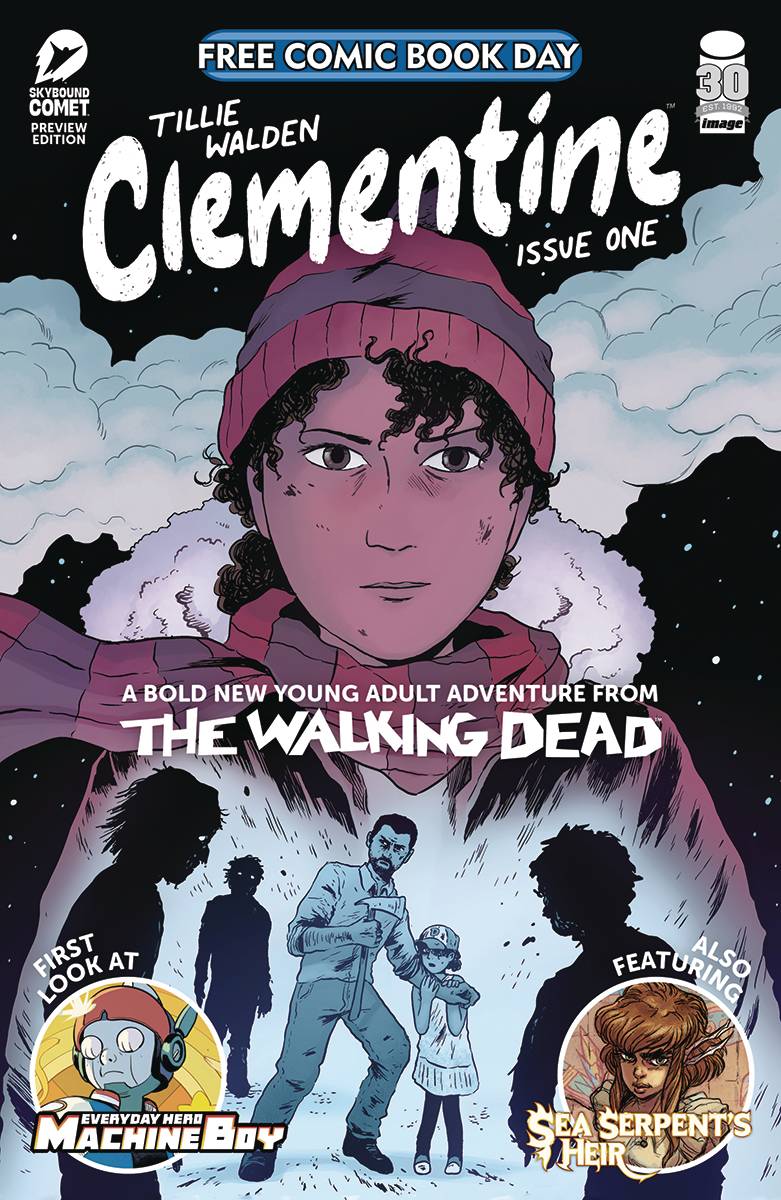 (W) Tillie Walden, Irma Kniivila, Tri Vuong, Mairghread Scott (A) Irma Kniivila, Tri Vuong, Pablo Tunica (A/CA) Tillie Walden
The next big thing from Robert Kirkman's THE WALKING DEAD is here! Get the complete first chapter of Clementine Book One, by award-winning author Tillie Walden (On A Sunbeam, Spinning)!
Plus, an extended look at Everyday Hero Machine Boy (by Irma Kniivila and Tri Vuong) and Sea Serpent's Heir (by Mairghread Scott and Pablo Tunica), the next can't miss OGNs from SKYBOUND COMET, our all-new imprint for Young Adult and Middle Grade readers!
Features an all-new FCBD exclusive cover by Tillie Walden.
Preview Material
Rating: Teen (or Teen+)

In Shops: Apr 06, 2022
SRP: PI
PREVIEWS Page #31