Age Ratings Will Help Decide Which FCBD Comics Are Best For You!
Jan 30, 2020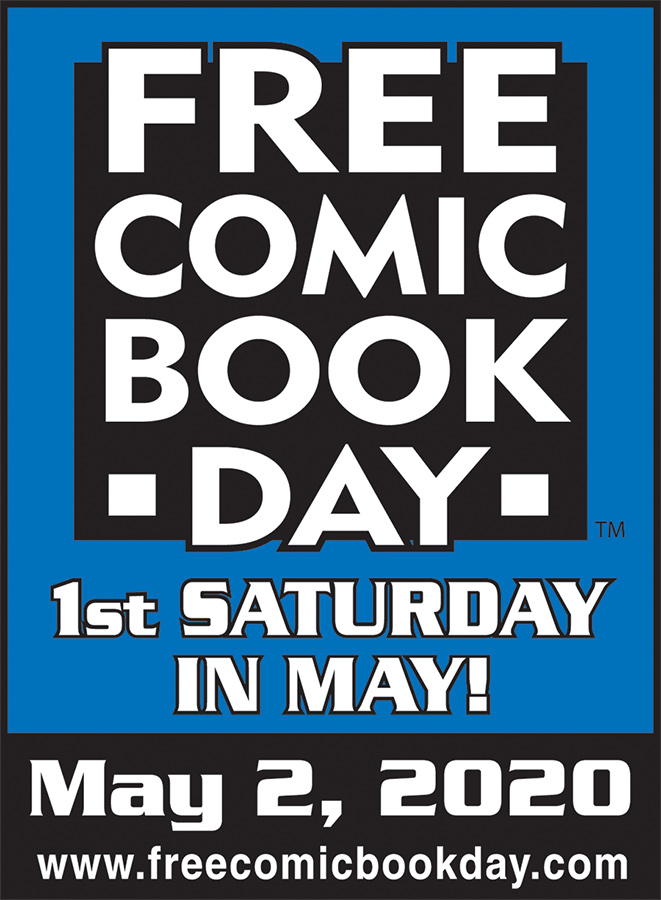 Free Comic Book Day is coming up fast, and we want to make sure everyone gets a comic that is right for them! So this year, we're introducing a new age rating format so fans can more easily locate the books that will work best for them. On the cover of each book, there is a color-coded Free Comic Book Day logo that corresponds to the books age rating. The green logo denotes books appropriate for readers of all ages, including kids. The blue logo denotes books appropriate for teen readers, ages thirteen and up. Finally, the red logo denotes mature titles, most appropriate for those eighteen and up.

Age Rating: All Ages

Age Rating: Teen

Age Rating: Mature

As always, we've also created this handy, dandy age ratings chart to show you what age group each comic is geared towards. Then all you have to do is visit your local comic shop on Saturday, May 2, 2020, (keeping an eye out for the correct color-coded logos) and pick up the comics you're after!
All Ages
| | | |
| --- | --- | --- |
| Title | Publisher | Item Code |
| Asterix | Papercutz | JAN200036 |
| Bibi & Miyu/ The Fox & the Little Tanuki Preview | TOKYOPOP | JAN200043 |
| Disney Masters: Donald Duck | Fantagraphics | JAN200024 |
| Donut The Destroyer | Graphix/ Scholastic | JAN200026 |
| Hillbilly: The Lizard of Rusty Creek Cave | Albatross Funnybooks | JAN200014 |
| InvestiGators: Take the Plunge Sneak Peek | First Second Books | JAN200005 |
| Jack Kirby: The Epic Life of the King of Comics | Ten Speed Press | JAN200010 |
| Little Lulu: No Boys Allowed | Drawn & Quarterly | JAN200021 |
| Lumberjanes: Farewell to Summer | BOOM! Studios | JAN200017 |
| My Little Pony: Friendship is Magic | IDW Publishing | JAN200006 |
| Only a Matter of Space-Time | Random House Children's Books | JAN200009 |
| Owly: The Way Home | Graphix/ Scholastic | JAN200027 |
| Stepping Stone/ Max & the Midknights | RH Graphic | JAN200039 |
| Stranger Things/ Minecraft | Dark Horse Comics | JAN200019 |
| Sue and Tai-Chan Preview | Kodansha Comics | JAN200032 |
| Super Mercado Mix Tape | Oni Press | JAN200035 |
| The Loud House: FCBD 2020 Special | Papercutz | |
| The Overstreet Guide to Collecting | Gemstone Publishing | JAN200049 |
| The Richard Fairgray Monster Showcase | Golden Apple Books | JAN200025 |
| The Tick | New England Comics | JAN200034 |
| The Weirn Books | Yen Press | JAN200047 |
| Top Secret Silver Title | DC Comics | JAN200020 |
| Usagi Yojimbo | IDW Publishing | JAN200029 |
| Zoo Patrol Squad: Kingdom Caper | Penguin Workshop | JAN200038 |
Teen
| | | |
| --- | --- | --- |
| Title | Publisher | Item Code |
| Archie Blue Ribbon Presents | Archie Comics | JAN200001 |
| Best of 2000 AD #0 | Rebellion Comics | JAN200040 |
| Brandon Sanderson's Dark One #1 | Vault Comics | JAN200045 |
| Captain Canuck Beyond and Captain Battle | Chapterhouse Publishing | |
| Dark Ark: Instinct | AfterShock Comics | JAN200013 |
| Enter the Incal | Humanoids, Inc. | JAN200028 |
| Invincible #1 | Image Comics | JAN200030 |
| Horizon Zero Dawn #0 | Titan Comics | JAN200042 |
| Lady Mechanika | Benitez Productions | JAN200016 |
| Mean Girls: Senior Year | Insight Comics | JAN200031 |
| Naruto/ Samurai 8 | VIZ Media | |
| Power Rangers: Ranger Slayer | BOOM! Studios | JAN200002 |
| Spider-Man/ Venom | Marvel Comics | JAN200033 |
| Street Fighter #100: Ryu vs. Chun-Li | UDON Entertainment | JAN200044 |
| The Legend of Zelda: Twilight Princess/ Splatoon: Squid Kids Comedy Show | VIZ Media | JAN200012 |
| The Resistance | Arists, Writers & Artisans | JAN200015 |
| Top Secret Gold Title | DC Comics | JAN200004 |
| Valiant 2020: The Year of Heroes Special | Valiant Entertainment | JAN200011 |
| X-Men | Marvel Comics | JAN200008 |
Mature
| | | |
| --- | --- | --- |
| Title | Publisher | Item Code |
| Blade Runner 2019 | Titan Comics | JAN200041 |
| Critical Role/ Norse Mythology | Dark Horse Comics | JAN200003 |
| Manhwa: Contemporary Korean Comics | Drawn & Quarterly | JAN200022 |
| The Boys #1 | Dynamite | JAN200023 |
*Boldface type denotes a Gold sponsor comic