FCBD19 Interview: YouNeek Creator Discusses Ancient Worlds and Expanding Youniverses
Mar 19, 2019
Much like the folks at Valiant Entertainment, the creative team behind YouNeek Studios' Malika – Fire and Frost is taking advantage of the broad range of fans who celebrate Free Comic Book Day (FCBD) to create the ultimate jumping on point for new readers!
This FCBD exclusive serves as an introduction to Malika and gives a brief overview of her story: A Warrior Queen who has been displaced in time, 500 years from what she knows, fighting a war she thought was in finished in her time and seeking a relic that holds the combined power of two ancient dragons.
Inspired by African history and mythology, creator Roye Okupe has created a superhero universe filled with African heroes that resonates with all kinds of readers. Check out our interview below with Roye to see how this FCBD title further populates that universe and how it sets up upcoming storylines. Make sure to check out the PREVIEWS Prevue of Malika – Fire and Frost at the end of the interview!
---
Free Comic Book Day (FCBD): Set up your title for those that might be new to your comic book: What will new readers need to know before diving into your Free Comic Book Day issue? Who are the characters and what's the storyline?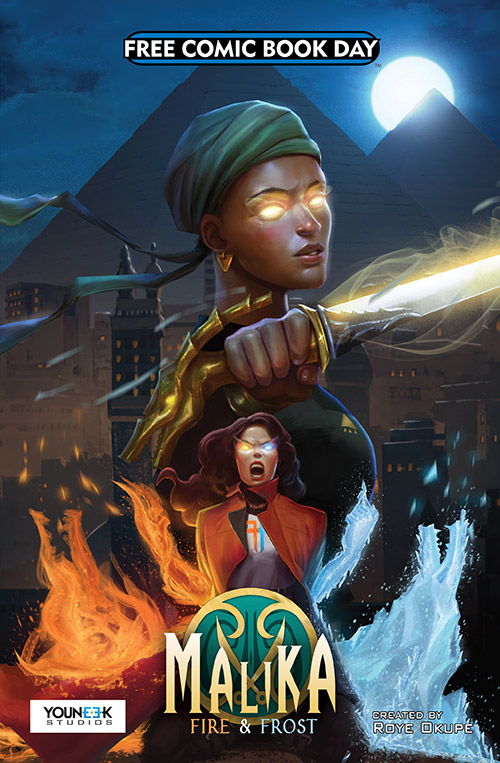 Roye Okupe: Malika - Fire & Frost is a short story in the vast world we've built in the Malika series and the YouNeek Youniverse overall. It's a story about two heroes. One [who is] a veteran and one who doesn't even know she's about to become one. It was specifically written as a jumping on point for readers new to the series as a way to whet their appetite. And trust me, once you read it, you WILL be hooked. Fans of the Malika series will also feel at home with more content from their favorite Warrior Queen.
FCBD: What did you enjoy most about writing/drawing this comic?
As the writer, what I enjoyed the most was having to write such a complex and dynamic character as Malika. Here's a Warrior Queen who has been displaced in time, 500 years from what she knows, into a world that after all these years, is not so different from what she remembers. Also, the war she thought was over in her time has now become a more complex and dangerous global problem.
FCBD: Why should people pick up this Free Comic Book Day title?
This sounds cliché but it's the truth: They have never seen anything like it before.
FCBD: What other comic books would you compare to this title? "If a comic reader likes _______ , they should pick up my title?"
The closest thing I can say is that it's sort of a mix between Game of Thrones and Black Panther.
FCBD: Looking to the future, is there anything you can tease about what's upcoming for the title and its characters?
The book serves as a tease towards the next saga (graphic novel) of the Malika series which will be titled: Malika - Fallen Queen. We also have an animated short that will be released in the summer that is inspired by the books.
FCBD: What got you into reading comics?
I actually got into comics via animation. I grew up watching awesome shows like Batman the animated series, Justice league, Ninja Turtles, Transformers, X-Men, etc. I loved these shows so much, I decided to pursue animation as a career. When that didn't go so well, I turned to comics. And immediately fell in love with the medium.
FCBD: Many newcomers will pick up comics for the first time on FCBD—what was the first comic you remember reading?
X-Men. Love at first sight!
FCBD: What are some of the titles you're reading today?
I love checking out work by independent creators. Titles like Isnana by Greg Anderson Elysee (Web Way Comics) and Niobe by Sebastian A. Jones (Stranger Comics) are awesome titles everyone should check out. In terms of mainstream, currently reading Saga and Injustice. Amazing stories!
FCBD: What is your favorite part about working in the comics industry?
Comics are inherently a team effort. These things are so hard to make and can be overwhelming at times. The best parts of working in comics are the amazing people you get to work with. People that take your ideas from good to great to awesome!
FCBD: Tell us why everyone should read comic books!
Because there is literarily a comic for EVERYONE. No matter your demographic or tastes, if you love great stories, comics have a ton for you-you can grab right now. All you have to do is visit your local comic shop.
FCBD: What is your favorite part about Free Comic Book Day?
Free Comic Book Day just shows year after year how diverse comic fans are. People from all walks of life come out to have a great time and read great books. It truly is an amazing concept!
FCBD: Where do you plan on spending Free Comic book Day?
At one of my local comic shops. Haven't decided yet though. I'm spoilt with options!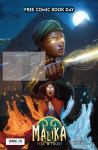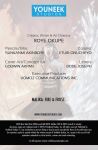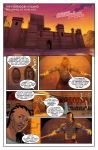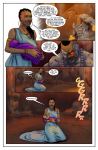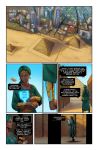 Click to View