FCBD19 Interview: Archie Comics Creative Team Discusses the Mysteries of Riverdale
Feb 06, 2019
Welcome to Riverdale, the Town with Pep! Or, at least that's what it says on their sign… "the Town with Secrets" seems more accurate, and secrets abound in this Free Comic Book Day exclusive that brings readers further down the rabbit hole of Riverdale.
Writer Micol Ostow and artist Thomas Pitilli spin new tales from the town of Riverdale, rife with the drama and intrigue that set the tone of the CW television series. The best part? These are all new tales, set between episodes of the TV series, so fans get a glimpse of the life that happens between episodes. And it's no less dramatic than what happens on screen.
In this Free Comic Book Day exclusive from Archie Comics, school picture day proves itself to be less than innocent. Check out our interview below with Micol Ostow and Thomas Pitilli to learn more about what mysteries fill the pages of Riverdale: Season 3 Special and what this creative team loves most about comic books. Then, make sure to read our PREVIEWS Prevue of the comic!
---
Free Comic Book Day (FCBD): Will this book build on the continuity of the television series? If so, how?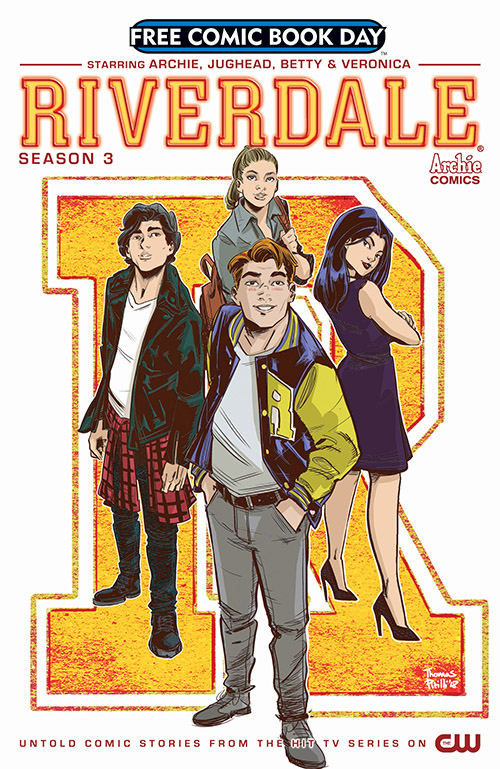 Micol Ostow: Our goal is to offer you glimpses of life that happens in between episodes, so that we're (hopefully) enhancing fans' experiences of the show and further fleshing out the Riverdale-verse.
FCBD: How is this FCBD story a great entry point to Riverdale comics for fans of the Riverdale TV series?
Ostow: This story is a great chance to see all your faves in action and get to know them in their element before doing the (inevitable) deep dive into the Archie canon.
FCBD: What can you tell us about Scholastic's Riverdale novels? What kinds of stories are they hoping to tell?
Ostow: Just like the Riverdale comics, the tie-in novels are our chance to broaden the scope of the Riverdale world -- we can focus on characters and storylines that don't get as much screen time within the tv series season arcs, and we can create settings and stories that aren't constrained by the logistics of production. Win-win!
FCBD: Set up your title for those that might be new to your comic book: What will new readers need to know before diving into your Free Comic Book Day issue? Who are the characters and what's the storyline?
Ostow: All you really need to know is that in Riverdale, nothing is ever as simple (or innocent) as it seems. In the Free Comic Book Day issue, picture day reveals yet another possible mystery lurking in the halls of Riverdale high.
FCBD: What did you enjoy most about writing/drawing this comic?
Ostow: I just love the characters (from way back to my childhood, reading Archie comics!) and I love how the tv show has reinterpreted them, so being able to play in that sandbox was a blast!
FCBD: Why should people pick up this Free Comic Book Day title?
Ostow: A free story about your favorite Riverdale gang? What's the downside?
FCBD: What got you into reading comics?
Thomas Pitilli: I have older brothers and growing up, I used to borrow their comics and 'read' them. At that point I was too young to know how to read, but I would pretend to know what was going on because I wanted to be like my brothers. When I got a little older, I started my own collection which was based primarily on Archie comics. I became obsessed pretty quickly and my favorite day of the week soon became Wednesday, aka New Comic Book Day!
FCBD: Many newcomers will pick up comics for the first time on FCBD—what was the first comic you remember reading?
Pitilli: That would be a hard one to pin down, but one of the earliest comics I can remember reading was a reprint of Spider-Man Vol.1 #48, starring The Vulture!
FCBD: What are some of the titles you're reading today?
Pitilli: The funny thing about making comics for a living is that there's not much time to read comics. It's very sad, I know. I enjoy Paper Girls though, whenever I can get my hands on an issue. I LOVED Vampironica. Oh, and of course the latest Riverdale series :)
FCBD: What is your favorite part about working in the comics industry?
Pitilli: I really love the storytelling process, I must say. It's one thing to draw a pretty picture, but it's another to be able to tell a story with those pictures. It's not easy and I'm far from a master at it, but the process of learning and understanding how to get better at it has made me a better artist. That, and being able to leave my mark on these iconic characters, it's pretty awesome.
FCBD: Tell us why everyone should read comic books!
Pitilli: Unlike movies or television, comics are a very active form of entertainment. You really have to put yourself and your imagination into the story. With the right material provided by a skilled writer and artist, the experience can be much more entertaining and memorable than other forms of media. Also, nowadays there's literally something for everyone in the world of comics. There's a story out there for you, no matter who you are!
FCBD: What is your favorite part about Free Comic Book Day?
Pitilli: Uh, free comics?! What's better than that? But in addition to that, it's a great way to test out a series and sample a bunch of stuff to see what you like. I've come across some really great titles and creators on Free Comic Book Days.
FCBD: Where do you plan on spending Free Comic book Day?
Pitilli: Probably at my favorite comic shop in NYC, Forbidden Planet!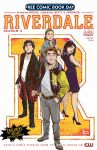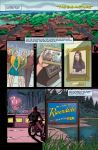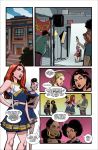 Click to View