FCBD19 Interview: Papercutz Creator Talks Mermen, Messages in a Bottle, and Curious Mysteries
Jan 22, 2019
Ahhh, a message in a bottle… so romantic, so mysterious. Hey, ever wondered where those messages end up after they're dropped in the sea on their maiden voyage?
As it would turn out, those messages make their way out to the wonderful underwater world of Atlanticus and found by Gillbert the merman! Just as we're curious where those messages end up, Gillbert is curious where they're coming from. So, together with his best friend Sherbert and mysterious new friend Anne Phibian, Gillbert sets out to find where exactly the messages are coming from! And it turns out to be quite the curious mystery…
Free Comic Book Day caught up with Art Baltazar, the creator behind Gillbert, to find out more about what adventures fans expect in the pages of this Free Comic Boo Day title, as well as what new adventures will be coming to Atlanticus in the future! Check out the interview below and make sure to read through our PREVIEWS Prevue of Papercutz's Gillbert.
---
Free Comic Book Day (FCBD): Set up your title for those that might be new to your comic book: What will new readers need to know before diving into your Free Comic Book Day issue? Who are the characters and what's the storyline?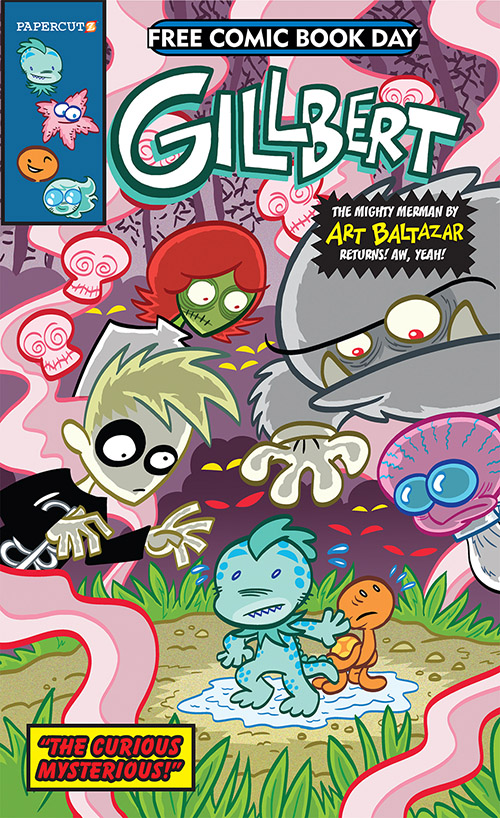 Art Baltazar: AW YEAH! They will be introduced to my character GILLBERT The Little Merman! He's a sea creature Prince and lives in Atlanticus. He has adventures with his friends Sherbert and Anne Phibian. In this issue, Gillbert and friend discover..THE CURIOUS MYSTERIOUS!
FCBD: What did you enjoy most about writing/drawing this comic?
I love writing stories and creating characters. The story possibilities are wide open and there's nothing to hold back the characters. The world is as fresh and exciting as a brand-new sketchbook waiting for the creativity to explode onto the page! Ha. I am sketching right now.
FCBD: Why should people pick up this Free Comic Book Day title?
Because Free Comics are cool! PLUS! It's a great way to get introduced to Gillbert's world. AW YEAH!
FCBD: What other comic books would you compare to this title? "If a comic reader likes _______ , they should pick up my title?"
If you like Tiny Titans or Itty Bitty Hellboy or Superman Family Adventures or AW YEAH COMICS!... Gillbert should fit right in.
FCBD: Looking to the future, is there anything you can tease about what's upcoming for the title and its characters?
Ha! Gillbert's world is about to get larger, when he meets a group of…MOSTLY HUMAN(S). But, are they friends or foes? They are definitely creepy.
FCBD: What got you into reading comics?
I watched lots of cartoons as a kid. Lots of Tom and Jerry, Magilla Gorilla, Super Friends and Spider-Man. One day, when I was around 6 years old, my cousin left his comics at my house. BAM! I was a fan ever since.
FCBD: Many newcomers will pick up comics for the first time on FCBD—what was the first comic you remember reading?
The first comic I remember reading was a Spider-Man comic where he was fighting the Jackal. Spidey was getting scratched and beat up and his girlfriend's clone was running around naked throughout the issue. Lots of the comics I read as a kid didn't have covers. We would get them from the neighborhood deli. The deli would sell them in a plastic bag where you would get 10 random comics for $1….but with no covers.
FCBD: What are some of the titles you're reading today?
I read Walking Dead. I like SUPERMAN and BATMAN. I'm a Spidey guy too. I read lots of books done by my friends. Anything by Chris Giarrusso, Jacob Cabot, Scoot McMahon, Dave Scheidt, Katie Cook, Franco, and Brian Smith. I like Smitty.
FCBD: What is your favorite part about working in the comics industry?
I love meeting the fans! I love creating characters and stories too. It's fun to meet the people who like what I do!
FCBD: Tell us why everyone should read comic books!
ENTERTAINMENT! It's a great way to escape and find yourself on a new adventure! You can get absorbed into a world you never knew existed. Yep. It's kind of awesome.
FCBD: What is your favorite part about Free Comic Book Day?
Ha! Meeting fans is great! I always celebrate at our shop AW YEAH COMICS near Chicago in beautiful downtown Skokie. It's like a big party with artists, writers, and lots of comics!
FCBD: Where do you plan on spending Free Comic book Day?
AW YEAH COMICS in beautiful downtown Skokie