FCBD19 Interview: Blastosaurus Creator Discusses the Limitless World of Comics
Jan 09, 2019
Happy Dinoversary to you. Happy Dinoversary to you. Happy Dinoversary dear Blastosaurus! Happy Dinoversary to you!
…Oh, don't mind us. We're just wishing a happy 1st Dinoversary to Blastosaurus! See, it's been one year since his arrival in Freak Out City, and since Blasto has touched the lives of the weirdos, mutants and misfits who reside there in too many ways to count, Golden Apple Books is putting together a zany, action-packed annual to celebrate all the tales of the 6-foot Triceratops hero!
Free Comic Book Day spoke with Richard Fairgray, the creator behind Blastosaurus, to find out more about what kind of antics fans can expect in the pages of this annual, as well as how Fairgray got into comics and how he'll be celebrating Free Comic Book Day! Check out the interview below and be sure to read through our PREVIEWS Prevue of Blastosaurus Annual #1!
---
Free Comic Book Day (FCBD): Set up your title for those that might be new to your comic book: What will new readers need to know before diving into your Free Comic Book Day issue? Who are the characters and what's the storyline?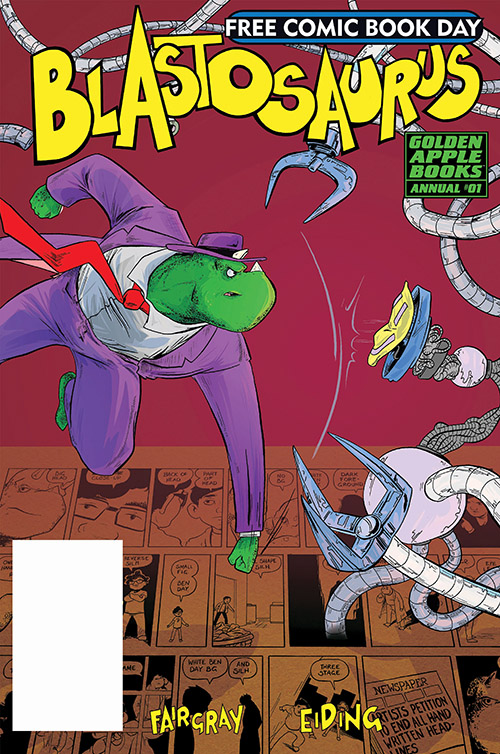 A year ago, 12-year olds Richard Greene and Tabitha Jones found a dinosaur and since then their lives have been a non-stop adventure. Robots, aliens, monsters, giant chickens, ghosts, vampires, super-intelligent octopuses; this barely scrapes the surface of the onslaught of weirdness that has hit them since. The three of them face the world of the impossible together as they defend the locals of Freak Out City.
FCBD: What did you enjoy most about writing/drawing this comic?
What I love about this comic is that there are absolutely no limits. Our story is set in a world where, because of complicated science-y things, absolutely anything is possible. This morning we introduced a goo monster who has learnt every piece of information in the world and decided the only solution is to destroy us all. There's something so free and fun about that kind of a world. We set up Blastosaurus as the most normal thing in his world and nothing can get in our way.
FCBD: Why should people pick up this Free Comic Book Day title?
This issue perfectly encapsulates what Blastosaurus is as a comic book. There's a LOT of story in there, there's a lot of stupidly funny things (hillbilly vampires, a villain powered by farts, a potato that's gone really bad) as well as really touching moments that show how great it really is to have a dinosaur for a best friend.
FCBD: What other comic books would you compare to this title? "If a comic reader likes _______ , they should pick up my title?"
We get compared a lot to TV shows that have spawned comic books like The Simpsons and Gravity Falls. I like to think we're the comic for kids who never grew up.
FCBD: Looking to the future, is there anything you can tease about what's upcoming for the title and its characters?
This issue teases some of the things that happen to Blasto in his first year in Freak Out City, because it's coming out one year after our first issue, but in comic book time he's only really been around a few weeks. This story shows what his life is like once everyone knows about him, once he has the name 'Blastosaurus,' once all that weird impossible time paradox stuff at the Laundromat gets fixed, now readers get to jump back and see that happen in (not so) real time.
FCBD: What got you into reading comics?
Where I grew up there were no comic stores, so I just thought there were no comics. I started making my own when I was 7. I would photocopy them and sell them at school events, convinced it would make me millions of dollars. I didn't read a comic until 9 years later when a teacher at my school gave me a copy of Miracleman to distract me from drawing during class.
FCBD: Many newcomers will pick up comics for the first time on FCBD—what was the first comic you remember reading?
Miracleman. It was my first and it was astonishing to me how far the story went in such a short time.
FCBD: What are some of the titles you're reading today?
I'm currently catching up on the most recent incarnation of Archie. I love how it blurs the lines between reality and formal comic storytelling. I just loved Snagglepuss, and I'm doing a re-read of Bone from start to finish.
FCBD: What is your favorite part about working in the comics industry?
The long hours, the obsessive nature of it all. I love getting lost in a story or a picture and not noticing that hours have passed until I lift my head up.
FCBD: Tell us why everyone should read comic books!
Comics are a medium that can tell any kind of story. They open up your brain to all kinds of new ideas and teach you to think about words and pictures in combination in a way that nothing else really can. Plus, they're really fast and cheap and you can give them to your friends.
FCBD: What is your favorite part about Free Comic Book Day?
Seeing people who need an excuse to start reading comics get excited to be surrounded by people who never need to hear that reason.
FCBD: Where do you plan on spending Free Comic book Day?
I will primarily be at Golden Apple Comics, the Los Angeles shop that publishes Blastosaurus, but I also plan to visit a few other local stores that day time permitting.