#NCBD 12/12/18: FCBD's 10 Comics for New Comic Book Day!
Dec 12, 2018
Every Wednesday is New Comic Book Day (#NCBD) in comic book shops, where new comics release hit the shelves of comic book shops for eager fans to pick up.
We've highlighted ten comics that are perfect recommendations for anyone looking to get into comics! Some of them directly tie into comics you got on Free Comic Book Day 2018!
In this week's list for comics coming out 12/12/18, there's definitely something for everyone: The Enforcers come at Spidey harder than ever in Amazing Spider-Man, Bruce Wayne must come face to face with the nightmares spawned from the Dark Multiverse in The Batman Who Laughs, Sandria Darque's vile plans are finally clicking into place in Shadowman, and more!

What will you be picking up at the comic shop? Let us know on Facebook or Twitter!
---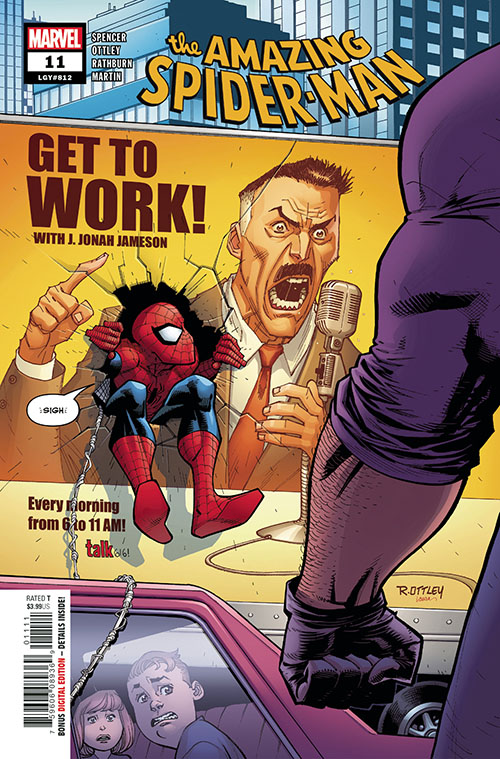 Amazing Spider-Man #11

OCT180921

(W) Nick Spencer (A/CA) Ryan Ottley

• J. JONAH JAMESON has a new job as a shock jock, but is the world ready for a pro-Spider-Man JJJ?

• More importantly, is Spider-Man ready? His post-secret-identity relationship with Jonah was already complicated, but this very public embrace may put him over the edge!

• Spidey's definitely not ready for the Enforcers to come at him harder than ever!

Rated T

In Shops: December 12, 2018

SRP: $3.99


Avengers #11

OCT180898

(W) Jason Aaron (A/CA) Ed McGuinness

THE AVENGERS WORLD TOUR COMES TO A SHATTERING CONCLUSION!

To deal with the fallout from last month's world-shaking issue #700, the Avengers organize an international super hero summit, gathering heroes from the most powerful nations on Earth. But no one was expecting the shocking new representatives of the United States. The world is about to become a far more dangerous place. Especially for the Avengers. Plus Hulk and Thor try to go on a date.

Rated T+

In Shops: December 12, 2018

SRP: $3.99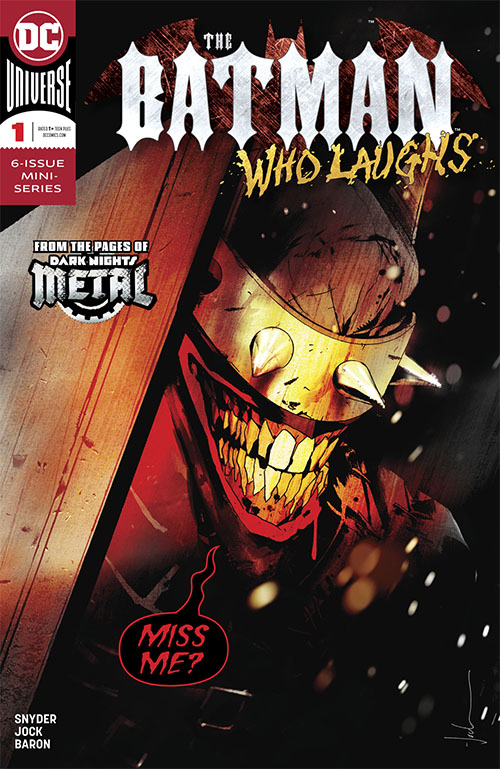 The Batman Who Laughs #1 (of 6)
OCT180464

(W) Scott Snyder (A/CA) Jock

Left rattled by the events of DARK NIGHTS: METAL, Bruce Wayne must come face to face with the nightmares spawned from the Dark Multiverse. But even though evil devoured evil in the collapse of Challengers Mountain, the Dark Knight still has his doubts. He discovers that the Batman Who Laughs not only survived the fight with The Joker at the end of METAL, but now he is enacting a sinister plan across the Multiverse-something both terrifying and oddly familiar. But when Bruce Wayne realizes the only way to stop this madman is to kill him, he must consider violating the very rule Batman won't break...the same rule that created this insatiable villain-the Batman Who Laughs!

In Shops: December 12, 2018

SRP: $4.99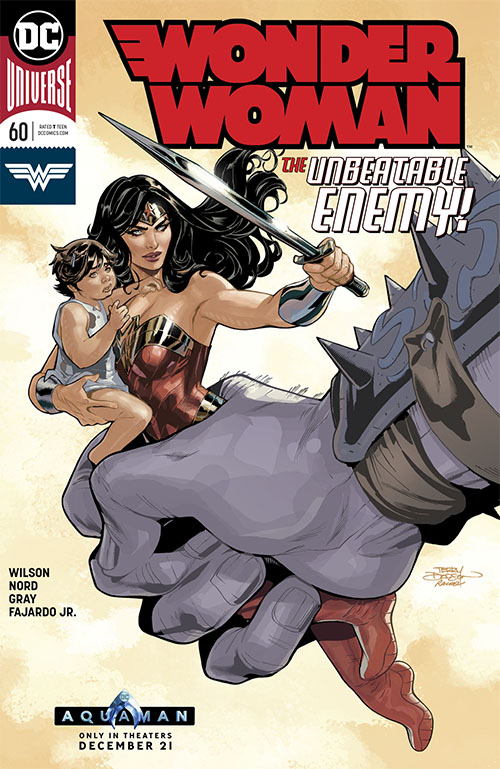 Wonder Woman #60

OCT180549

(W) G. Willow Wilson (A) Cary Nord, Mick Gray (CA) Terry Dodson, Rachel Dodson

It's a standoff of mythological proportions when Wonder Woman combats the resurrected God of War, Ares! While trying to stop a war, Wonder Woman appeals to Ares to intervene with her, but he thinks the two parties should fight it out and resolve it themselves. Guess dying and coming back didn't do much to soften Ares' M.O. Meanwhile, Steve Trevor's been kidnapped and confronts his captor: the Goddess of Love, Aphrodite, who's extremely pissed. Let's see Steve schmooze his way out of this one!

In Shops: December 12, 2018

SRP: $3.99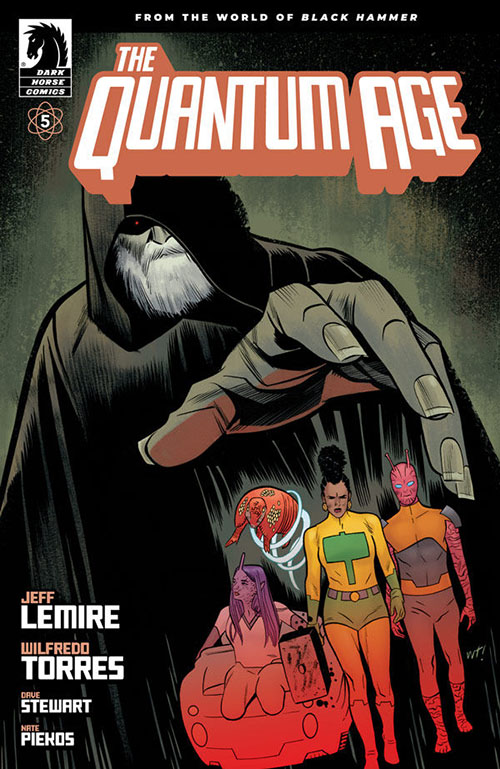 Quantum Age: From the World of Black Hammer #5

SEP180281

(W) Jeff Lemire (A/CA) Wilfredo Torres

A journey through time via the Para-Zone leads our heroes to confront crucial characters from the Black Hammer-verse!

o Ties directly into the Eisner Award-winning Black Hammer comic books series and is written by Jeff Lemire.

"This whole weird pulpy world is so fun and gorgeous."-IGN

In Shops: December 12, 2018

SRP: $3.99


Go Go Power Rangers #15

OCT181257

(W) Ryan Parrott (A) Eleonora Carlini (CA) Dan Mora, Miguel Mercado

That cover says it all-Trini is the new Red Ranger and Jason is the new Yellow Ranger. And... there might be some other complications too.

In Shops: December 12, 2018

SRP: $3.99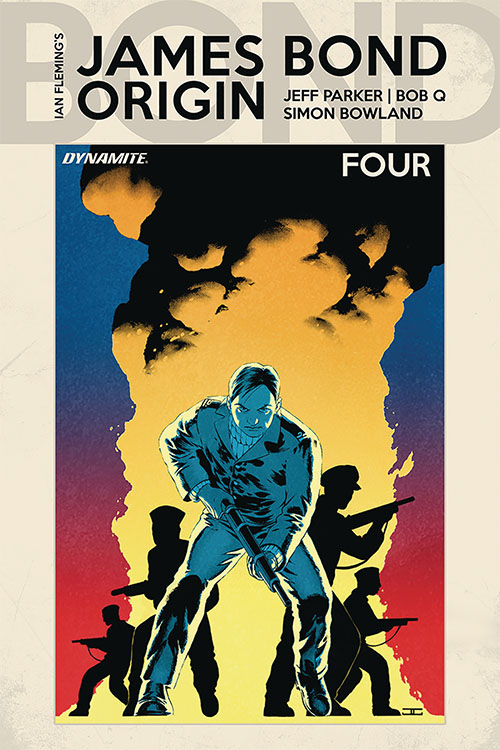 James Bond: Origin #4

OCT181104

(W) Jeff Parker (A) Bob Q (CA) John Cassaday

"Rocket Sea" continues...Forced to surface in enemy waters, a damaged Royal Navy submarine docks at a mysterious island for repairs. Lieutenant James Bond leads a hunting expedition across the island. But while hunting beasts, he discovers a far more dangerous prey...

In Shops: December 12, 2018

SRP: $3.99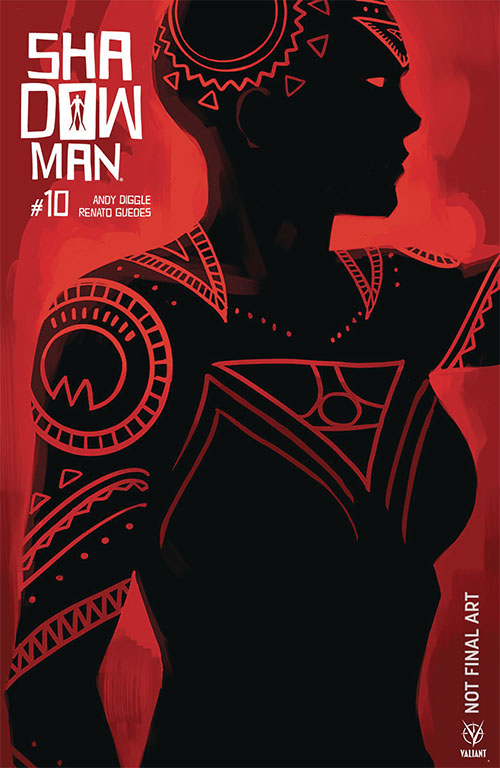 Shadownman #10

OCT181993

(W) Andy Diggle (A) Renato Guedes (CA) Tonci Zonjic

Darque Destruction!

Sandria Darque's vile plans are finally clicking into place... With his allies incapacitated, it's up to Jack Boniface to stop the machinations of this vengeful sorceress - but can he trust in his ability to control the loa spirit bound to him, or will he have to go at it completely alone?

Prepare yourself for an action-packed thrill ride as superstar writer Andy Diggle (Green Arrow: Year One) and sensational artist Renato Guedes (BLOODSHOT SALVATION) launch the next suspenseful segment of "RAG AND BONE!"

In Shops: December 12, 2018

SRP: $3.99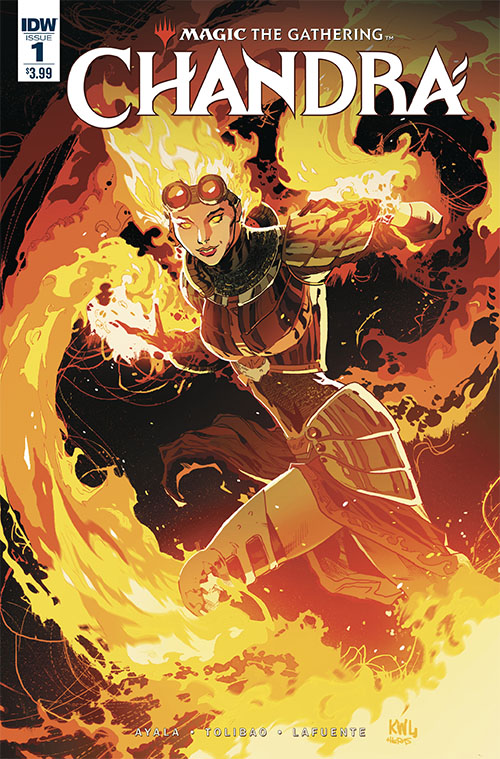 Magic The Gathering: Chandra #1

SEP180750

(W) Vita Ayala (A) Harvey Tolibao (CA) Ken Lashley

The boundless multiverse of Magic: The Gathering returns to comics!

In the wake of tragedy, Planeswalker and pyromancer Chandra Nalaar strikes out on her own. On her journey, she'll have to fight against threats both old and new, as well as her own sense of guilt. Can she overcome all of that alone? And who is that familiar face lurking in the shadows?

In Shops: December 12, 2018

SRP: $3.99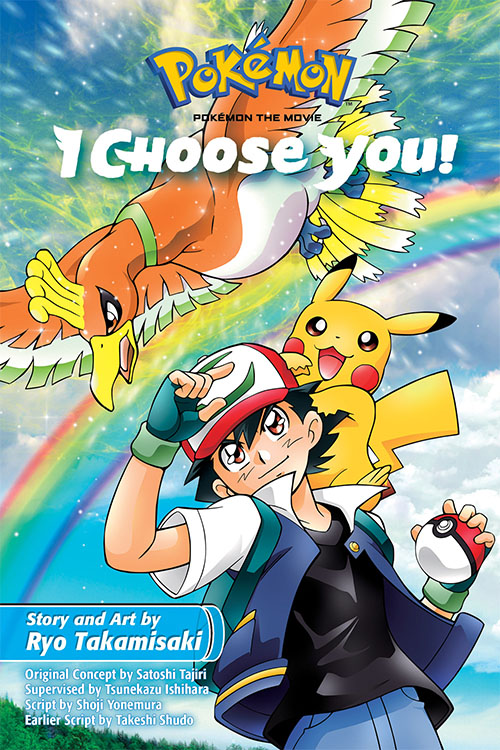 Pokémon The Movie: I Choose You!

OCT182078

(W) Ryo Takamisaki (A/CA) Ryo Takamisaki

When Ash Ketchum oversleeps on his tenth birthday, he ends up with a stubborn Pikachu instead of the first partner Pokémon he wanted! But after a rocky start, Ash and Pikachu become close friends and true partners-and when they catch a rare glimpse of
the Legendary Pokémon Ho-Oh in flight, they make plans to seek it out together. Trainers Verity and Sorrel join Ash on his journey, and along the way, they meet the mysterious Mythical Pokémon Marshadow. When they near their goal, an arrogant Trainer named Cross stands in their way. Can Ash and Pikachu defeat him and reach Ho-Oh as they promised, or will their journey end here?

For all ages.

In Shops: December 12, 2018

SRP: $14.99