#NCBD 10/3/18: FCBD's 10 Comics for New Comic Book Day!
Oct 03, 2018
Every Wednesday is New Comic Book Day (#NCBD) in comic book shops, where new comics release hit the shelves of comic book shops for eager fans to pick up.
We've highlighted ten comics that are perfect recommendations for anyone looking to get into comics! Some of them directly tie into comics you got on Free Comic Book Day 2018!
In this week's list for comics coming out 10/3/18, there's definitely something for everyone: catch up on the new era for Earth's Mightiest Heroes in Avengers, the Russian super-assassin continues his rampage in Batman, get a spooky spin on your favorite Star Wars characters in Tales From Vader's Castle, and more!

What will you be picking up at the comic shop? Let us know on Facebook or Twitter!
---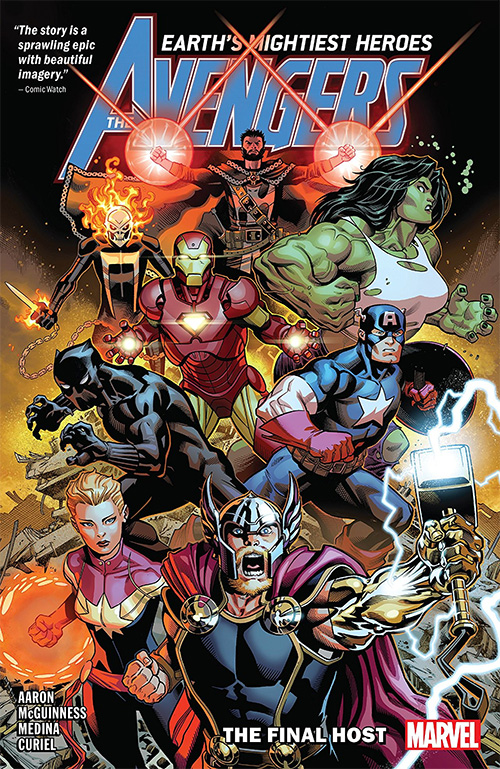 Avengers by Jason Aaron Vol. 1: The Final Host
JUL181176

(W) Jason Aaron (A) Sara Pichelli, Paco Medina (A/CA) Ed McGuinness

A new era for Earth's Mightiest Heroes! Steve Rogers. Tony Stark. Thor Odinson. The big three are reunited at last - and just in time to save the world from the 2,000-foot-tall space gods known as the Celestials! Behold the coming of the Final Host! But who will answer the call as a new team of Avengers assembles? As Black Panther and Doctor Strange battle for their lives deep within the earth, Captain Marvel faces death and destruction raining down from the skies. And what about the Savage She-Hulk and the all-new Ghost Rider? Plus: No gathering of Avengers would be complete without a certain Prince of Lies! But what world-shaking connection exists between the Dark Celestials and Odin's ancient band of Prehistoric Avengers? Collecting AVENGERS (2018) #1-6 and material from FREE COMIC BOOK DAY 2018 (AVENGERS/CAPTAIN AMERICA).

In Shops: October 3, 2018

SRP: $17.99
Batman #56

AUG180501
(W) Tom King (A/CA) Tony S. Daniel

The Dark Knight's looking to drop both the hammer and sickle on the KGBeast, whose rampage across Gotham City takes a toll on Nightwing when he's injured in the fray. Blaming himself for his ward's fate, Batman gets grimmer than usual-and vows to take the Russian assassin down like the Berlin Wall. Is even Gotham City ready for that much violence? The streets will run red like borscht if the Dark Knight gets his way against this Soviet scourge.

In Shops: October 3, 2018

SRP: $3.99

Star Wars: Tales from Vader's Castle #1
AUG180680

(W) Cavan Scott (A) Derek Charm, Chris Fenoglio (CA) Francesco Francavilla

Tales from Vader's Castle puts a spooky spin on your favorite characters from a galaxy far, far away...
This exciting weekly series explores the hidden corners of the Star Wars universe and features Rebels stars Hear, Kanan, and Chopper; Obi-Wan Kenobi and Count Dooku; Han Solo and Chewbacca; the Ewoks; and of course, Darth Vader -all under the shadow of Vader's Castle!
Fans will be excited to discover these creepy stories by fan-favorite writer Cavan Scott with art by the greatest talent from across the galaxy, including Derek Charm, Kelley Jones, Chris Fenoglio, Corin Howell, Robert Hack, and Charles Paul Wilson III!
In Shops: October 3, 2018

SRP: $3.99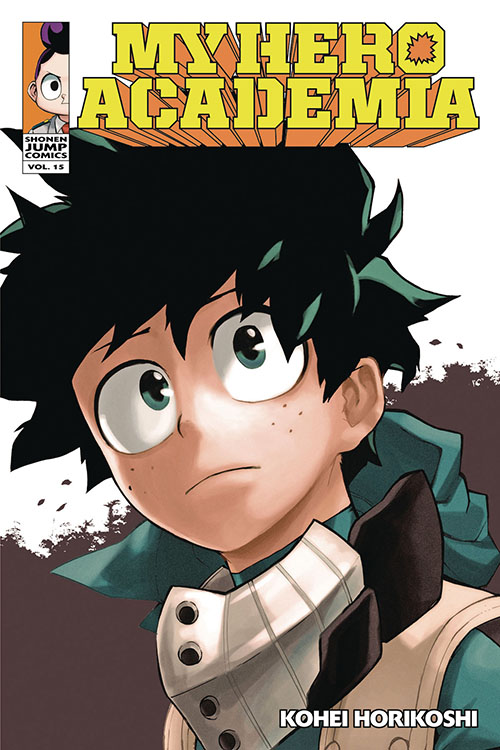 My Hero Academia, Vol. 15
(W) Kouhei Horikoshi (A/CA) Kouhei Horikoshi
A new and sinister enemy appears in the form of Chisaki Kai, the young leader of the Hassaikai yakuza gang. Looking to fill the power vacuum left by All For One, Chisaki makes contact with the League of Villains to gain possible support. When a chance run-in with a scared little girl brings Midoriya and his mentor Mirio face-to-face with Chisaki.
In Shops: October 3, 2018
SRP: $9.99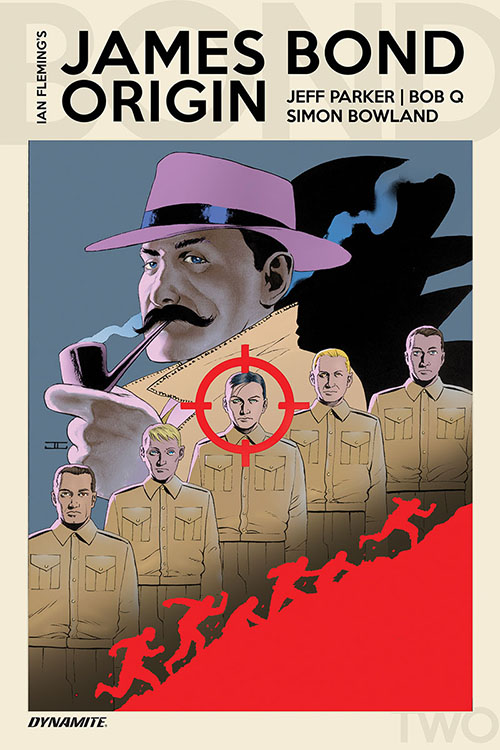 James Bond: Origin #2
(W) Jeff Parker (A) Bob Q (CA) John Cassaday
The epic account of James Bond's exploits during World War II continues! After barely surviving the Clydebank Blitz, James is determined to enter the Royal Marines, despite being two years too young. He'll need to rely on a family friend to help him through, where he'll begin training alongside the best and brightest that the United Kingdom has to offer. But his military training becomes dangerous, when it's discovered there's a German mole in their midst. By superstar JEFF PARKER (Suicide Squad, Fantastic Four) and BOB Q (The Lone Ranger)!
In Shops: October 3, 2018
SRP: $3.99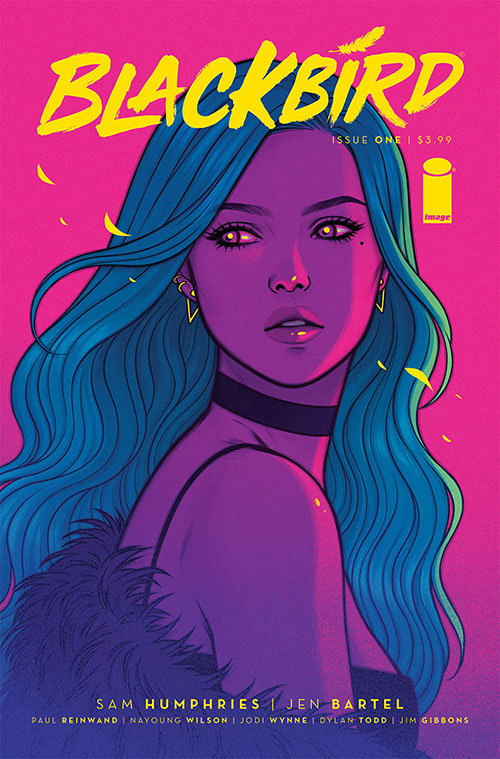 Blackbird #1
(W) Sam Humphries (A/CA) Jen Bartel
An all-new ongoing series from fan-favorite writer SAM HUMPHRIES (Harley Quinn, Nightwing) and red-hot artist JEN BARTEL!
In this neo-noir fantasy, Nina Rodriguez is positive that a secret magic world ruled by ruthless cabals is hiding just beneath the veneer of Los Angeles. The problem: everyone thinks she's crazy. The bigger problem: she's not crazy - she's right. Can she unravel the mystery before the Great Beast catches up with her?
In Shops: October 3, 2018
SRP: $3.99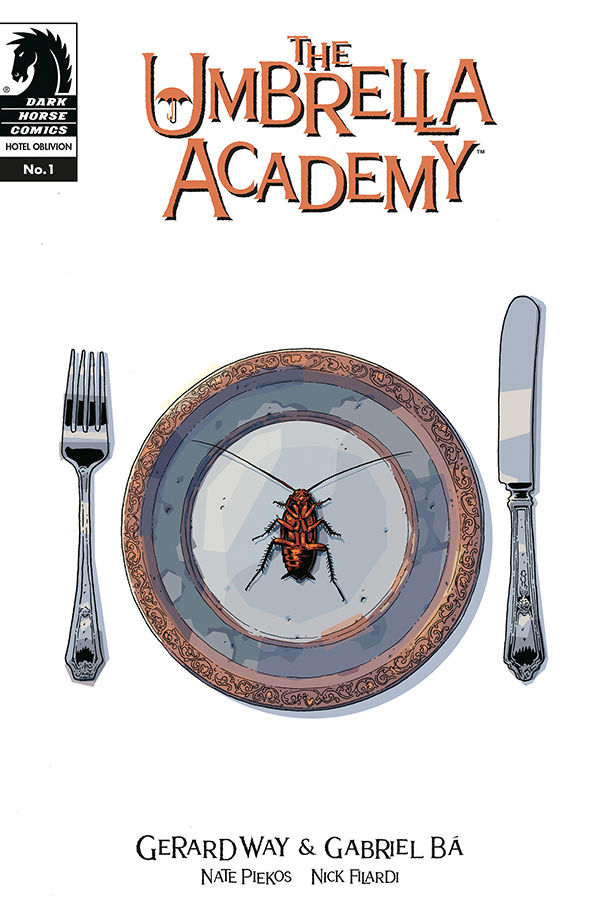 Umbrella Academy: Hotel Oblivion #1
(W) Gerard Way (A) Nick Filardi (A/CA) Gabriel Ba
Faced with an increasing number of lunatics with superpowers eager to face off with his own wunderkind brood, Sir Reginald Hargreeves developed the ultimate solution ...
Now, just a few years after Hargreeves's death, his Umbrella Academy is scattered. Number Five is a hired gun, Kraken is stalking big game, Rumor is dealing with the wreckage of her marriage, a rotund Spaceboy runs around the streets of Tokyo, Vanya continues her physical therapy after being shot in the head-and no one wants to even mention Seance until issue #2.
With a Netflix series soon to debut, the award-winning and best-selling superhero series returns, stranger than ever-
And their past is coming back to hunt them.
In Shops: October 3, 2018
SRP: $3.99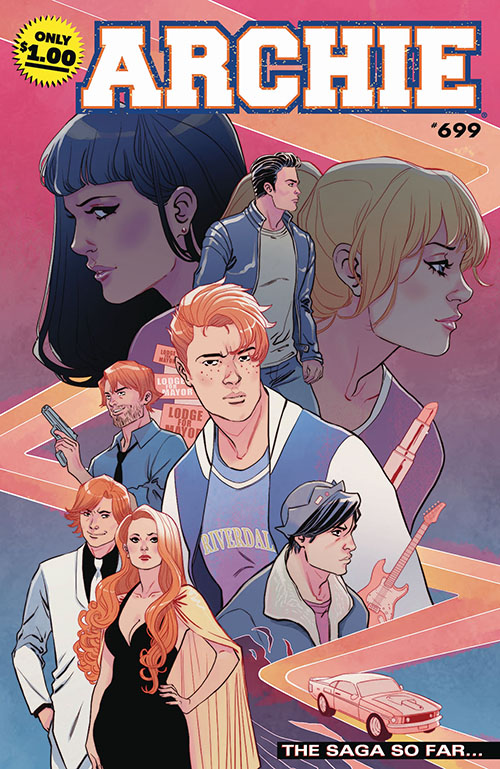 Archie #699
(W) Mark Waid, Ian Flynn (A) Various (CA) Marguerite Sauvage
Follow along as Archie reflects back on the past several years of storylines including: the much-talked about #LipstickIncident, the arrival of the Lodge family, the Riverdale Civil War, the machinations of the Blossom Twins, the near-tragedy of "Over the Edge" and more! This special issue sets the stage for next month's landmark 700th issue of ARCHIE! Based on stories by Mark Waid and Ian Flynn and featuring art by an assortment of ARCHIE talents.
In Shops: October 3, 2018
SRP: $1.00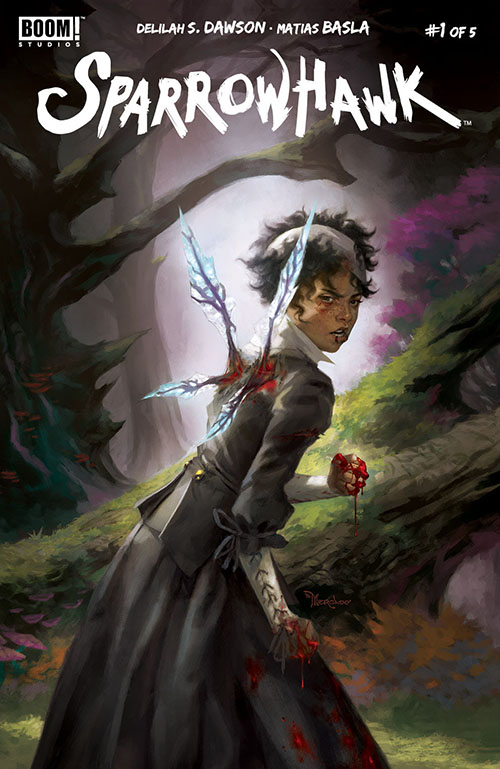 Sparrowhawk #1
(W) Delilah Dawson (A) Matias Basla (CA) Miguel Mercado
Teen Victorian fairy fight club!
As the illegitimate daughter of a Naval Captain, Artemesia has never fit in with her fatherfs family, nor the high class world to which they belong. However, when she is targeted by the Faerie Queen and pulled into another realm, she has no choice but to try and save the world that has always hated her.
Writer Delilah S. Dawson (Ladycastle, Star Wars: Forces of Destiny) and artist Matias Basla (The Claw and Fang) present a beautiful, gripping tale perfect for fans of Labyrinth and Princeless.
In Shops: October 3, 2018
SRP: $3.99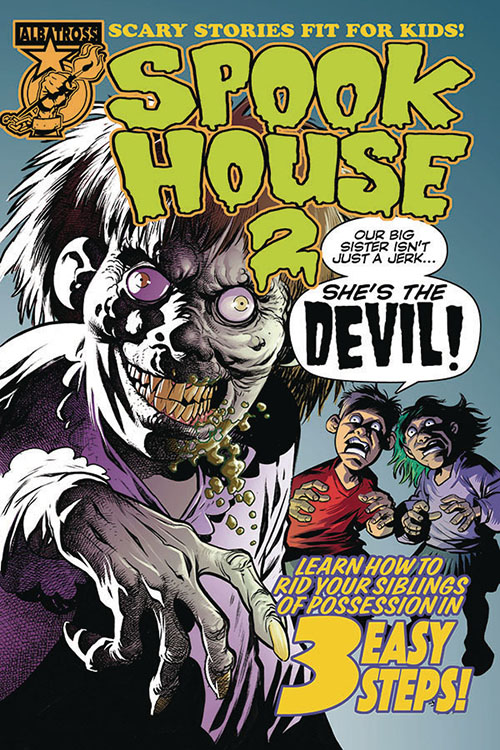 Spookhouse 2 #1 (of 4)
(W) Eric Powell, Steve Mannion (A) Steve Mannion, Kyle Holtz (A/CA) Eric Powell
The annual Albatross Halloween comic for kids of all ages is back in a weekly October event! Issue #1 features the work of Eric Powell, Steve Mannion, and Kyle Hotz!
In Shops: October 3, 2018
SRP: $3.99