#NCBD 8/8/18: FCBD's 10 Comics for New Comic Book Day!
Aug 08, 2018
Every Wednesday is New Comic Book Day (#NCBD) in comic book shops, where new comics release hit the shelves of comic book shops for eager fans to pick up.
We've highlighted ten comics that are perfect recommendations for anyone looking to get into comics! Some of them directly tie into comics you got on Free Comic Book Day 2018!
In this week's list for comics coming out 8/8/18, there's definitely something for everyone: the World's Greatest Comic Magazine is back with the return of the Fantastic Four, Windblade enacts a desperate plan in Transformer: Unicron, Katchoo's search leads her to a Caribbean island in Strangers In Paradize XXV, and more!
What will you be picking up at the comic shop? Let us know on Facebook or Twitter!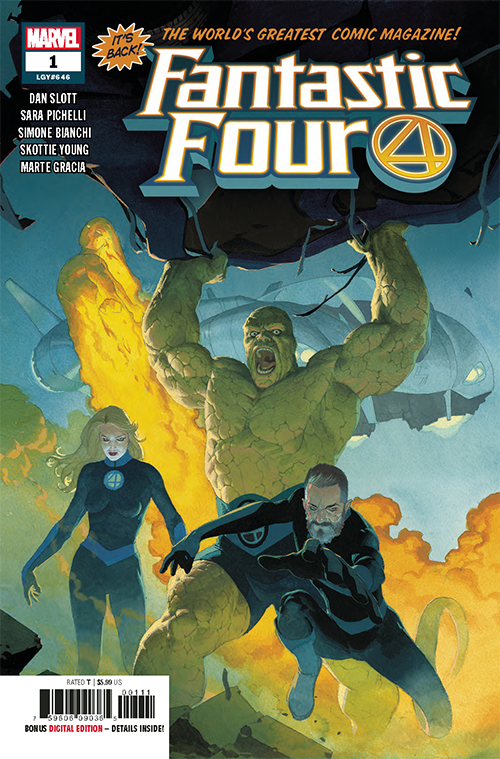 Fantastic Four #1
(W) Dan Slott (A) Skottie Young, Simone Bianchi, Sara Pichelli (CA) Esad Ribic
FOUREVER Part One
BECAUSE YOU DEMANDED IT - THE WORLD'S GREATEST COMIC MAGAZINE IS BACK!
Since the end of SECRET WARS, there's been a gap in the Marvel Universe. A void no other team can fill. And it's time for the world to move on. But can it? A life-changing decision by the Thing! A momentous declaration by the Human Torch! A clarion call-to-arms that summons Doctor Doom! And a signal in the sky that heralds the return of hope to the Marvel Universe! All this, and Alicia Masters adopts kittens! So cute! Plus, the Impossible Man!
AND BONUS STORIES ILLUSTRATED BY SIMONE BIANCHI AND SKOTTIE YOUNG!
IF YOU READ ONLY ONE MARVEL COMIC THIS MONTH, THIS IS THE ONE!
Rated T
In Shops: August 8, 2018
SRP: $5.99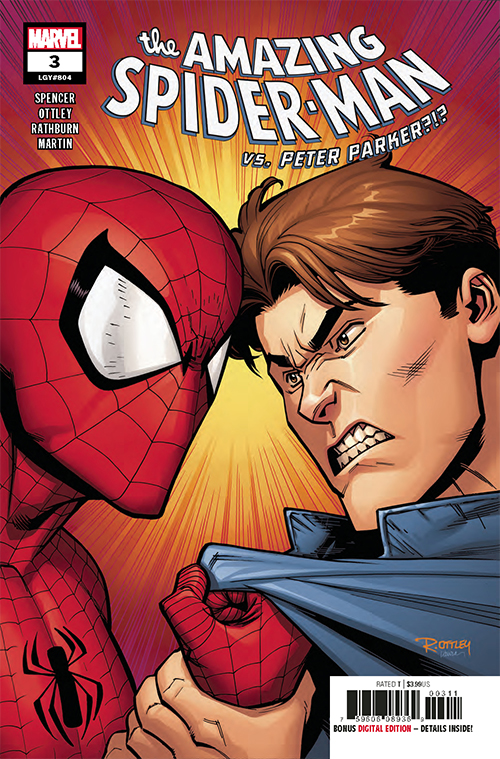 Amazing Spider-Man #3
(W) Nick Spencer (A/CA) Ryan Ottley
PETER PARKER VS. SPIDER-MAN?!
PETER PARKER & SPIDER-MAN IN THE SAME PLACE AT THE SAME TIME?!
• Things are crazy for Spider-Man. His personal life in turmoil, the giant TRI-SENTINEL returning to attack NYC...
• ...and someone is out there impersonating Peter Parker!
• Is it the Chameleon? An LMD? Ultimate Peter Parker making his Marvel U debut? Think again, True Believer!
Rated T
In Shops: August 8, 2018
SRP: $3.99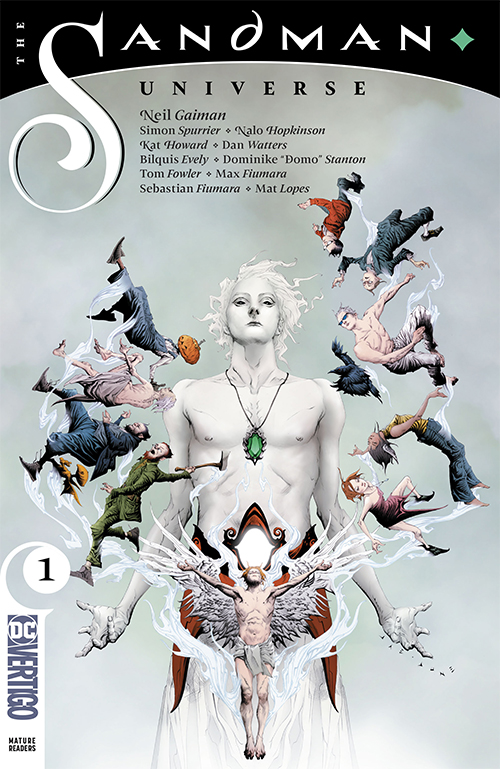 Sandman Universe #1
(W) Si Spurrier, Nalo Hopkinson, Kat Howard, Dan Watters (A) Bilquis Evely, Dominike "Domo" Stanton, Tom Fowler, Max Fiumara, Sebastian Fiumara (CA) Jae Lee
From the mind of New York Times #1 bestselling author Neil Gaiman comes a new world filled with dreams, nightmares and wonderful characters living together in a shared universe for a new story unlike anything we've ever seen before.
A rift between worlds has opened, revealing a space beyond the Dreaming. Meanwhile, a book from Lucien's library is discovered by a group of children in the waking world where it should not exist. Lucien calls for Matthew the Raven to seek out their master, Daniel, Lord of Dreams.
As Matthew flies across the Waking World and others, he finds a young boy named Timothy Hunter who, in his dreams, has become the world's most powerful magician-but in his nightmares he is the world's greatest villain. A new House has appeared in the realm of the Dreaming: the House of Whispers, with its proprietor, a fortune-teller called Erzulie. And elsewhere, Lucifer has fallen again, only this time he might be trapped in a Hell of his own design.
Spiraling out of this special issue will be four all-new series set in the Sandman Universe. It all starts here!
In Shops: August 8, 2018
SRP: $4.99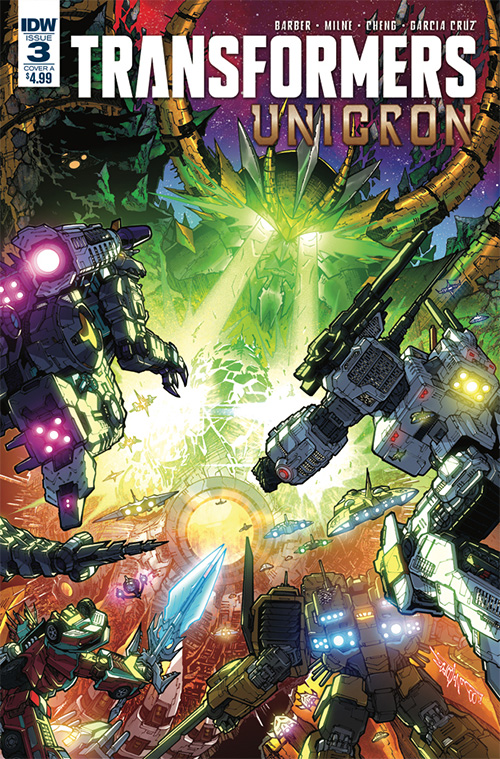 Transformers: Unicron #3 (of 6)
(W) John Barber (A/CA) Alex Milne
Unicron approaches Cybertron, so Windblade enacts a desperate plan-one neither Optimus Prime nor Starscream agree with! Has Windblade outmaneuvered Shockwave's machinations-or played right into his deadly hand?
In Shops: August 8, 2018
SRP: $4.99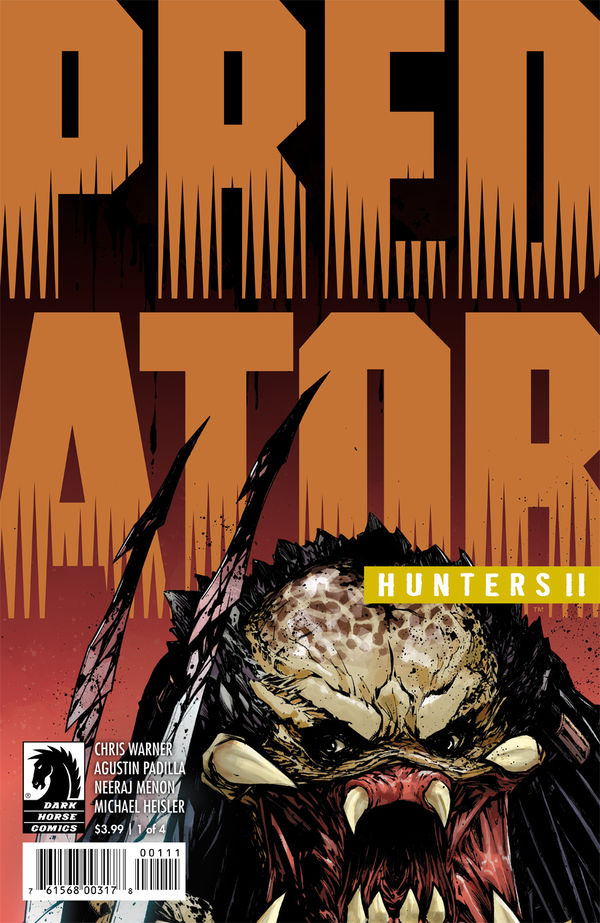 Predator Hunters II #1
(W) Chris Warner (A) Agustin Padilla, Neeraj Menon (CA) Andy Brase
From the islands of the South Pacific to the mountains of Afghanistan, the Hunters go wherever the Predators appear-even it's in a warzone and into conflict with a mysterious government group hunting the same prey!
Despite the casualties suffered during their fist mission, the Predator Hunters are on the prowl again!
"A true testament to the savagery of the Predator franchise, this series just doesn't quit..."-Infinite Earths
In Shops: August 8, 2018
SRP: $3.99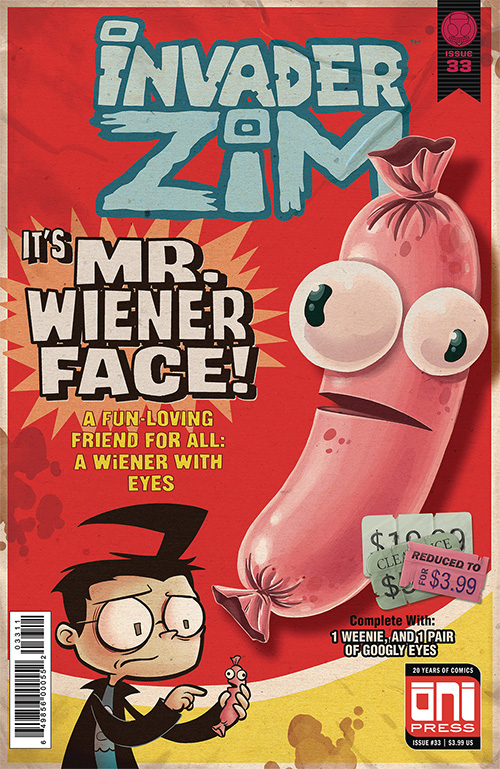 Invader Zim #33
(W) Sam Logan (A/CA) Fred Stresing
Dib and ZIM both compete in the Skool's Innovation Fair, but ZIM's ultimate project-which was going to both humiliate Dib AND finally help ZIM take control of Earth-has been swapped with GIR's ultimate project, which is... something called "Mr. Wiener Face." But somehow, the judges are impressed! Could it be that the way to control the humans is through their love of processed meats? ZIM will find out!
In Shops: August 8, 2018
SRP: $3.99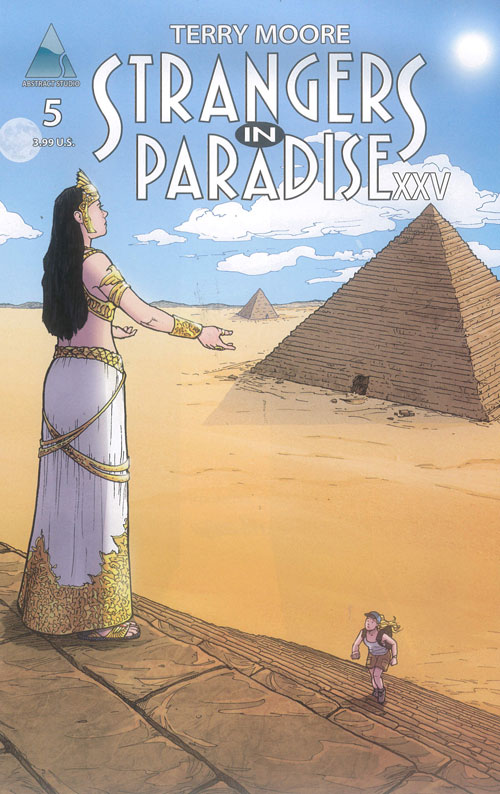 Strangers In Paradise XXV #5
(W) Terry Moore (A/CA) Terry Moore
Katchoo's search for a rogue Parker Girl leads her to a Caribbean island and a sinister newcomer to the deadly game of hide and seek. Don't miss a single issue of this exciting new series!
In Shops: August 8, 2018
SRP: $3.99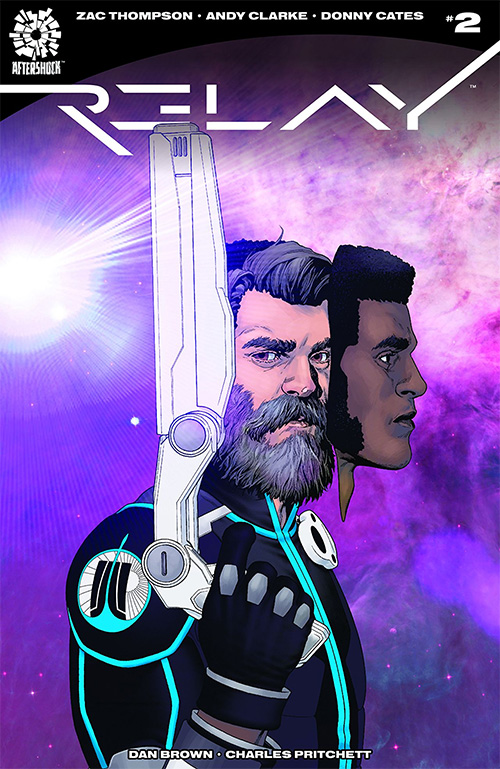 Relay #2
(W) Zac Thompson, Eric Bromberg, Donny Cates (CA) Dan Brown (A/CA) Andy Clarke
The science fiction epic of the summer continues!
Equal part The Fifth Element and Philip K Dick, RELAY is an exploration of monoculture, identity and the deceptive nature of legend set in a thriving future where humanity forcibly assimilates new worlds. Every newly discovered planet is unified culturally through a monolithic structure known as the Galactic Relay-a structure that many across the galaxy resent.
The one wish of the Relay has been fulfilled but what secrets does Hank Donaldson's world hide? And just how far will the mysterious interstellar savior go to keep them?
Written by Zac Thompson (Cable, The Dregs, HER INFERNAL DESCENT) with art by Andy Clarke (REPLICA, Batman) and a story conceived by Zac Thompson, Eric Bromberg (PESTILENCE) and Donny Cates (BABYTEETH, Doctor Strange, Thanos, Venom, God Country), this is a powerhouse of a series that could only be told at AfterShock.
In Shops: August 8, 2018
SRP: $3.99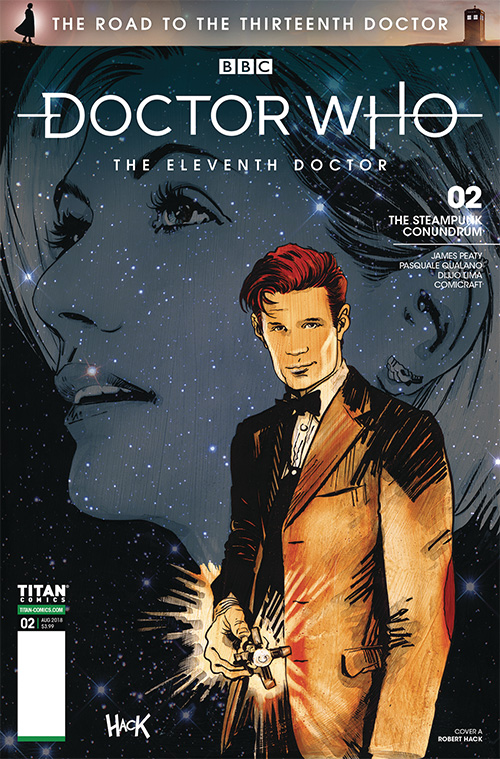 Doctor Who: The Road to the Thirteenth Doctor #2
(W) James Peaty, Jody Houser (A) Pasquale Qualano, Rachael Stott (CA) Robert Hack
The eleventh Doctor and Alice visit 19th century San Francisco, but there's one problem - it's full of robots! Do they come in peace? Or does their displacement in time signal something sinister?
In Shops: August 8, 2018
SRP: $3.99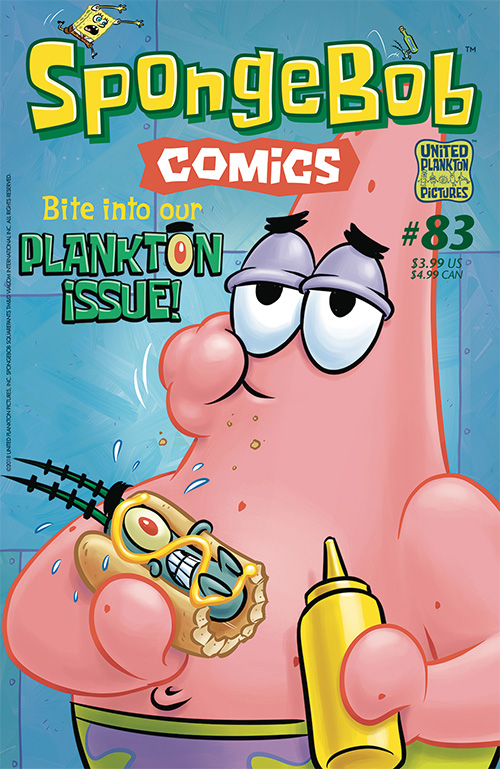 Spongebob Comics #83
(W) Chuck Dixon, Corey Barba (A) Vincent DePorter, Corey Barba (CA) Gregg Schigiel
Plankton has taken over another issue! In "The Goo, The Bad, and the Ugly," the little green megalomaniac tastes success at last as Bikini Bottom tastes the Chum Bucket's new amazing spicy sauce! Then, in
"Plankton's Country Cousin," microscopic hillbilly relative Rupert makes time with Plankton's very own computer wife, Karen! Can SpongeBob help Plankton find a different love match for Rupert? Plus: 6 pages of Sponge-insanity from Bill Wray, "SpongeFunnies" by James Kochalka, and ocean facts by Maris Wicks!
In Shops: August 8, 2018
SRP: $3.99
---

See all the New Releases for this week here!

Get these comics at your local comic shop!