#NCBD 3/7/18: FCBD's 10 Comics for New Comic Book Day!
Mar 07, 2018
Free Comic Book Day was founded on the belief that there's a comic book perfect for everyone out there! Each and every Wednesday is New Comic Book Day (#NCBD) at your local comic shop, where the new releases hit the shelves and readers and fans go to get them and experience the fun comic shops have to offer!
We've highlighted ten comics that are perfect recommendations for anyone looking to get into comics!
In this week's list for books coming out 3/7/18, there's definitely something for everyone: the Green Goblin is back in a new story arc in Amazing Spider-Man #797, the Saga of the Infinity Stones begins in Infinity Countdown #1, Poison Ivy continues her fight against the Caped Crusader in Batman #42, there's a wild and new story in The Tick #3, and more!

What are you going to be picking up at your local comic shop? Let us know on Facebook or Twitter!
---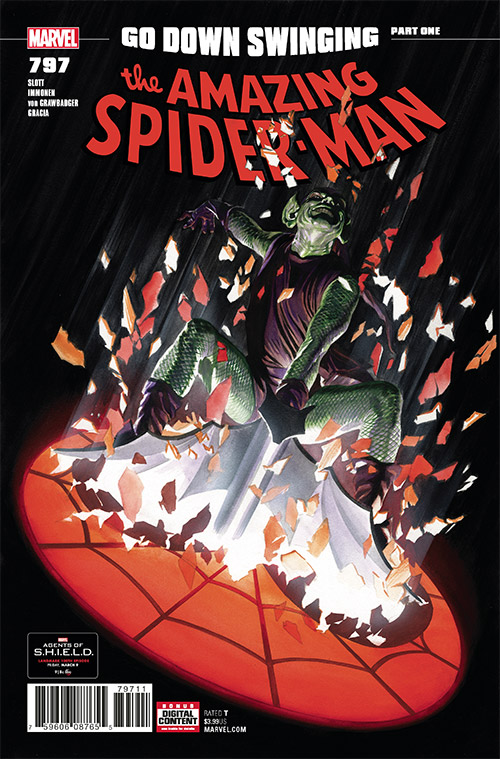 Amazing Spider-Man #797
(W) Dan Slott (A) Stuart Immonen (CA) Alex Ross
GO DOWN SWINGING Part 1
The Green Goblin is back - and scarier than ever! Dan Slott has saved his most harrowing Spider-Man story for last as he and Stuart Immonen kick off the AMAZING SPIDER-MAN story ten years in the making. Osborn got his crazy back and has a plan that'll make all his past plans look like child's play. Peter Parker and the people he loves (ALL of them) are in deep trouble. And who or what is the RED GOBLIN?! The only way Spider-Man survives is to GO DOWN SWINGING!
Rated T
Avengers #683
(W) Mark Waid, Al Ewing, Jim Zub (A) Paco Medina (CA) Mark Brooks
NO SURRENDER Part 9
THE AVENGERS WEEKLY EPIC CONTINUES!
Jarvis' life hangs by a thread. Only by voyaging into Jarvis' mind can the Beast save him - but what terrible secret is lurking inside the memory of the Avengers' loyal butler?
Rated T+
Infinity Countdown #1
(W) Gerry Duggan (A) Aaron Kuder (CA) Nick Bradshaw
The Saga of the Infinity Stones begins!
As the Infinity Stones reappear around the cosmos, the ultimate race for power is on!! Battles will be fought, blood will be spilled, lives will be lost... all as the greatest cosmic heroes and villains vie for possession of the Power Stone, towering over a remote asteroid, somehow grown to the size of a building. Watch as the path to Infinity opens before your eyes and the END lies near...
Rated T+
Batman #42
(W) Tom King (A/CA) Mikel Janin
"Everyone Loves Ivy" part two! Poison Ivy has taken control of every man, woman and child on the planet, and only Batman and Catwoman have escaped her influence. But will the pair of them be enough to nip this in the bud?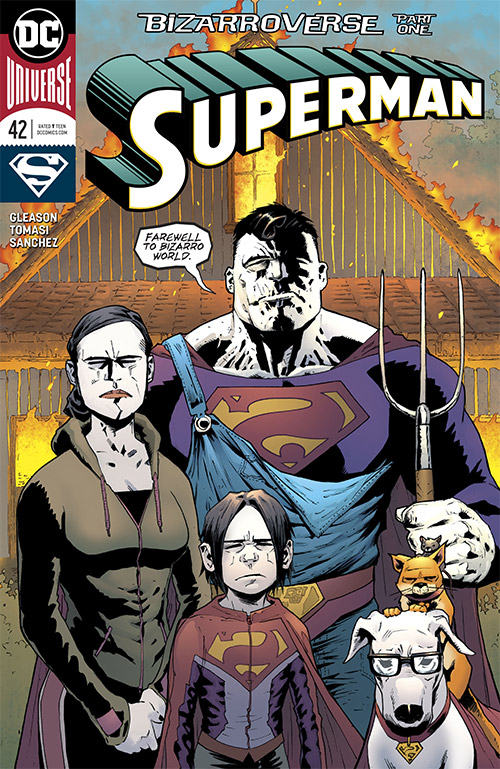 Superman #42
(W) Peter J. Tomasi, Patrick Gleason (A) Patrick Gleason, Patrick Gleason
"BOYzarro RE-DEATH" part one! It's a bizarre, Boyzarro world-and we just live in it! When Superboy comes face to face with Boyzarro, the Son of Bizzaro, a strange transformation begins to take place. But that's not all that the Kents have knocking on their door! Superman versus Bizarro round one am not just the beginning!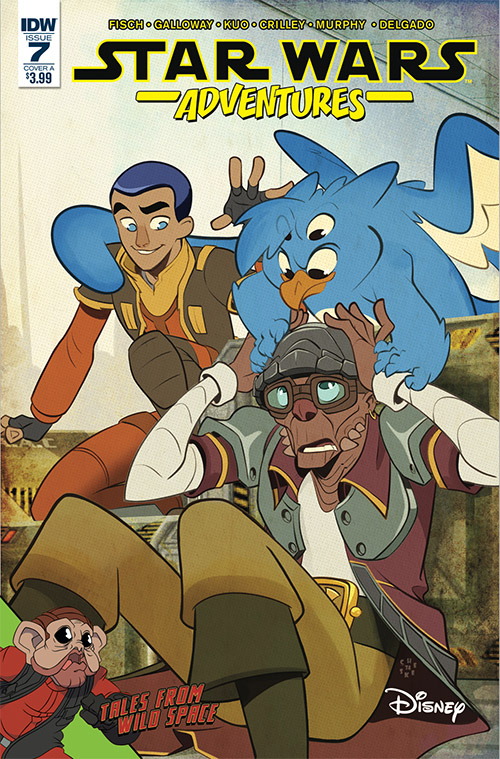 Star Wars Adventures # 7
(W) Sholly Fisch, Paul Crilley (A) Philip Murphy (A/CA) Sean Galloway
The Empire has taken a sacred bird that is central to an important planet's belief system. It's up to the rebel crew of the Ghost to retrieve the creature, but little do they know it is also sought by space pirate Hondo Ohnaka!
• Part one of a two-part Star Wars: Rebels storyline!
• Plus an exciting new Tales from Wild Space!

Prism Stalker #1
(W) Sloane Leong (A/CA) Sloane Leong
SPECIAL LOW INTRODUCTORY PRICE OF $2.99!
For fans of Octavia Butler, Sailor Moon, and the biopunk horror of David Cronenberg comes PRISM STALKER, an ongoing sci-fi adventure series by SLOANE LEONG.
Vep is a young refugee raised away from her devastated home planet as an indentured citizen in a foreign colony. She works tirelessly for her insectoid hosts, but there is no exit in sight in this viscous, dripping citynest. The eye of opportunity is closing. Her duty is to her family and her siblings, but what more can she do for them here? The answer appears faster than she is ready for.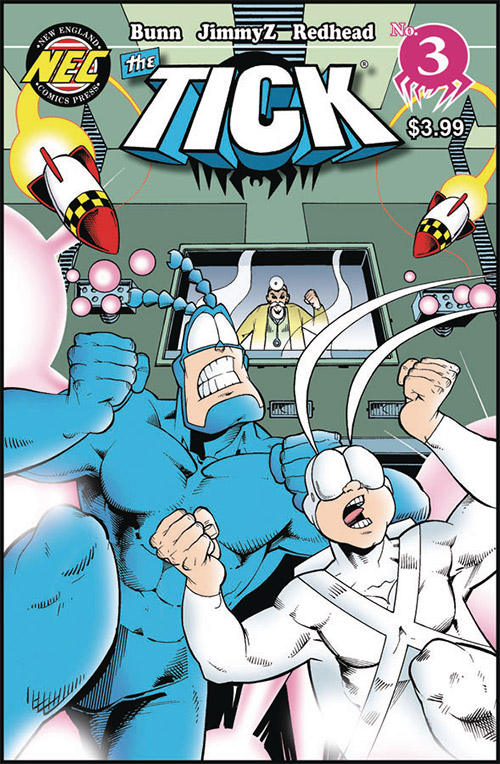 Tick #3
(W) Cullen Bunn, JimmyZ Johnston (A/CA) Duane Redhead
"Memories & Malevolence": The Tick, while reeling from the new revelations about his past, must battle for his life against old enemies and what he thought to be new friends! Did The Tick escape from this previous life, or has he been led down the road he's been on by a sinister force this entire time? The Amazon Original series, The Tick, debuted to overwhelming critical and viwer support! Don't get left behind on this wild and exciting new story!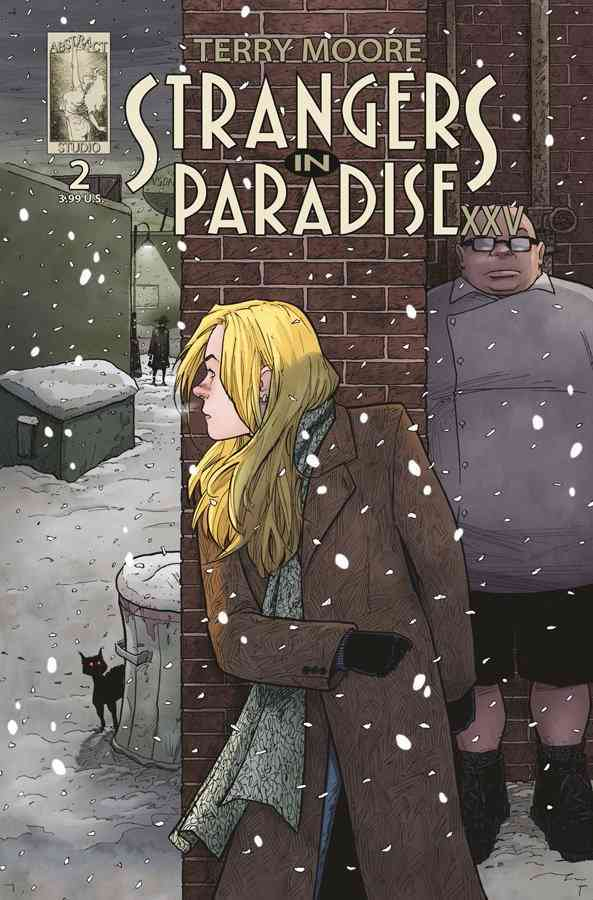 Strangers In Paradise XXV #2
(W) Terry Moore (A/CA) Terry Moore
A former Parker Girl is writing an expose that will destroy Katchoo and Francine's life. Katchoo is determined to stop the writer but to do that, she'll have to find her. Fortunately, Tambi knows the best bounty hunter in the world, Ivy Raven (from Echo)! Things are heating up, folks and we're just getting started!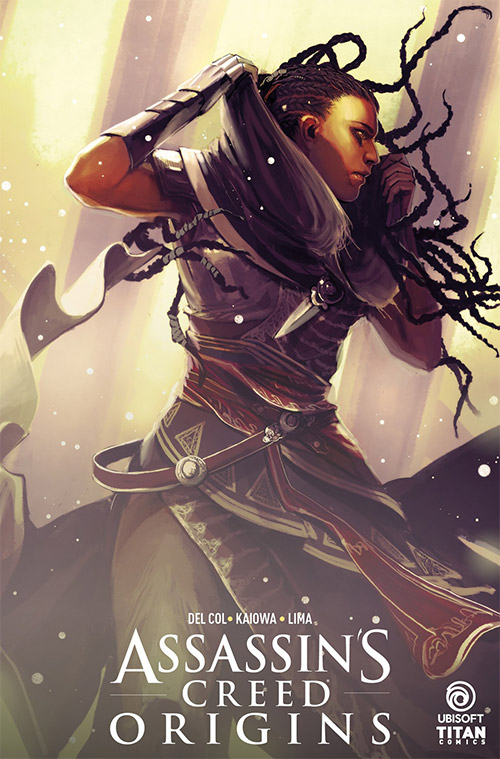 Assassin's Creed Origins #1
(W) Anthony Del Col (A) PJ Kaiowa (CA) Stephanie Hans
Written by Anne Toole, Egyptologist and videogame writer for Assassin's Creed Origins and Horizon Zero Dawn!
Cover A by superstar artist Stephanie Hans (The Wicked + The Divine, Angela: Queen of Hel, Generations: Phoenix and Jean Grey)!
Direct tie-in to the brand-new videogame, Assassin's Creed Origins!
Comic promoted on the official Assassin's Creed social media channels!
Over 13 million fans!