FCBD18 Interview: Star Wars Comic Creators Discuss What Han and Chewie are Up to This Time
Mar 01, 2018
Set to hit theaters May 25th, Solo: A Star Wars Story, provides insight on the adventures of Han Solo and Chewbacca before Ben Kenobi and Luke stumble upon them in the Mos Eisley Cantina in Star Wars: A New Hope.
In between the events of Solo and A New Hope, comes IDW Publishing's Free Comic Book Day title: Star Wars Adventures, featuring Han and Chewie. Feared and dangerous bounty hunters, Zuckuss and 4-LOM, have their sights set on two of the biggest scoundrels in the galaxy: Han and Chewie!
Timed brilliantly with the release of Solo and Star Wars Day in May (May the Fourth…), IDW brings a gripping tale to Free Comic Book Day that continues to fill in the holes of what our favorite heroes were doing outside the adventures of the films.
Read our interview below with the creators behind this Han Solo-centric Star Wars Adventure, Cavan Scott and Derek Charm. Then, click here to read through our PREVIEW Prevue of the comic!
---
Free Comic Book Day (FCBD): What initially got you interested in comics? (or What is your favorite thing about working in comics?)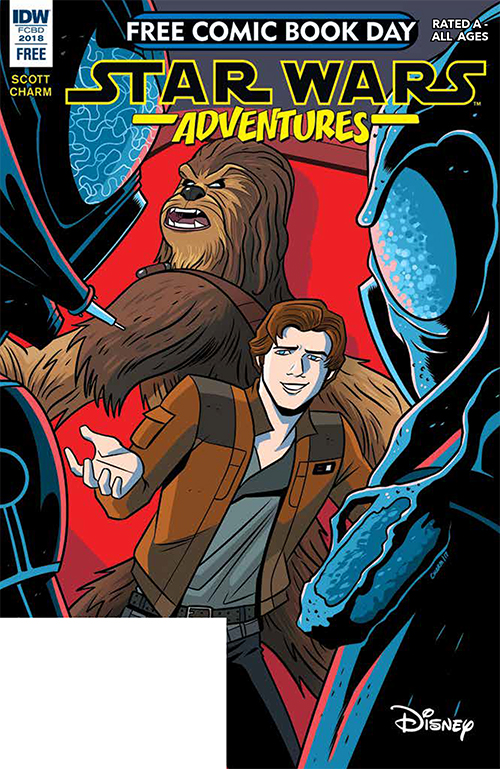 Cavan Scott: My favorite thing is that you get to work with so many creative people. Writing novels can be lonely. Largely, it's just you and the keyboard. With a comic, it's a partnership, working with an artist (or artists) to bring a story to life. I love bouncing ideas back-and-forth to make each issue just that little bit better. There's nothing like it.
Derek Charm: I think initially I was interested in super heroes in general, and the only place you could really find them at the time was in comics. I'd also always drawn from an early age, and I used to make little comics based on episodes of Batman. As I got older, I got more into the idea that any kind of story could be told in comics, and started to seek out some of the less obvious stuff.
FCBD: Many newcomers will pick up comics for the first time on FCBD—what was the first comic you remember reading?
Scott: The first comic I can remember reading was a weekly kid's comic called The Beano, which has been going strong over here in the UK for 80 years. From that, I moved onto 2000AD and also discovered American superhero comics. I think the first US comics I read were Marvel's Star Wars comics back in the late 70s, but I definitely know the first ever super-hero comic I read was DC Comics Present #26, which was a team-up between Superman and Green Lantern, plus the first ever appearance of the New Team Titans! I must have read that one over and over again.
Charm: The first comic I remember reading and loving was Superman: The Man of Steel #22, which I got in a big package of comics from Toys R Us. It's the debut of Steel just after the Death of Superman. John Bogdanov's art really stuck with me, it was unlike anything I'd seen before. And of course, it was written by Louise Simonson, who I'd later work with, and has become one of my favorite people in comics.
FCBD: Tell us why everyone should read comic books!
Scott: Because there are comics for everyone, no-matter what you're into — Superheroes, spies, monsters, space-ships, gangsters, or star-crossed lovers... there's a title for you out there. All you have to do is head into your friendly-neighbourhood comic store to find out more!
Charm: I think what comics can do is so broad and encompassing, there is absolutely something for everyone. Nothing else really combines art and writing in this way, with so few filters between the creators and the reader.
FCBD: What is your favorite part about Free Comic Book Day? What do you think is the best part of Free Comic Book Day?
Scott: I love all the events that comic stores put on all around the world. It's like thousands of mini-comic conventions all happening at once. Sure, there are free comics, but you also get cosplay and talks and signings... It's a real celebration of comics, and fandom as a whole.
Charm: It's great getting exposed to new things, and I think FCBD helps with that because it eliminates the risk involved with trying something new. Best case scenario, people are trying out books that they wouldn't otherwise, and finding something they'll come back for.
FCBD: Where do you plan to spend Free Comic Book Day?
Scott: I usually head up to London, to catch up with other creators. London has a number of great comic book stores, so I end up nipping from one to another to catch everything that's going on. Then, when it's all over, we usually all congregate in a pub, which is always a laugh.
Charm: This is my first year having a book involved, so hopefully a signing at one of the many fine comic stores in New York.