#NCBD 2/7/18: FCBD's 10 Comics for New Comic Book Day!
Feb 07, 2018
Free Comic Book Day was founded on the belief that there's a comic book perfect for everyone out there! Every Wednesday is New Comic Book Day (#NCBD) in comic book shops, where new comics release hit the shelves of comic book shops for eager fans to pick up and purchase.
We've highlighted ten comics that are perfect recommendations for anyone looking to get into comics!
In this week's list for books coming out 2/7/18, there's definitely something for everyone: the conclusion of the Dark Knight's team-up with Wonder Woman in Batman #40, Raphael and Alopex go undercover in TMNT Universe #19, technology of Wakanda comes to Dubai in Black Panther: Sound and Fury #1, and more!

What will you be picking up at the comic shop? Let us know on Facebook or Twitter!
---
BATMAN #40
DEC170254
DC COMICS

(W) Tom King (A/CA) Joëlle Jones

"SUPERFRIENDS" part four! Since the beginning, the friendship between Batman and Wonder Woman has stood at the heart of the DC Universe. Now that friendship is coming apart, and as it does, the universe itself begins to crumble. The conclusion of Batman's team-up with Wonder Woman.
YOUNG MONSTERS IN LOVE #1
DEC170240
DC COMICS

(W) Paul Dini & Various (A) Guillem March & Various (CA) Kelley Jones

It's hard being a monster... and even harder being a monster in love. Sparks will fly and hearts will be broken when the ghouls and ghosts of the DC Universe assemble to bring you the Valentine's Day Special that no one saw coming!
TMNT UNIVERSE #19
DEC170474
IDW PUBLISHING

(W) Ian Flynn (A) Dave Wachter (CA) Freddie Williams II

"Service Animals," Part 1 of 2. Written by beloved Sonic the Hedgehog writer, Ian Flynn! Raphael and Alopex go undercover at Null Industries. They find more than they bargained for, including very angry mutants! What terrors lie in the heart of Null Industries? New enemies!
SCALES & SCOUNDRELS VOLUME 1: INTO THE DRAGONS MAW TP
NOV170682
IMAGE COMICS

(W) Sebastian Girner (A/CA) Galaad

It's hard to make an honest living in a land brimming with magic and mystery, and treasure hunter Luvander is tired of being a penniless adventurer. Ever in search of gold and glory, she sets off for a fabled dungeon, "the Dragon's Maw," an ancient labyrinth at the bottom of which slumber endless wealth...or certain doom!
BLACK PANTHER: SOUND AND FURY #1
DEC170860
MARVEL COMICS

(W) Ralph Macchio (A/CA) Andrea DiVito

The fantastic technology of Wakanda comes to Dubai! But when the villainous KLAW launches a plot to extort billions from the citizens of the city, T'CHALLA's diplomatic mission becomes a search and rescue for the BLACK PANTHER!
INFINITY COUNTDOWN ADAM WARLOCK #1
DEC170881
MARVEL COMICS

(W) Gerry Duggan (A) Mike Allred (CA) Aaron Kuder

ADAM WARLOCK IS BACK! Reborn from the realm of the dead, Adam has come seeking the Soul Stone...and the truth about what it did to Him! His guide through this Infinity Quest is none other than...Kang the Conqueror?!? Be there as Adam begins down the dark trail sure to lead him into the heart of the mystery of the Infinity Stones.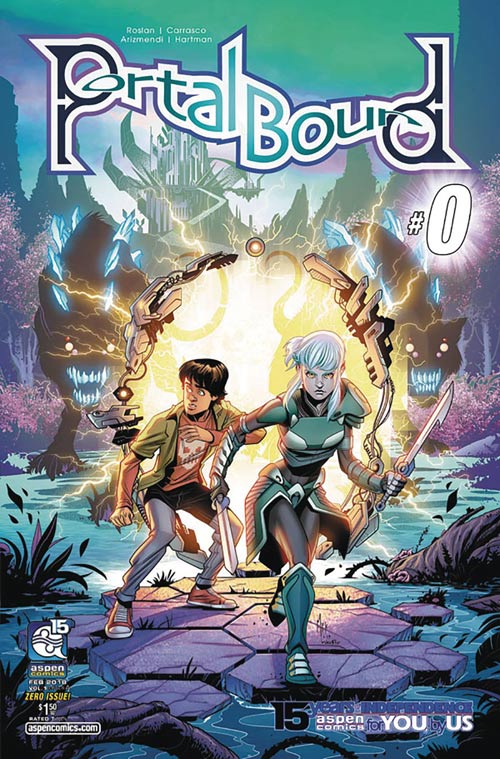 PORTAL BOUND #0
DEC171139
ASPEN MLT

(W) Mark Roslan, Gabe Carrasco (A/CA) Alex Arizmendi

Aspen's 15-Year Anniversary kicks off with the debut of their newest series! Their Future Depends on Each Other. A parallel otherworld exists as a mirror to our own, where science is melded with nature and a warrior spirit defines their true value. A teenage soldier princess, Sybil, is sent off with her Uncle Horuk in an effort to stop her megalomaniac father, Emperor Atilus from destroying two Earths. With a deadly array of monstrous creatures in hot pursuit, Sybil and her uncle race to activate a portal to Earth to find a savior who is also figuring out how to survive... being a teenager!
ADVENTURE TIME #73
DEC171251
BOOM! STUDIOS

(W) Kevin Cannon (A) Joey McCormick (CA) Shelli Paroline, Braden Lamb

Finn and Jake might have finally figured out a way to get rid of their doubles... but what do they do when everyone else likes the doubles more?
BLACK COMIX RETURNS HC
DEC171682
MAGNETIC COLLECTION

(W) John Jennings, Damian Duffy (A) Ashley A. Woods & Various (CA) Ashley A. Woods

Eisner-winning writer/artist/scholar JOHN JENNINGS (The Blacker the Ink) and Glyph Award-winning writer DAMIAN DUFFY (The Hole, Octavia E. Butler's Kindred) follow up their highly respected (and out of print) 2010 artbook BLACK COMIX with an all new collection of art and essays celebrating African American Independent Comics Art & Culture. Featuring over 40 of the best writers and illustrators in the industry, this massive volume will be a brand new milestone spotlight on the amazing diversity in comics today.
ARMSTRONG & THE VAULT OF SPIRITS #1
DEC171924
VALIANT ENTERTAINMENT

(W) Fred Van Lente (A) CAFU (CA) Kalman Andrasofszky

What secrets await inside the Vault of Spirits? Deep beneath New York City's seediest dive bar, Armstrong - the hard-hitting, harder-partying immortal veteran of history's greatest escapades - is hosting an invitation-only affair for his most beloved friends and allies! Archer... Ivar, Timewalker... Faith... Quantum and Woody... And special guests from across the Valiant Universe... All have been offered a seat at the table for a personally guided tour of Armstrong's most valuable and tightly guarded treasure... From the Great Flood to ancient Greece to the height of the Crusades, raise a glass as Armstrong recounts the true stories of his wine-soaked path down through the ages and the artifacts that reside within his own secret archive.