FCBD18 Interview: Graphix Creative Team Discusses Sparks
Mar 06, 2018
Are you a dog person, or a cat person? Everyone picks a side, and seemingly no one ever goes for both.
In the world of Sparks! everyone is a dog person, at least when it comes to their superheroes. See, only dog superheroes are taken seriously, so when our two cat heroes set out to thwart the evil baby Princess, they must do it in a mechanical dog suit.
Graphix creators Ian Boothby and Nina Matsumoto bring a highly imaginative, all-ages adventure to Free Comic Book Day. Read our interview with them below to learn more about what to expect in the pages of their animal adventure, Sparks!, and what they love about comics! Then, click here to read our PREVIEWS Prevue of the comic!
---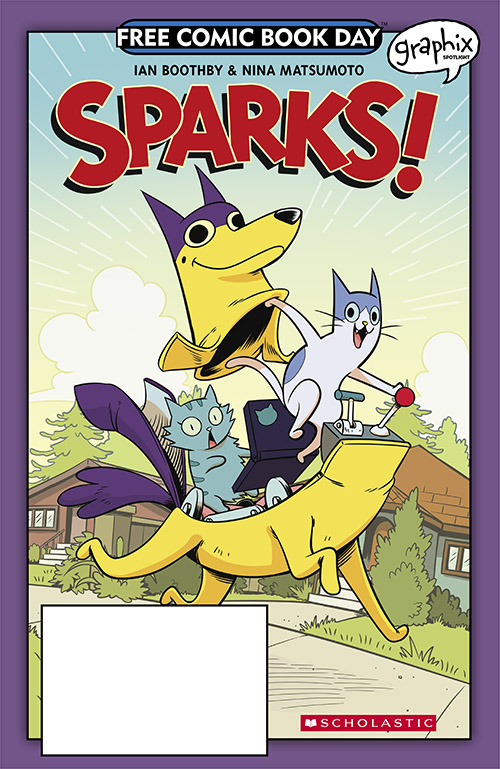 Free Comic Book Day (FCBD): For those who might be new to your comic book, give us a quick rundown of the story!
Ian Boothby: In a world where people only take dog heroes seriously, two brave cats save the day while wearing a mechanical dog suit.
FCBD: What genre is your title?
Boothby: Sci-Fi/Superhero comedy
FCBD: What has been your favorite part of the book or main character(s) to tackle?
Boothby: The two leads are based on my actual cats and it's been fun taking personality traits of theirs and putting them up against an evil alien. Also seeing Nina Matsumoto bring all the characters to life with her amazing art.
Nina Matsumoto: Drawing the Litter Box and making him emote with his limited robotic "face" was a fun challenge. Also, I'm more used to drawing human characters than animals, so working on an animal-centric story was a delightful change of pace.
FCBD: What other titles would you compare to yours? "If a comic reader likes _______ , they should pick up my title?"
Boothby: If you like cats or dogs or squirrels or evil babies trying to take over the world.
Matsumoto: The Simpsons stories featuring Bart and Lisa teaming up to fight against an adversary like Mr. Burns or Sideshow Bob.
FCBD: Looking to the future, is there anything you can tease about what's upcoming for the title and its characters?
Matsumoto: Whatever happens, friendship will prevail.
FCBD: What initially got you interested in comics? (or What is your favorite thing about working in comics?)
Boothby: I've loved all types of comic books since I was little. I enjoyed reading them and making them. There's nowhere you can't go in comics and nothing you can't do.
Matsumoto: I grew up reading manga that my relatives would send me from Japan. I like working in comics because I get to draw all day and no one can stop me.
FCBD: Many newcomers will pick up comics for the first time on FCBD—what was the first comic you remember reading?
Boothby: A Mickey Mouse comic where he was trying to solve the mystery of the theft of the Moaning Lisa painting. There were fake ones but only the real one made Goofy cry.
Matsumoto: Doraemon, arguably Japan's most famous children's manga. It's about a robot cat from the future (he doesn't much resemble a cat due to his lack of ears -- he's very sensitive about that) who goes back to the 20th Century with all his futuristic gadgets to help a hapless boy succeed in life.
FCBD: Tell us why everyone should read comic books?
Boothby: There's a comic book out there for every taste, especially if you include Japanese Manga.
Matsumoto: If you like art and stories, comics are the best of both worlds. And you can take them anywhere!
FCBD: What is your favorite part about Free Comic Book Day? What do you think is the best part of Free Comic Book Day?
Boothby: I like when people pick up a comic they've never heard of. It's great to have a chance to try something new. Your favorite thing now was new to you once.
FCBD: Where do you plan to spend Free Comic Book Day?
Boothby: I work over a comic store so I'll be both in one meeting people, picking up some new comics and then going back upstairs to make more.
Matsumoto: Honestly, I'm going to be on Twitter a lot, looking to see what people think about Sparks!. I need validation like Charlie!