FCBD18 Interview: Jeff McClelland Tells Us How The Tick Ends Up in a Fantasy Land
Feb 01, 2018
"Spoooooooon!"
It's ok, it's just the Tick's battlecry, as he charges into the Feldsparian Empire to save it from sorcerers, dark magic, and enemy hordes.
Yeah, not exactly the setting we're used to seeing The Tick in, but New England Comics and Jeff McClelland have found and developed a "lost" tale of the Tick, conceived by his original creator Ben Edlund. The Tick always finds himself in odd situations, but this may be one his oddest one yet!
Read our interview below with New England Comics creator Jeff McClelland to find out what the Tick is up against in this Free Comic Book Day special, as well as Jeff's favorite things about comics and where he'll spend Free Comic Book Day. And then click here to look at our PREVIEWS Prevue of The Tick!
---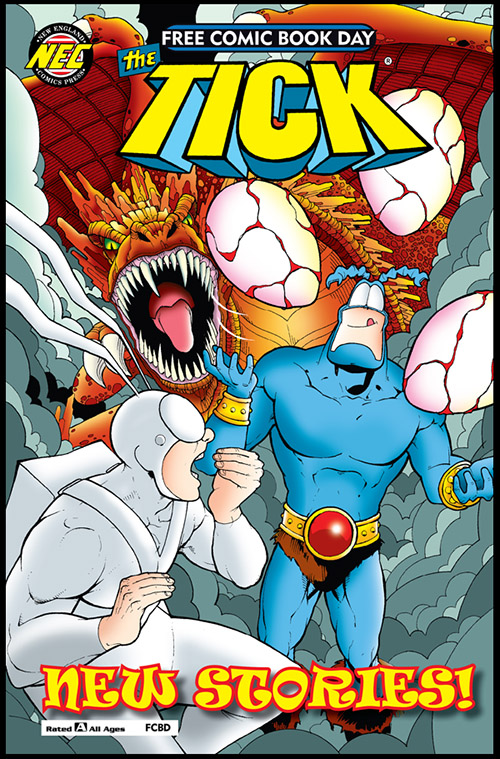 Free Comic Book Day (FCBD): For those who might be new to your comic book, give us a quick rundown of the story!
In a "lost" story originally conceived by creator Ben Edlund back in 1991 (hi, Ben), the Tick rides into the Feldsparian Empire on a one-eyed horse, ready for adventure and intrigue. I took the basic framework for the story and decided that it had a distinct fantasy, "swords-and-sorcery" feel to it, so The Tick comes face to face with sinister sorcerers, devious dragons and carnivorous cows on his quest to protect his new realm!
FCBD: What genre is your title?
The Tick is, first and foremost, a comedy, of course, though this particular story has shades of sword-and-shield-wielding fantasy sprinkled in as well. Parody has always been a big part of The Tick's universe, and we're branching out a little bit, but the humor element remains at the center of the title.
FCBD: What has been your favorite part of the book or main character(s) to tackle?
It's always fun to drop The Tick and his compatriots into different situations to see how they react. This time around, The Tick is going solo, so that's a fun change of pace for me as a writer. Overall, it's hard not to be excited about working on such a beloved character!
FCBD: Looking to the future, is there anything you can tease about what's upcoming for the title and its characters?
I'm hoping that we can tell more of these "lost" Tick tales in the future!
FCBD: What initially got you interested in comics? (or What is your favorite thing about working in comics?)
I've been interested in comics since I learned to read, honestly. The medium, I think, exemplifies creativity when it's allowed to. I enjoy the creation process, but the best thing about it, for me, is the collaboration between different creators. I rely on so many people from start to finish when telling a story, and I think the end product is always made better from working with other talented individuals.
FCBD: Tell us why everyone should read comic books!
Comics, just like other books, help readers to see and understand different perspectives, better understand the world around them, and have fun while learning and enriching their imaginations. Comics are a beautiful amalgamation between art and story!
FCBD: What is your favorite part about Free Comic Book Day? What do you think is the best part of Free Comic Book Day?
The best part about Free Comic Book Day is getting to try a title or concept you otherwise might not! Pick up a new, different title this FCBD! Perhaps the one I'm writing!
FCBD: Where do you plan to spend Free Comic Book Day?
Every year my plans to spend Free Comic Book Day orbiting a distant planet fall through (drat), but if that fails again in 2018, hopefully I can spend it at a few of the Boston-area New England Comics locations, where I've spent FCBD in the past. Stop by, grab a signed book, and say hello!