FCBD18 Interview: Jim Rugg Tells the Story Behind Image Comics' Street Angel's Dog
Jan 30, 2018
Everyone has a soft spot for dogs, even the deadliest girl alive!
Street Angel fights ninjas, drugs, nepotism, and pre-algebra! But when she stumbles upon an adorable dog in need of some help, she takes him and shows him all kinds of fun things to do – skateboard, fight ninjas, skateboard, fight monsters, race robot cars to the death, and teach each other the value of family.
Free Comic Book Day spoke with Jim Rugg, the creator behind Image Comics endearing title about a tough-as-nails street girl and man's bestfriend.
Read our interview below to learn more about what to expect from Street Angel's Dog, as well as what Jim Rugg loves about comics and Free Comic Book Day. And click here to see our PREVIEWS Prevue of the title!
---
Free Comic Book Day (FCBD): For those who might be new to your comic book, give us a quick rundown of the story!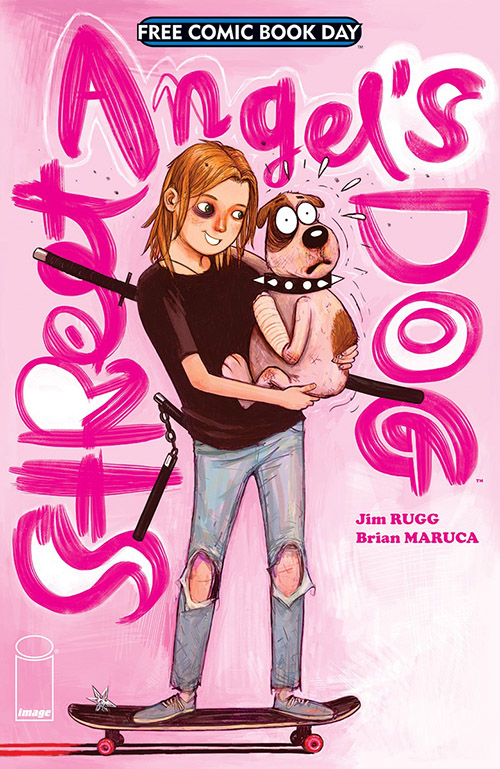 Street Angel, aka Jesse Sanchez, aka Shiraz Thunderbird, is a homeless ninja on a skateboard and the deadliest girl alive. We don't know where she came from, how she learned to fight, or if she's even human. Street Angel is an urban legend, a mystery...the stuff of which comic books are made. Ninja. In Street Angel's Dog, Jesse saves a stray dog from a kid gang. Jesse and the dog become friends and have one of the best days of Jesse's life. But then…(spoiler)...Jesse must make a tough decision.
FCBD: What genre is your title?
Superhero/comedy/ninja/skateboarding/YA/action
FCBD: What has been your favorite part of the book or main character(s) to tackle?
My favorite parts are Jesse's relationships with her friends, whether those friends are a stray dog, a robot girl from school, or a brain-damaged ex-superhero...I also like the fight scenes, it is a superhero comic after all!
FCBD: What other titles would you compare to yours? "If a comic reader likes _______ , they should pick up my title?"
If a comic reader likes Smile, That One Summer, Lumber Janes, Elektra: Assassin, or Tekkonkinkreet, they should pick up Street Angel.
FCBD: Looking to the future, is there anything you can tease about what's upcoming for the title and its characters?
In May, Jesse gets busted in Street Angel Goes to Juvie. It's a girls in prison story and features a girl gang, a superhero's sidekick, and an old lunch lady from WWI. In November, we see her in a corporate office setting when she declares war on the ninja industrial complex in Street Angel vs Ninjatech!
FCBD: What initially got you interested in comics? What is your favorite thing about working in comics?
I love to draw. When I got my first comic book and saw that it was someone's job to draw comics, I was in! My favorite thing about comics is telling stories and trying to make characters come to life!
FCBD: Many newcomers will pick up comics for the first time on FCBD—what was the first comic you remember reading?
Sage of the Swamp Thing #26 by Alan Moore, Steve Bissette, and John Totleben.
FCBD: Tell us why everyone should read comic books!
Everyone should read comic books because they are awesome and fun and they represent a type of storytelling that stretches back to the dawn of history. Comics are pictures that talk. There is no limit to the stories found in comic books.
FCBD: What is your favorite part about Free Comic Book Day? What do you think is the best part of Free Comic Book Day?
My favorite part of Free Comic Book Day is the celebration of comic book stores! I love comic book stores. The best part of Free Comic Book Day is sharing comics with new readers and the celebration of readers, retailers, and creators. The reason I stuck with comics is because I love them - the community, the comics, the characters...FCBD is a chance for comic book fans old and new to get together, enjoy ourselves, welcome new readers, and share this medium that we love. New readers are essential to this art form and Free Comic Book Day is a way to invite new readers to this wonderful world.
FCBD: Where do you plan to spend Free Comic Book Day?
Not sure yet. I live in Pittsburgh and it has a great comics community so I might try to visit a few of my favorite local stores...but we'll see.