Daniel Lieske's 'Wormworld Saga' Premieres on Free Comic Book Day
Dec 20, 2017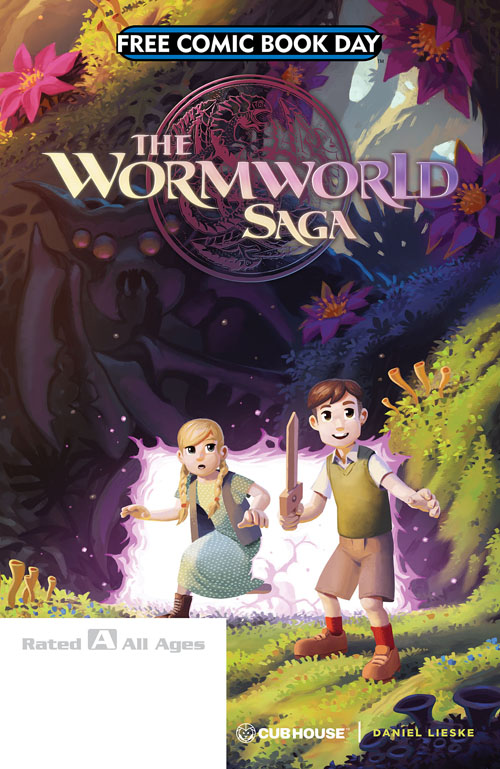 Lion Forge announces the publication of German creator Daniel Lieske's Wormworld Saga, as part of the publisher's CubHouse imprint!

This gorgeous fantasy epic follows Jonas, a young boy from our human world, who stumbles into an alternate universe through a painting in his grandmother's attic. When the portal closes behind him, Jonas must find another way home, beginning a journey through this strange and fascinating land. Along the way, he meets Raya, who becomes his guardian in the new world. But there are many things Raya is not telling Jonas, and this world is not peaceful. After a visit to the bucolic waterfall village of Ankal Aasha, a priest reveals that his destiny is to heal the rift in their world. Their travels take them to the city of King's Peak, home of the Worm Mountain, under which, according to legend, the great fire god Unurtha is buried. Here they find that the city's people have turned a blind eye to the dangers of Unurtha and are using a crack in the mountain to harvest energy from the fire and create new kinds of energy crystals. In a world of mounting violence, monstrous creatures, and shifting allegiances, what can one small, scared, human boy do?

"Bringing the Wormworld Saga to the US in a proper book release has been on the very top of my wishlist for many years," says creator, Daniel Lieske. "Finally it's going to happen and I can hardly express how excited I am about the Lion Forge release. May many more young adventurers encounter the Wormworld Saga and join Jonas on his fantastic journey!"

"I've been a fan of Daniel's beautiful, atmospheric, epic webcomic for years and have been hoping for some time to bring it to American audiences," says Andrea Colvin, executive editor of Lion Forge. "I couldn't be more thrilled to finally be publishing this series in the US. Daniel has created something truly special. No one who ventures into the Wormworld will be unchanged by it."

"Daniel's family-friendly story is an heart-tugging page-turner with luscious painted artwork, and we're excited to partner with Lion Forge to bring this masterpiece to the English language," says TOKYOPOP founder and CEO, Stu Levy.

Daniel Lieske's Wormworld Saga will debut from Lion Forge/CubHouse in May of 2018 on Free Comic Book Day, with subsequent volumes being published in six-month intervals.