FCBD 2018 Site Downloads
Dec 06, 2017
It's never too early to prepare for Free Comic Book Day. In that spirit, here are a host of useful promotional tools to help you start spreading the good word about Free Comic Book Day 2018 (Saturday, May 5th)!
Show your FCBD spirit Get the news out to your family, friends, coworker, classmates, community, whoever!
Web Ads
A variety of sizes are available to use for your websites and outreach. Please have these ads point back to www.freecomicbookday.com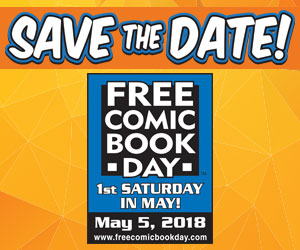 Button [120x90] Vertical Banner [120x240] Logo Rectangle [300x100]
Medium Rectangle [300x250] Skyscraper [120x600] Leaderboard [728x90] Super Leaderboard [970x90]
Official Logo
Put it on postcards, flyers, signs, friends...just about anything.
Social Media



2018 Facebook Cover Photo




2018 Twitter Background


Free Comic Book Day Video
What is Free Comic Book Day? A video overview of the worldwide celebration of comics and comic culture.
For additional videos about Free Comic Book Day, visit the FCBD Youtube channel at https://www.youtube.com/user/freecomicbook