#NCBD 12/6/17: FCBD's 10 Comics for New Comic Book Day!
Dec 06, 2017
Free Comic Book Day was founded on the belief that there's a comic book perfect for everyone out there! Every Wednesday is New Comic Book Day (#NCBD) in comic book shops, where new comics release hit the shelves of comic book shops for eager fans to pick up and purchase.
We've highlighted ten comics that are perfect recommendations for anyone looking to get into comics!
In this week's list, for books coming out 12/6/17, there's definitely something for everyone: Batman causes a tragedy in Justice League, Negan's life unfolds in The Walking Dead, National Geographic's Animal Jam comes to comics, and more!

What will you be picking up at the comic shop? Let us know on Facebook or Twitter!
---
JUSTICE LEAGUE #34
OCT170279
DC COMICS

(W) Christopher Preist (A/CA) Pete Woods

"LOST" part one! When the Justice League is confronted by three concurrent threats, a sleep-deprived Batman makes a crucial error that causes an unthinkable-and potentially unforgivable-tragedy. Legendary Eisner Award-nominated writer Christopher Priest (Deathstroke) is joined by artist Pete Woods for a brand-new must-read Justice League story like you've never seen before!
Teenage Mutant Ninja Turtles #77
OCT170450
IDW PUBLISHING

(W) Tom Waltz, Kevin Eastman (A/CA) Damian Couceiro

"Invasion of the Triceratons" Part 2 of 5. The Invasion begins in earnest and an unspeakable alliance forms to counter it!

THE WALKING DEAD #174
OCT170736
IMAGE COMICS/SKYBOUND

(W) Robert Kirkman (A) Charlie Adlard & Various (CA) Charlie Adlard, Dave Stewart

"A SOLITARY LIFE." The sad, sorry, solitary life of Negan. Face it, true believers, he deserves this. Mature Readers.

I HATE FAIRYLAND VOLUME 1 DELUXE HC
SEP170650
IMAGE COMICS

(W) Skottie Young (A) Skottie Young, Jeffrey Chamba Cruz (CA) Skottie Young

From SKOTTIE YOUNG, New York Times bestselling, Eisner Award-winning cartoonist of The Wonderful Wizard of Oz graphic novels, Rocket Raccoon, and Fortunately, the Milk, comes a satirical fairytale adventure that smashes its cute little face against hilariously violent comedy that's definitely NOT bedtime story material for the kiddies (unless your parents are super cool and don't screen your entertainment, then...whatever). In this oversized DELUXE HARDCOVER, join Gert (a grown woman in a six-year-old girl's body, who has been stuck in a the magical world of Fairyland for over 30 years) on a maddening quest to return home. It's just her, a fly named Larry, a giant blood-soaked battle-axe and an endless amount of cute and cuddly Fairylanders standing in her way. Collects I HATE FAIRYLAND #1-10, along with EXCLUSIVE EXTRAS! Mature Readers.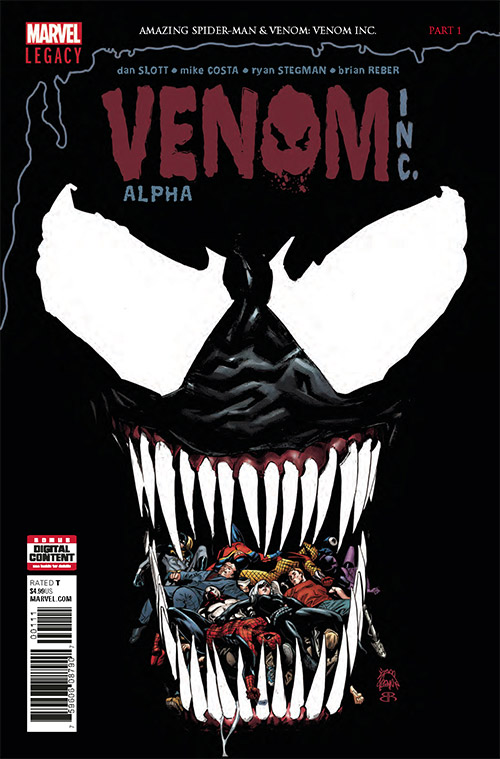 AMAZING SPIDER-MAN VENOM INC ALPHA #1
OCT170876
MARVEL COMICS

(W) Dan Slott, Mike Costa (A/CA) Ryan Stegman

VENOM INC. Part 1. Peter Parker, Eddie Brock and Flash Thompson have one major thing in common - the Venom symbiote changed all of their lives. The inky black alien life-form is doubling down on our heroes - and they're not the only ones about to be put through the ringer. VENOM INC. kicks off here and rolls into AMAZING SPIDER-MAN & VENOM as a familiar face rises to new levels of villainy!
GUARDIANS OF THE GALAXY #148
OCT170939
MARVEL COMICS

(W) Gerry Duggan (A) Marcus To (CA) Aaron Kuder

THE INFINITY QUEST Part 3. The Guardians are officially Nova Corpsmen! How is Drax going to deal with being overrun by Ultron-ized aliens when he still refuses to throw a punch? And are we really trusting Rocket to clean up the Corps? Plus: I heard a rumor...is there an Infinity Stone kicking around?
ROCKO'S MODERN LIFE #1 MAIN
BOOM! STUDIOS
(W) Ryan Ferrier (A) Ian McGinty (CA) Jorge Monlongo
Ryan Ferrier (Regular Show) and Ian McGinty (Adventure Time) continue BOOM! Studios' partnership with Nickelodeon with all-new stories about everyone's favorite wallaby!
When Rocko faces unemployment, a terrible living situation, and increasingly slim job prospects, he is forced to find out just how far he is willing to go to get a job.
Features a backup story by KC Green where Ed Bighead finds himself in the dentist chair of Dr. Hutchison!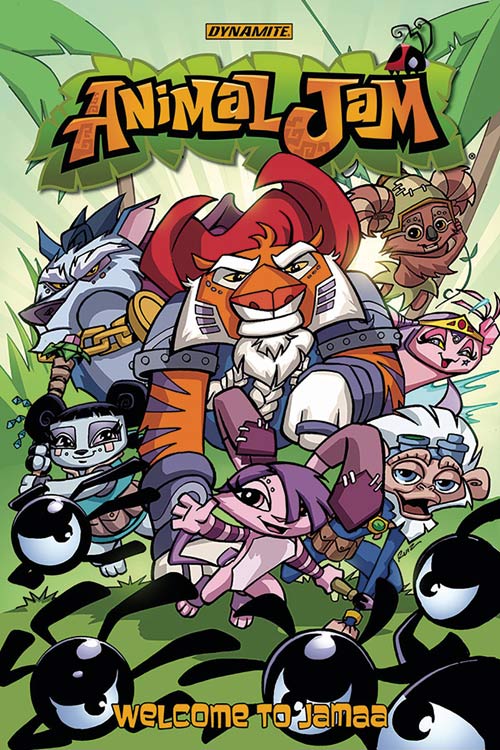 ANIMAL JAM HC
JUN171526
D. E.

(W) Fernando Ruiz, Eric Esquivel (A/CA) Fernando Ruiz

National Geographic's Animal Jam, the online playground for kids to adopt and play with wildlife, is one of today's fastest-growing multiplayer games, with a millions of players worldwide! Now, Dynamite Entertainment is proud to welcome comic book fans of all ages to the fictional world of Jamaa, where zoological adventure awaits! In the graphic novel debut of Animal Jam, Clover Greenleaf, a cheery and curious rabbit, arrives in the colorful new habitat of Jamaa. During a celebration of her arrival, Clover accidentally stumbles across Graham the Monkey's scientific equipment... and opens a portal to a fearsome new realm! Can the Alphas, the animal guardians of Jamaa, save the beleaguered bunny? And what other awesome adventures will Clover's creature friends embark on?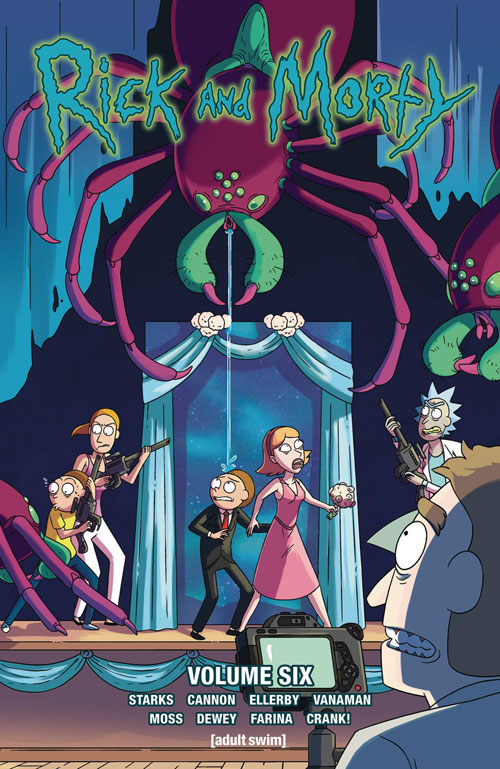 RICK AND MORTY TP VOL 06
SEP171801
ONI PRESS

(W) Kyle Starks & Various (A) CJ Cannon & Various (CA) CJ Cannon, Katy Farina

The hit comic book series based on Dan Harmon and Justin Roiland's hilarious [adult swim] animated show RICK AND MORTY continues! Catch up on the adventures of sociopathic genius scientist Rick Sanchez as he drags his inherently timid grandson Morty Smith on dangerous adventures across the universe! This volume features Eisner Award-nominated writer Kyle Starks (Sexcastle, Kill Them All) in collaboration with series artists CJ Cannon, Marc Ellerby, and guest artist Benjamin Dewey (The Autumnlands), plus guest writers Sean Vanaman and Olly Moss (Firewatch)! Watch with horror as Earth is invaded by aliens and Jerry is sent to stop them! Confront ethical conundrums when Rick clones Morty! Glue your eyeballs to interdimensional cable! All that and more in this volume of Rick and Morty comics, collecting issues #26-30 of the ongoing series! Mature Readers.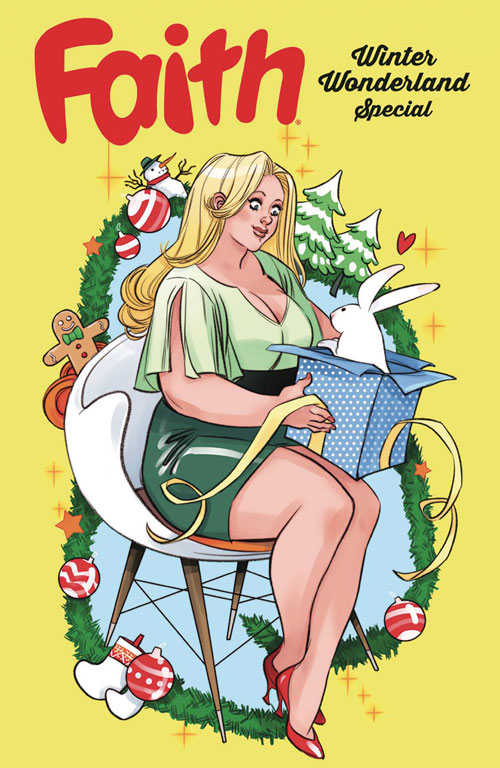 FAITH'S WINTER WONDERLAND SPECIAL #1
OCT171929
VALIANT ENTERTAINMENT

(W) Marguerite Sauvage (A) Francis Portela, Mj Kim (CA) Marguerite Sauvage

Eisner Award and Russ Manning Award-nominated artistic sensation Marguerite Sauvage (FAITH, Shade the Changing Girl) takes the helm for a fanciful tale of Faith Herbert's very first holiday extravaganza! As cheer fills the air, Faith "Zephyr" Herbert is about to take a trip down the rabbit hole...and into a mind-bending winter wonderland where every day is something special! But hiding behind the tinsel, all is not what it seems... White rabbit meets red-nosed reindeer as Faith squares off against a realm of make-believe and merriment for a whimsical flight of superhero fancy!