FCBD Comic Spotlight: Lion Forge's Accell #1
Jun 12, 2017
On Free Comic Book Day 2017, Lion Forge launched their new superhero universe with CATALYST PRIME: THE EVENT from Chrisopher Priest and Joseph Illidge. Now, writer Joe Casey and artist Robert Campanella expand the Catalyst Prime universe with its own speedster and very first superhero: Accell!
This week, on Wednesday, June 14, the first issue of CATALYST PRIME ACCELL hits local comic shops. Following the story of Daniel DosSantos, Accell #1 kicks off the new universe as the very first superhero hits the streets as a self-appointed crime fighter.
Stop by your local comic shop and make sure to grab a copy before they run out!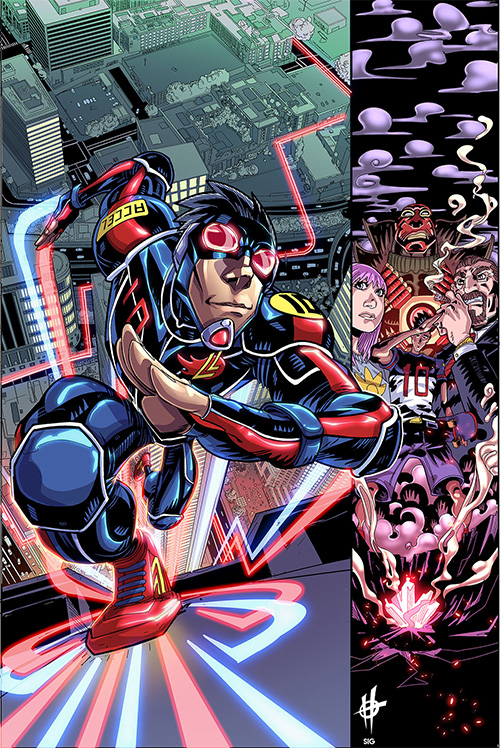 CATALYST PRIME: ACCELL #1
APR171848
LION FORGE
(W) Joe Casey
(A) Robert Campanella
(CA) Damion Scott
Daniel DosSantos is a young man living at the speed of life. After gaining powers from exposure to an extraterrestrial object, DosSantos became the rapid action superhero called ACCELL. The first of a new public kind of self-appointed crime fighter. Unfortunately, there are consequences to moving faster than sound. ACCELL about to learn that danger exists on the flipside of having super powers, and will have to grow up quickly to survive.
---
You can find this and more at your local comic shop! If you're not sure where that is, you can use the Comic Shop Locator Service. Make sure you return to local comic shops on for events hosted throughout the year. You can find out more about these events by checking out the What's @ Comic Shops 2017 Event Card.