Cloak & Dagger Trailer Shows Series' Potential
Apr 26, 2017
In case you missed it, Marvel and Freeform released the first trailer to Cloak & Dagger.
In the trailer, we see the tumultuous lives of Tandy Bowen and Tyrone Johnson play out before they get their superpowers. Though they lead very different lives, it appears they're more than kindred spirits, tied together by fate and their powers. With the family drama shown in the trailer, it's no surprise this series ended up on Freeform. We only see a glimpse of Tandy making one of her light daggers and Tyrone in his titular cloak, so hopefully we'll see more of their powers in the trailers to come.
Cloak (Tyrone "Ty" Johnson) and Dagger (Tandy Bowen) originally appeared in Peter Parker, the Spectacular Spider-Man #64 in 1982 by Bill Mantlo and Ed Hannigan. Unlike other series, the Cloak & Dagger comic rarely featured costumed super villains and instead focused on Cloak and Dagger's quest to end the drug trade--the series frequently explored the issues of being a vigilante.
Starring Olivia Holt (Tandy Bowen), Aubrey Joseph (Tyrone Johnson), Andrea Roth (Melissa Brown), Gloria Reuben (Adina Johnson), Miles Mussenden (Michael Johnson), Carl Lundstedt (Liam), James Saito (Bernard Sanjo), and JD Evermore (Connors), Cloak & Dagger premieres on Freeform in 2018.
If you're like us and can't wait for the series, check out the comics available from Marvel Comics in local comic shops now!
---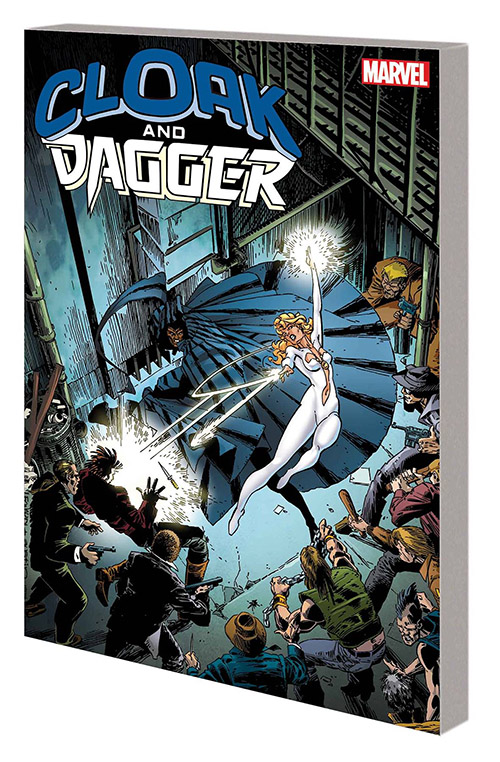 CLOAK AND DAGGER: LOST AND FOUND
DEC161104
MARVEL COMICS
(W) Bill Manto
(A) Various
(CA) Rick Leonardi
Urban vigilantes Cloak and Dagger tackle drug dealers and police corruption! But as Cloak embraces his darkness, visiting terror on servants of sin, Dagger yearns for the light. Can these young heroes find their path together, or will all be lost? Father Delgado wants to rescue Dagger from Cloak's corrupting influence - and Spider-Man may come between them, too - but a tempting offer from the all-powerful Beyonder could transform the future of the dark-and-light duo! Detective O'Reilly's investigation leads to death and mayhem, while Cloak and Dagger embark on a globetrotting trip to destroy the drug trade! Plus: Dagger joins the circus, but the fun and games won't last long if Doctor Doom has his way! It's strange tales, spiritual struggles and unexpected family ties! Collecting CLOAK AND DAGGER (1985) #1-11 and material from STRANGE TALES (1987) #1-2.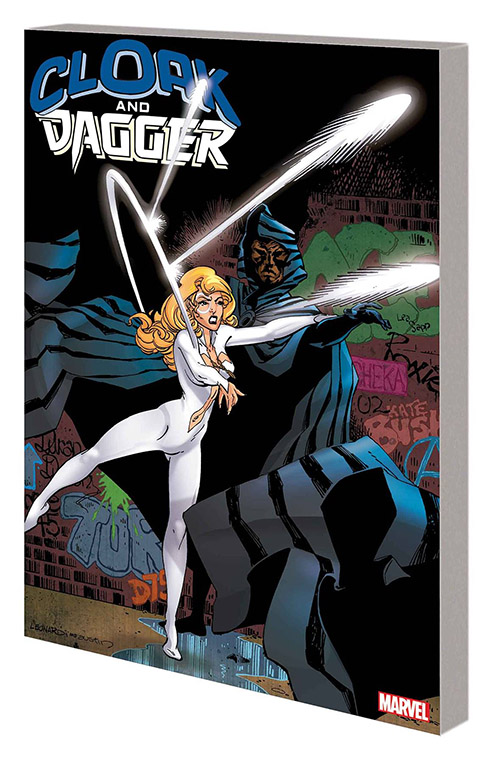 CLOAK AND DAGGER: SHADOWS AND LIGHT
NOV160981
MARVEL COMICS
(W/A) Various
(CA) Rick Leonardi
Cloak and Dagger step out of the darkness and into the light! But will this pair of violent vigilantes be friends or foes to the spectacular Spider-Man? The young duo's war on drugs will put crime bosses Silvermane and Kingpin in their sights - with the wall-crawler stuck in the middle! Then, follow Tyrone Johnson and Tandy Bowen into their own uncanny adventures, and discover what set them on their dark path. Detective O'Reilly wants to arrest them, Father Delgado wants to reform them - but does anyone really understand them? Plus: After Spidey chaperones their first meeting, Cloak and Dagger face a power struggle with the New Mutants! Collecting PETER PARKER, THE SPECTACULAR SPIDER-MAN (1976) #64, #69-70, #81-82 and #94-96; CLOAK AND DAGGER (1983) #1-4; MARVEL TEAM-UP ANNUAL #6; MARVEL FANFARE (1982) #19; and NEW MUTANTS (1983) #23-25.
---
Be sure to find all of these at your local comic shop! If you're not sure where your local comic shop is, use the Comic Shop Locator Service.