Marvel vs. Capcom Infinite Reveals Ultron Sigma as the Main Villain in New Trailer
Apr 25, 2017
Marvel and Capcom have released the first story trailer to Marvel vs. Capcom: Infinite, the next in the line of popular crossover fighting games. The franchise started in 1996 with X-Men vs. Street Fighter and most recently released Marvel vs. Capcom Origins in 2012. This will be the first game in five years for the franchise.
The trailer reveals that Ulton, a Marvel villain, and Sigma, the primary antagonist of the Mega Man X series, join forces to eradicate organic life as they fuse together using the Space and Reality Infinity Stones. This also merges their seperate dimensions, with Ultron Sigma exclaiming, "Heroes of both dimensions, welcome to ours!"
Marvel vs. Capcom Infinite releases on September 19 and features new playable characters such as Captain Marvel, Ultron, Mega Man X, and Sigma. Fan favorites Captain America, Iron Man, Chun-Li, and Ryu all make appearances as well.
You won't have to wait for Marvel vs. Capcom Infinite to see your favorite Marvel and Capcom heroes take on impossible challenges--Marvel and UDON Entertainment both have major comics available on Free Comic Book Day Saturday, May 6!
---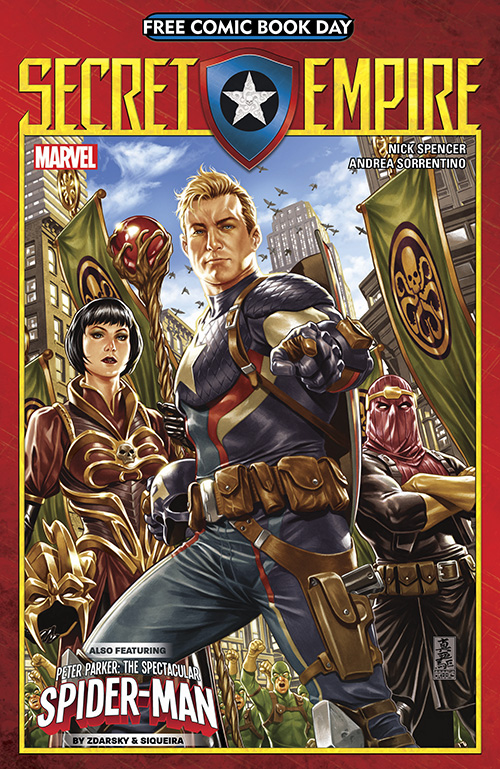 SECRET EMPIRE #1 FCBD 2017 EDITION
JAN170008
MARVEL COMICS
The Marvel Universe is under siege from the greatest threat it has ever known! Everything has been leading to this as Nick Spencer and Andrea Sorrentino bring the entire Marvel Universe together for the highly-anticipated SECRET EMPIRE series! UNITED THEY STAND against a common foe, the Avengers, the X-Men, the Defenders, the Champions, the Inhumans, Spider-Man and more must hold together as an unwavering front! Yet even their combined might may not be enough to withstand the awesome power of Hydra!
Then, after his globetrotting adventures Spider-Man has returned to his friendly neighborhood as Chip Zdarsky and Paulo Siqueira present a sneak peek at PETER PARKER: THE SPECTACULAR SPIDER-MAN! A new companion series to the best-selling Amazing Spider-Man, Peter Parker is back in the Big Apple he's brought the Ol' Parker Luck with him! Don't miss your first taste of this back-to-basics and high-flying ongoing series! [TEEN]
STREET FIGHTER V: WRESTLING SPECIAL FCBD 2017 EDITION
JAN170046
UDON ENTERTAINMENT
(W) Ken Siu-Chong
(A/CA) Jeffrey Chamba Cruz
Let's wrestle! Street Fighter superstar Rainbow Mika and the ferocious femmes of the Iwashigahama Japan Women's Pro-Wrestling league headline the main event in this all-new story! Expect plentiful clotheslines, elbow drops, headlocks, and divebombs as these legendary ladies show why they're the queens of the ring! [TEEN]
---
Be sure to find all of these at your local comic shop! If you're not sure where your local comic shop is, use the Comic Shop Locator Service.