Alien Day 2017 is Tomorrow!
Apr 25, 2017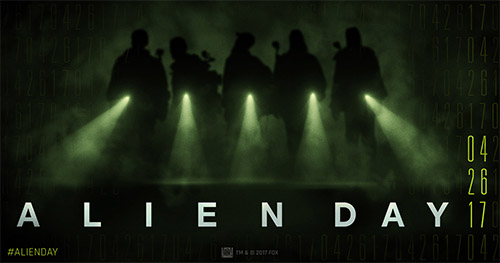 Alien Day returns tomorrow, April 26, on New Comic Book Day!
In a partnership with 20th Century Fox to promote the upcoming Alien: Covenant film, Dark Horse--one of the Free Comic Book Day publishers--is releasing an all new Alien series: Aliens: Dead Orbit. This is one of the many days fans can return to comic shops in 2017 for special events and exclusive items from publishers.
Other Alien Day activities include:
•ALIEN DAY livestreaming event at Fox Studios in Los Angeles:
Beginning at 10 a.m. PDT on all ALIEN social channels and on the newly launched ALIEN Universe Hub (
www.AlienUniverse.com
), fans can interact with the cast via a question and answer session as well as view multiple behind-the-scenes segments highlighting the making of ALIEN: COVENANT.
•Global One-Night Screening Event –
Screenings of Ridley Scott's original 1979 ALIEN starring Sigourney Weaver and his 2012 follow-up PROMETHEUS will be held across the globe on ALIEN DAY. At participating RPX Regal Cinema U.S. theaters and worldwide partners, fans can watch these sci-fi thrillers and be treated with exclusive content from ALIEN: COVENANT and a one-of-a-kind commemorative item. Participating locations will be listed on
www.AlienUniverse.com
.
•The "MU/TH/UR of all ALIEN Trivia Challenges":
Returning for only 24 hours on
www.AlienUniverse.com
, Fox will unveil a new quiz every 4 hours and 26 minutes. Fans will answer a series of rapid-fire questions for a chance to win a VIP trip to Ridley Scott's upcoming Imprint Ceremony at TCL Chinese Theatre in Hollywood and incredible prizes.
•Fan Art Contest:
Submissions for a Fan Art Contest are now open at
AlienUniverse.com
. The chosen artwork will be transformed into a limited edition t-shirt premium available with the purchase of the ALIEN: COVENANT Blu-Ray and 4K Ultra HD.
Starring Michael Fassbender (Walter), Katherine Waterston (Daniels), Billy Crudup (Chrisopher Oram), Danny McBride (Tennessee), Demian Bichir (Sergeant Lope), Carmen Ejogo (Karine Oram), Amy Seimetz (Faris), Jussie Smollett (Ricks), Nathaniel Dean (Sergeant Hallett), and James Franco (Jacob Branson), Alien Covenant releases on May 19 after Free Comic Book Day.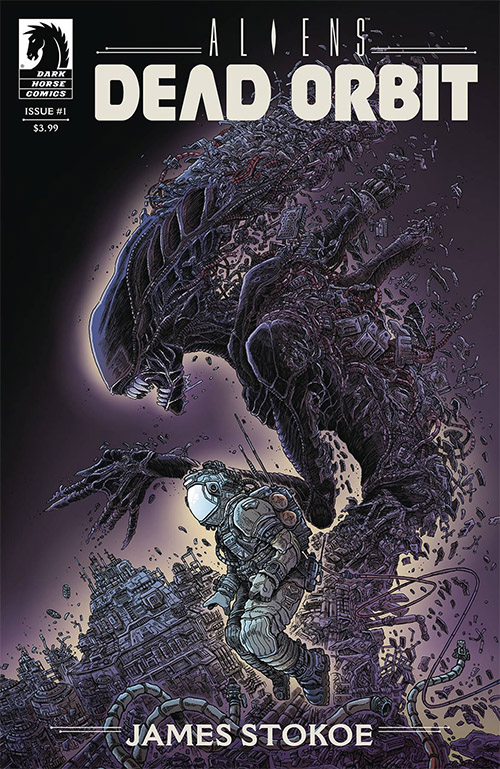 DARK HORSE COMICS
(W/A/CA) James Stokoe
After a horrific accident strikes a space station, an engineering officer must use all available tools-a timer, utility kit, and his wits-to survive an attack from the deadliest creature known to man. Orc Stain creator James Stokoe pens a thrilling and claustrophobic Aliens story: Dead Orbit!