Marcus To Explains What Makes Captain Canuck Such a "Strong Character"
May 04, 2017
We sat down with artist Marcus To to talk about the Free Comic Book Day 2017 issue of Captain Canuck. He tells us why he's excited about the return of Captain Canuck on Canada's 150th birthday! This issue introduces the return of Captain Canuck and his new ongoing series, which will be launching in May. You can get a first look at the new series with the Free Comic Book Day 2017 issue of Captain Canuck!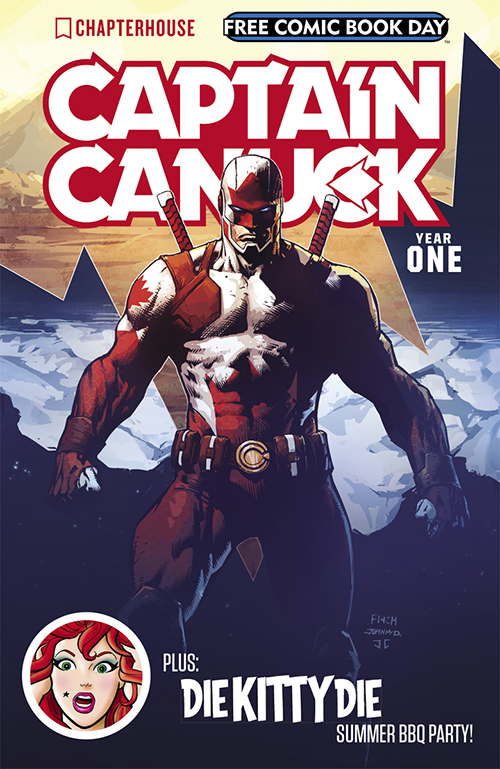 FCBD 2017 CHAPTERHOUSE CAPTAIN CANUCK
JAN170021
CHAPTERHOUSE COMICS
(W) Jay Baruchel, Kalman Andrasofszky, Dan Parent, Fernando Ruiz
(A) Marcus To, Dan Parent, Fernando Ruiz
(CA) David Finch

"Sur Saray" is a Year One story set during Tom Evans' time serving in the Afghanistan war. Tom has returned to active duty after going AWOL to rescue his brother from Site ALEPH, but his unit, the PCE Squad is folded into an unscrupulous mercenary platoon. Frustrated by the injustices he's witnessing on a daily basis, Tom begins slipping away by night, using his new powers to right the street-level wrongs the military is too unwieldy to effectively address. This tale is the perfect lead-in to the much-anticipated return of Captain Canuck in his own regular series later in May 2017. [ALL AGES]
---
Free Comic Book Day: With Canada's 150th Birthday in 2017, what makes you most excited about this Captain Canuck book and the new ongoing series launching in May?
Marcus To: I'm excited that there actually are ongoing Captain Canuck books out there to read! It's been a long time coming. For the 150th birthday there are a lot of stories to be shared and they can help build new fans, as well as give something to the original fans.
For those who might be unfamiliar with Captain Canuck, what can you tell us about the character and the world?
MT: The Captain Canuck universe is a world of action, adventure, and intrigue. The Captain himself, is a strong character that sticks to his morals and believes in a better future than the one we have one.
What got you reading comics? What are some series you're reading today?
MT: I only started readings comics because of the cartoons at first. Comics filled in the gaps between episodes a lot of times and so I read a lot of Archie and X-Men, just because of those cartoons on TV.
What books are you reading right now? What books would you recommend to new readers?
MT: I've been read a lot of manga lately. Right now it's the series 'Bakuman' (written by Tsugumi Ohba and illustrated by Takeshi Obata). It's about two high school kids who are trying to become manga artists. To new readers I would recommend Joyride (written by Jackson Lanzing & Collin Kelly). Joyride is an action space adventure that doesn't take itself too seriously. It's family friendly and it is everything I have loved about comic books, which is just fun. You can read it without anything being too heavy.
Why do you think Free Comic Book Day is important to the comic book community?
MT: It's super important as it is a great initiative to try and get new readers. One of the things about comic books is that it started, for me, as a kid. And that's how it should it start for someone else. The focus should be on the younger generation, having the comics be free and family friendly, and available to everyone. All this helps build a healthier industry.
Why do you think local comic shops are important to the comic book community?
MT: Having a brick and mortar store of any kind nowadays is tough, even clothing stores are closing, and DVD rental shops don't even exist now. To buy a product at a physical store isn't happening as much anymore. The good comic book shops around will help create a community of readers and fans that like to get together and create events. I guess that's why comic conventions are so big now because the fan base is strong and they want to engage with each other. Comic book stores are a way for local fans to interact and the good comic book stores will understand that and build their business around it.
---
Where do you plan to spend Free Comic Book Day 2017?
MT: Last year I was in North Vancouver for FCBD. This year I'll probably be at Stadium Comics in Brampton [Ontario]. It's two guys and they have really helped build a comics community by hosting signings and events for families and kids. They do a lot of kids events, like drawing classes, which is great.