The Avengers Assembled Again For FCBD 2015 To Battle The Evil Ultron!
Apr 27, 2017
Everyone loves Free Comic Book Day! Who wouldn't? Awesome comics available free of charge provided by the best publishers in the business and the most incredible comic stores across the world make Free Comic Book Day a holiday like none other. This year, Free Comic Book Day celebrates its sixteenth year introducing millions of people to the wonders of comics!
It all started in 2002, where retailer Joe Field, owner of Flying Colors Comics & Other Cool Stuff, saw the success of other days like Free Cone Day and posed the question to other retailers and publishers: shouldn't we do this too? By having a day where publishers offered up their best and most accessible titles to retailers at a low price, comic stores could give away comics for free to the public and encourage those who loved superhero films and multimedia to pick up the comics! Sixteen years later, Free Comic Book Day has become one of the most beloved events in the entire industry!
Free Comic Book Day 2015 kept up with the trend of diversity having titles like Fight Club, The Avengers, Bob's Burgers, Transformers, and Doctor Who! Not to be forgotten, the corresponding superhero movie debut continued with 2015's superhero movie being Avengers: Age of Ultron, which had a Silver title comic to go along with it!
Here are the books and publishers that participated in the fourteenth Free Comic Book Day! Which one would you have picked up? Let us know on Facebook and Twitter--if you have any of these comics around, post them to social media with #FCBD2015 so everyone can take a look!
Free Comic Book Day 2015 Gold Sponsor Comics
---
FCBD 2015 BONGO COMICS FREE-FOR-ALL

BONGO COMICS
(W) Matt Groening
(A, CA) Matt Groening

Get in line for the foremost Free Comic Book Day four-color giveaway of the year! When Bart brings one of Professor Frink's recent discoveries to school, it leads to some hair-raising hilarity Then, Lisa finds a doorway to an ancient past, CBG gets a hip-new girlfriend, and Homer tries his hand at some home improvement. And much more.
FCBD 2015 BOOM STUDIOS 10TH ANNIVERSARY FCBD SPECIAL

BOOM! STUDIOS
(W) Grace Ellis, David Peterson, Noelle Stevenson, Shane-Michael Vidaurri, Jen Wang, Mark Evanier, Cory Godbey, Kevin Church, Charles M. Schulz, John Kovalic, Mad?leine Flores
(A) Vicki Scott, Alexis E. Fajardo, Shane-Michael Vidaurri, Britt Wilson, Cory Godbey, David Petersen, Coleman Engle, Andy Hirsch, Brooke A. Allen, John Kovalic, Mad?leine Flores

2015 is BOOM! Studios' Tenth Anniversary year, and to help us celebrate we've gathered short stories from several current and new all-ages titles for Free Comic Book Day, offering an oversized, full-color issue that showcases 10 all-ages-friendly titles from our Archaia, BOOM! Box, and KaBOOM! imprints. The BOOM! Studios Ten Year Celebration 2015 Free Comic Book Day Special features a cover illustrated by Mouse Guard creator David Petersen and will contain the following stories: Jim Henson's Labyrinth, Iscariot, Mouse Guard, Adventure Time with Fionna & Cake: Card Wards, Regular Show, Peanuts, Garfield, Lumberjanes, Munchkin, and Help Us! Great Warrior. Rating: All-Ages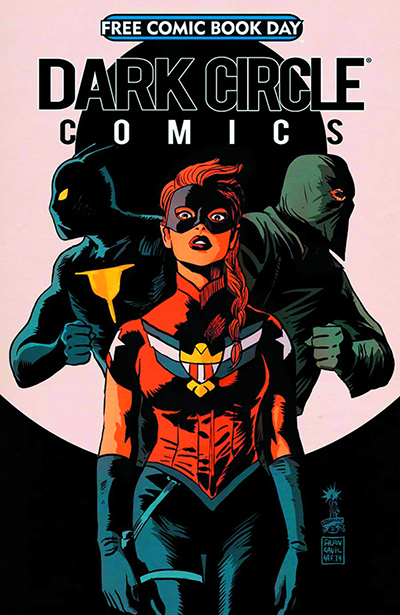 FCBD 2015 DARK CIRCLE COMICS #1

DARK CIRCLE COMICS
(W) Duane Swierczynski, Mark Waid, Dean Haspiel, Adam Christopher, Chuck Wendig
(A) Michael Gaydos, Dean Haspiel, David Williams, Rachel Deering, Kelly Fitzpatrick
(CA) Francesco Francavilla
THE BLACK HOOD! THE FOX! THE SHIELD! Get in on the ground floor of Dark Circle Comics and experience the cinematic and creator-driven reinventions of these iconic properties. Who is the new Shield? How did the Black Hood come to be? Can things get more unpredictable for The Fox? Learn the secrets of the Dark Circle universe from the creators themselves via sneak peeks at the new series, creator interviews and a first glance at the next Dark Circle series - all held together by an eye-popping cover from Afterlife with Archie artist Francesco Francavilla!
FCBD 2015 DARK HORSE FIGHT CLUB THE GOON THE STRAIN
DARK HORSE COMICS
(W) Chuck Palahniuk, Eric Powell, David Lapham
(A) Cameron Stewart, Eric Powell, Mike Huddleston
(CA) David Mack
Dark Horse Comic's most thrilling FCBD to date... Chuck Palahniuk and Cameron Stewart premiere Fight Club! Eric Powell with all-new tragedy in The Goon! And Guillermo del Toro presents an all-new chapter from The Strain! Need we say more?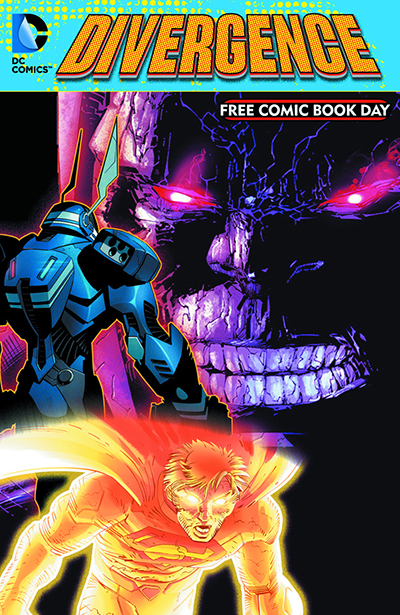 FCBD 2015 DC COMICS DIVERGENCE
DC COMICS

A first look at upcoming storylines! DC Comics: Divergence features three 8-page previews for the June releases of Scott Snyder and Greg Capullo's Batman, as well as Geoff Johns and Jason Fabok's launch of the "Darkseid War" within Justice League featuring the biggest villains in the DCU - Darkseid and the Anti-Monitor, and Gene Luen Yang's DC Comics debut with celebrated artist John Romita, Jr on Superman.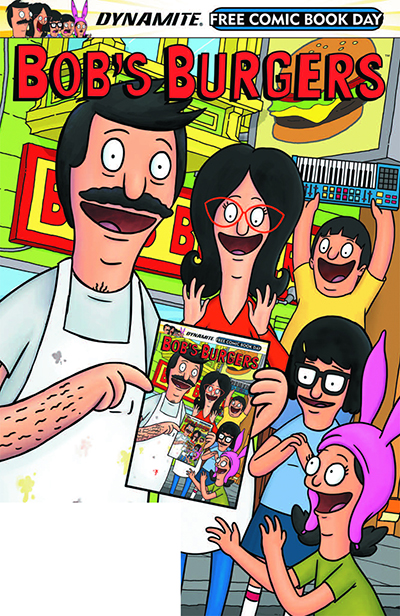 FCBD 2015 BOBS BURGERS

DYNAMITE ENTERTAINMENT
(W) Mike Olsen, Justin Hook, Chad Brewster
(A) Bradley C. Rader, Tony Gennaro, Hector Reynoso, Frank Forte

Bob's Burgers, the hit TV show created by Loren Bouchard, is now a comic book! The Belcher family - parents Bob and Linda, and their children Tina, Gene, and Louise - appear in this special Free Comic Book Day edition that collects the "Best Of" in-canon stories from Dynamite's first-ever Bob's Burgers comic book series. Thrill to Tina's Friend Fiction, Louise's Unsolved Mysteries and Curious Curiosities, Gene Belcher Presents: The Musical, and more! It's an all-ages extravaganza that captures the feel of Bob's Burgers perfectly - because it's a comic 100% created by show writers and animators!
FCBD 2015 TRANSFORMERS ROBOTS IN DISGUISE #0

IDW PUBLISHING
(W) John Barber, Tom Scioli
(A) Tom Scioli
(A, CA) Priscilla Tramontano

OPTIMUS PRIME is gone-and DECEPTICONS are on the loose! It's up to BUMBLEBEE and an elite crew of AUTOBOTS to track them down before their rampage spreads across Earth! TRANSFORMERS comics have never been hotter, and the excitement spreads to this all-original comic inspired by the all-new animated series! Plus: previews of IDW and Hasbro unbelievable publishing slate for 2015, including an exclusive TRANSFORMERS VS. G.I. JOE strip!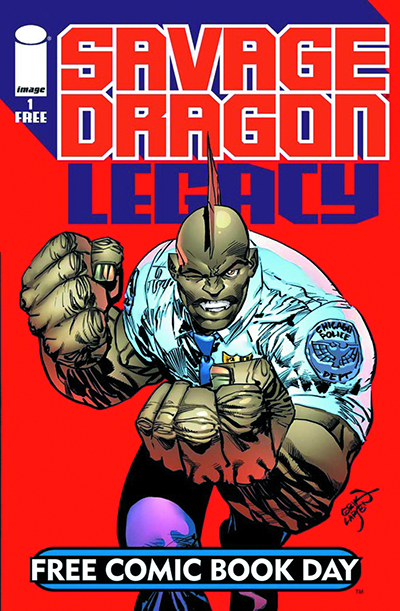 FCBD 2015 SAVAGE DRAGON LEGACY
IMAGE COMICS
(W) Erik Larsen
(A, CA) Erik Larsen

The generational saga of Savage Dragon reaches a new milestone as Malcolm Dragon graduates high school and follows his father's footsteps to the Chicago Police Department. Every young new officer has a lot to live up to, but for the son of a world famous figure as renowned as he is reviled, navigating the world of law enforcement is especially challenging. The cost of failure is high in a city becoming more dangerous by the day: Can Malcolm step out of his father's shadow and become the hero Chicago needs, or is he doomed to make the same mistakes?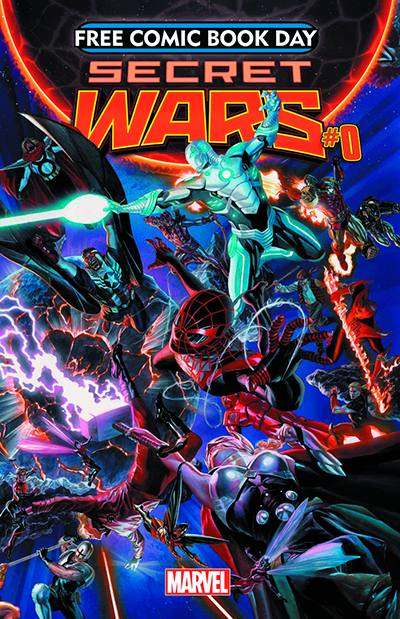 MARVEL COMICS
Prepare yourself for the final days of the Marvel Universe as you know it as the march to the biggest comic event of the year continues! From the ashes of a decimated cosmos rises...Battleworld! Amid the strange, patchwork realm, refugees from thousands of obliterated universes struggle for survival. Even if they can endure the horrors of Battleworld - the home they knew has been destroyed! Time has run out, and the opening salvo of Secret Wars has been fired. But can anything restore the Marvel Universe that once was?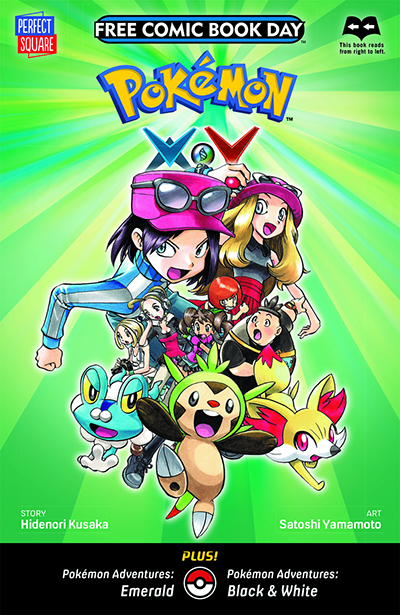 FCBD 2015 PERFECT SQUARE PRESENTS POKEMON
PERFECT SQUARE
(W) Hidenori Kusaka
(A) Various

All your favorite Pokémon game characters jump out of the screen into the pages of this action-packed comic! Legendary Pokémon Xerneas and Yveltal's battle against each other is destroying Vaniville Town. Can X and Y save the town in Pokémon X o Y?!
FCBD 2015 DOCTOR WHO SPECIAL

TITAN
(W) Robbie Morrison, Al Ewing, Rob Williams
(A) Elena Casagrande, Simon Fraser, Dave Taylor, Various

Take a blistering trip through time and space with three stunning ALL-NEW short stories featuring Tenth Doctor, Eleventh Doctor and the brand-new Twelfth Doctor by the ongoing DOCTOR WHO creative teams - PLUS a sneak peek of the TOP SECRET Summer 2015 event! Be the first to get a hint of the epic that will shake the Doctor to his core! It's an unmissable read for fans, and the perfect primer for anyone looking to jump on board the TARDIS!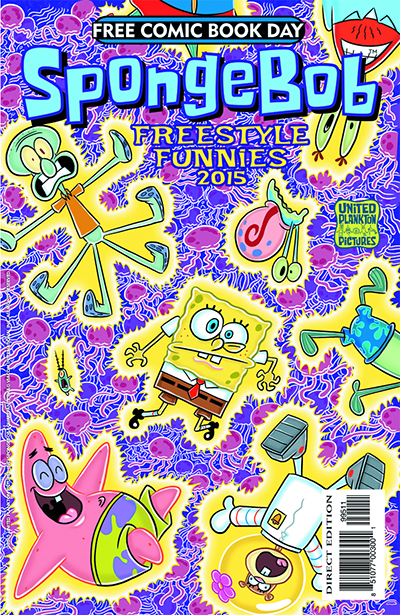 FCBD 2015 SPONGEBOB FREESTYLE FUNNIES
UNITED PLANKTON PICTURES
(W) Graham Anable
(A) Graham Anable
(CA) Gregg Schigiel, Rick Neilsen

This year's SpongeBob Comics FCBD offering features a 22-page story by Boxtrolls director and Grickle cartoonist Graham Annable. In "Tangy!" Plankton's new special sauce made from jellyfish jelly has strange effects on SpongeBob and Bikini Bottom's residents. The only one unaffected, the only one who can save them all, is a very reluctant Squidward. Plus more undersea sequential stories by James Kochalka, Maris Wicks, Gregg Schigiel. and other awesome aquatic artists!
Free Comic Book Day 2015 Silver Sponsor Comics
---
FCBD 2015 ICE BAYOU BLACKOUT

12 GAUGE COMICS LLC

FCBD 2015 GRONK AND FRIENDS

ACTION LAB ENTERTAINMENT

FCBD 2015 STEAMPUNK
GOLDILOCKS

ANTARCTIC PRESS

FCBD 2015 SONIC THE HEDGEHOG
MEGA MAN WORLDS UNITE PRELUDE

ARCHIE COMIC PUBLICATIONS

FCBD 2015 WORLDS OF ASPEN

ASPEN MLT INC

FCBD 2015 HATTER M
LOVE OF WONDER

AUTOMATIC PICTURES

FCBD 2015 MERCURY HEAT DEBUT

AVATAR PRESS INC

FCBD 2015 MARCH GRAND PRIX

CAPSTONE PRESS

FCBD 2015 CAPTAIN CANUCK

CHAPTER HOUSE PUBLISHING, INC

FCBD 2015 CBLDF DEFEND COMICS

COMIC BOOK LEGAL DEFENSE FUND

FCBD 2015 COMICS FESTIVAL

COMICS FESTIVAL

FCBD 2015 AND THEN EMILY
WAS GONE #0

COMIXTRIBE

FCBD 2015 DARK HORSE ALL AGES AVATAR PVZ BANDETTE

DARK HORSE COMICS

FCBD 2015 TEEN TITANS GO
SCOOBY DOO TEAM UP
DC COMICS


FCBD 2015 SUPERMUTANT MAGIC ACADEMY STEP ASIDE POPS COMBO

DRAWN & QUARTERLY
FCBD 2015 HIP HOP FAMILY TREE 3-IN-1 FEATURING COSPLAYERS


FANTAGRAPHICS BOOKS

FCBD 2015 OVERSTREET
COMIC BOOK MARKETPLACE

GEMSTONE PUBLISHING

FCBD 2015 STAN LEE
CHAKRA THE INVINCIBLE

GRAPHIC INDIA

FCBD 2015 GRAPHIX SPOTLIGHT CLEOPATRA IN SPACE

GRAPHIX

FCBD 2015 PHANTOM SPECIAL

HERMES PRESS

FCBD 2015 TMNT
PRELUDE TO VENGEANCE

IDW PUBLISHING

FCBD 2015 MOTORCYCLE SAMURAI

IDW - TOP SHELF

FCBD 2015 TALES OF HONOR

IMAGE COMICS

FCBD 2015 KODANSHA
COMICS SAMPLER

KODANSHA COMICS

FCBD 2015 LEGENDARY
COMICS SAMPLER

LEGENDARY COMICS

FCBD 2015 ALL NEW
ALL DIFFERENT AVENGERS
MARVEL COMICS

FCBD 2015 THE TICK

NEW ENGLAND COMICS

FCBD 2015 TERRIBLE LIZARD #1

ONI PRESS INC.

FCBD 2015 RABBIDS

PAPERCUTZ

FCBD 2015 2000 AD SPECIAL

REBELLION / 2000AD

FCBD 2015 BODIE
TROLL & FRIENDS

RED 5 COMICS

FCBD 2015 LADY JUSTICE

SUPER GENIUS

FCBD 2015 STUFF OF LEGEND CALL TO ARMS

TH3RD WORLD STUDIOS

FCBD 2015 STREET FIGHTER SUPER COMBO SPECIAL

UDON ENTERTAINMENT INC

FCBD 2015 VALIANT
25TH ANNIVERSAY SPECIAL

VALIANT ENTERTAINMENT LLC

FCBD 2015 VIZ JOJOS BIZARRE
ADVENTURE AND YU GI OH

VIZ MEDIA LLC
FCBD 2015 GFT WONDERLAND SPECIAL EDITION ONE SHOT

ZENESCOPE ENTERTAINMENT INC

FCBD 2015 ZENESCOPE
JURASSIC STRIKE FORCE 5 ONE SHOT

ZENESCOPE ENTERTAINMENT INC
---
Make sure to get to your local comic book shop on May 6, 2017 and participate in the exciting event that is FCBD!