Star Wars Battlefront 2 Trailer Leaks Ahead of Star Wars Celebration
Apr 12, 2017
Fans of the Star Wars Battlefront games won't have to wait for Star Wars: Celebration this weekend to get a glimpse at EA and DICE's sequel title Star Wars Battlefront 2.
Promising the untold story of a Stormtrooper after the destruction of the second Death Star on Endor, Star Wars Battlefront 2 appears it will have more narrative than its previous counterpart. It's unknown yet whether or not there'll be a single player campagin, something fans called for in the previous installment of the series. Fans can expect more fan-favorite heroes, as the trailer shows Darth Maul, Yoda, Rey, and Kylo Ren duking it out on the battlefields.
Expect more information on Star Wars Battlefront 2 from EA and DICE at Star Wars: Celebration this weekend. Until then, check out the Star Wars stories available at your local comic shop now!
---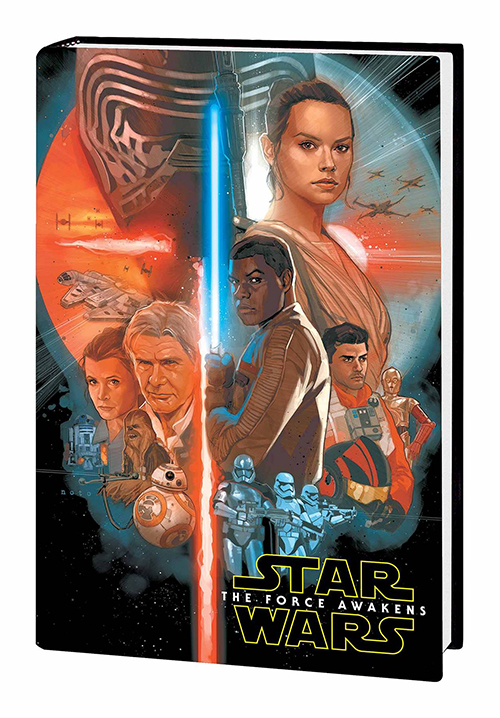 STAR WARS: THE FORCE AWAKENS
AUG160995
MARVEL COMICS
(W) Chuck Wendig
(A) Luke Ross
(CA) Phil Noto
It's true - all of it! The blockbuster movie jumps from the big screen to the comic-book page! It's been three decades since the Rebel Alliance destroyed the Death Star and toppled the Galactic Empire - but now, on the remote planet Jakku, there is a stirring in the Force. A young scavenger named Rey...a deserting Stormtrooper named Finn...an ace pilot named Poe...and a dark apprentice named Kylo Ren... Their lives are about to collide as the awakening begins. Writer Chuck Wendig (Star Wars: The Aftermath Trilogy) and artist Luke Ross (HERCULES) take us back into the saga of a lifetime! Collecting STAR WARS: THE FORCE AWAKENS ADAPTATION #1-6.
STAR WARS: POE DAMERON VOL 1 BLACK SQUADRON
AUG160999
MARVEL COMICS
(W) Charles Soule, Chris Eliopoulos
(A) Phil Noto, Chris Eliopoulos
(CA) Phil Noto
Poe Dameron, former Republic flyer turned Resistance fighter, is the best pilot in the galaxy. Hand-picked for the resistance by General Leia Organa to lead a squadron on a top-secret and vital mission, Poe sets off to investigate sites of historical importance to the Force - revealing backstory leading directly into The Force Awakens! Follow Poe and his X-Wing squadron on covert missions against the First Order, brought to you by writer Charles Soule (STAR WARS: LANDO, DAREDEVIL) and artist Phil Noto (STAR WARS: CHEWBACCA, BLACK WIDOW)! Collecting POE DAMERON #1-6.
STAR WARS: HEROES FOR A NEW HOPE
MAY160923
MARVEL COMICS
(W/A/CA) Various
Three of the most beloved characters in the entire Star Wars saga in their own solo adventures! After Star Wars: Episode IV A New Hope, Leia Organa is a princess without a world! But she still feels a duty to her people. Can she save the remaining Alderaanians from the might of the Galactic Empire? Before master of charm Lando Calrissian joined the Rebellion, or even ran Cloud City, he and faithful ally Lobot got by with the odd swindle and plenty of swagger. But this time, has Lando bitten off more than he can chew? Speaking of things getting Chewy, everybody's favorite Wookiee warrior also faces some alone time after the battle of Yavin. Stranded on an Imperial-occupied planet, far away from Han Solo, will he make a new best friend? Collecting PRINCESS LEIA #1-5, LANDO #1-5 and CHEWBACCA #1-5.
---
Be sure to find all of these at your local comic shop! If you're not sure where your local comic shop is, use the Comic Shop Locator Service.