Invader Zim Returns to Finish the Job In New TV Movie
Apr 11, 2017
Invader Zim, one of the most uniquely weird and beloved cartoons, is set to return to Nickelodeon in an all new television movie! Announced via the video above from Nickelodeon Animation, it's confirmed that the principal cast will return: Richard Horvitz (Zim), Rikki Simons (GIR), Andy Berman (Dib), and Melissa Fahn (Gaz).
Invader Zim joins other Nickelodeon classics like Hey Arnold! and Rocko's Modern Life as they set to return later this year. The show initially debuted on Nickelodeon in 2001 and featured Zim, an alien invader, who set out to conquer earth to curry favor with his home world. While Zim discovered he didn't have the aptitude to conquer worlds, he and his companion GIR won over audiences as they set out to integrate into human communities to learn more about their would-be servants.
Although Invader Zim only ran for two seasons, you can head to your local comic shop and read the Oni Press series based on the cartoon!
---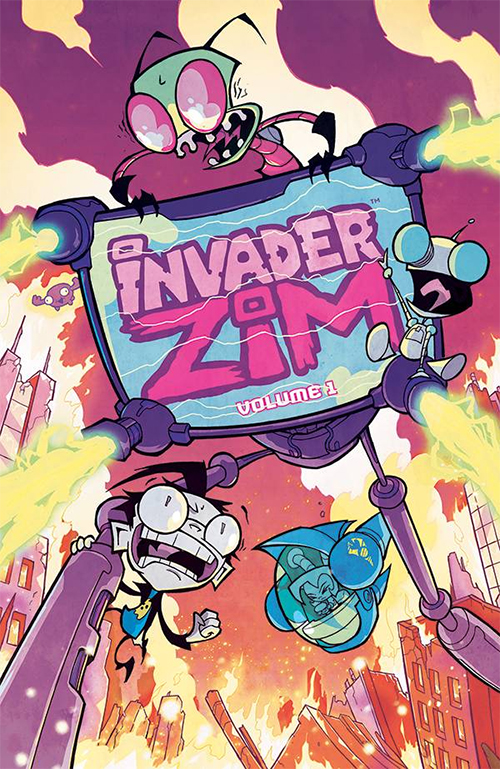 INVADER ZIM VOL 1
OCT151564
ONI PRESS
(W) Jhonen Vasquez, Eric Trueheart
(A) Aaron Alexovich, Megan Lawton
(CA) Aaron Alexovich
Collects the first five issues of the comic series based on the hit TV show, INVADER ZIM! "Never has a comic so purposefully stupid lied on a foundation of comedic skill so honed and smart." You said it, Paste Magazine. From the far reaches of weird space to the incomprehensible world of underground art, ZIM is back! And his thirst for world domination has only grown!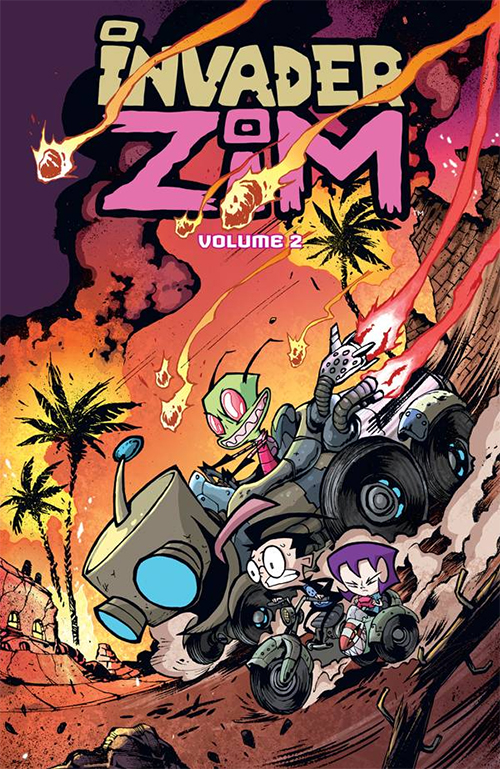 INVADER ZIM VOL 2
APR161827
ONI PRESS
(W) K.C. Green & Various
(A) K.C. Green, Dave Crosland
(CA) Dave Crosland
Volume 2 of the hit comic series (based on the hit Nickelodeon TV show) INVADER ZIM starts off with a BANG! I mean a BANK! As ZIM takes on the immense task of getting a business loan. From there, things get steadily worse. Then better, then worse yet again. In this collection, ZIM will face foes like those never seen before! (And also Dib. But everyone's seen Dib before.)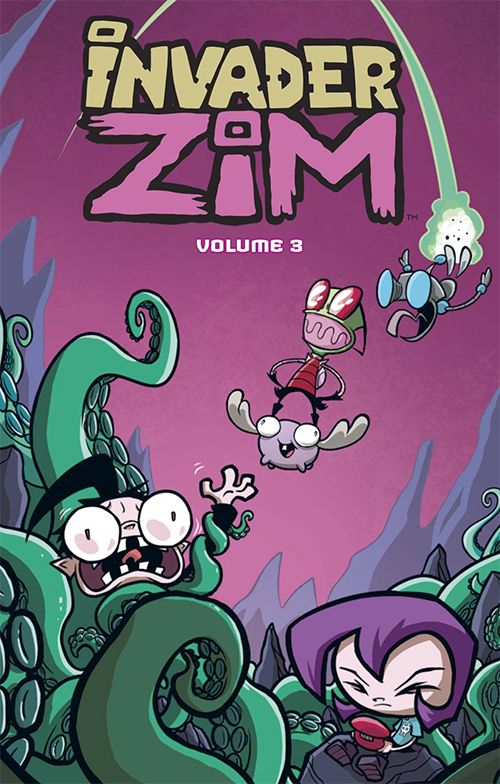 INVADER ZIM VOL 3
JUN168462
ONI PRESS
(W) Eric Trueheart & Various
(A) Sarah Andersen & Various
(CA) Warren Wucinich
A global invasion is taking place! And it's not by any Irken named ZIM. No! This time, it's an infestation of fluffy animals! Then, an invasion of some other aliens, who want to kidnap Dib for some reason! And watch out, because Gaz is about to pull off an invasion of her own-by conquering Bloaty's Pizza Hog in a quest for the coveted Bloaty Shorts! Yes, so much invading! Now let this comic, based on the hit TV show, invade your heart. And your wallet.
---
Be sure to find all of these at your local comic shop! If you're not sure where your local comic shop is, use the Comic Shop Locator Service.