Jay Lender and R. Sikoryak Discuss How Individuals Bring "Personality To The World Of Bikini Bottom"
Apr 15, 2017
We sat down with writer/layout artist Jay Lender and cover artist R. Sikoryak to talk about SpongeBob Freestyle Funnies 2017, their addition to Free Comic Book Day 2017. SpongeBob Freestyle Funnies 2017 contains a tribute to a classic while also bringing the usual SpongeBob charm! The whole gang is involved in this adventure to get FREE comics and you can join them this Free Comic Book Day!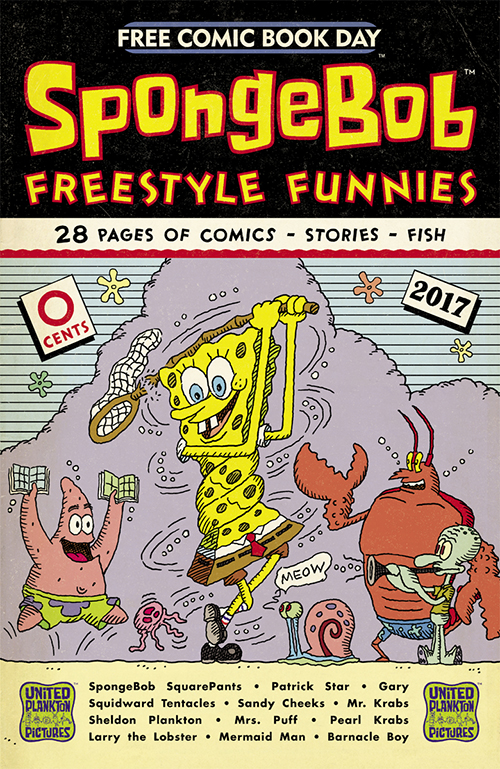 FCBD 2017 SPONGEBOB FREESTYLE FUNNIES
JAN170019
UNITED PLANKTON PICTURES
(W) Jay Lender, James Kochalka
(A) Jacob Chabot, James Kochalka
(CA) R. Sikoryak

It's No Charge Funny Book Day in Bikini Bottom, and Mr. Krabs leads SpongeBob and the entire Bikini Bottom gang through adventure and peril on a quest for free items! But will Mr. Krabs learn the true meaning of No Charge Funny Book Day? Also: Mermaid Man on patrol! Plankton explores a new world! And facts about waterspouts - the ocean's tornadoes! All with a wraparound cover tribute to Famous Funnies #1 (the first comic book ever made!) by Eisner nominee R. Sikoryak. [ALL AGES] T
---
Free Comic Book Day: Why are comics a good medium for SpongeBob stories?
Jay Lender: What?! Comics are a good medium for ANY story! But one of the great advantages of comics is that they can be so experimental. If we want to change SpongeBob's design for an episode of the TV show we have to train a lot of people to draw SpongeBob the new way... but in comics anybody can bring his or her own personality to the world of Bikini Bottom--all we have to do is GO!
What was it like creating your epic story "The Great Comic Book Giveaway" for the FCBD issue?
Jay: I was an original crew member on the first three seasons of SpongeBob SquarePants, so telling a longer story felt completely natural to me--like a teeny-tiny SpongeBob Season 1 reunion! Our editor, Chris Duffy gives us a lot of freedom to play. Almost anything goes! I got to do some action sequences, make fun of some classic comic book covers, and even a musical number! One of my favorite parts of the process was seeing how penciler and inker Jacob Chabot interpreted my rough drawings. The finished product looks just like my stuff... but awesomely Chabot-ey! I guess that kinda makes sense.
What comics (besides SpongeBob Comics) do you recommend to younger readers and why?
Jay: Lee and Kirby's Fantastic Four 1-100 - Super-heroic science fiction! All the best characters, ideas, and artwork in the same place for issue after issue! My favorite! Stan Sakai's Usagi Yojimbo - tales from the life of a traveling rabbit samurai in feudal Japan! Filled with heroes, villains, princesses, evil spirits, and lots and lots of sword fighting. Perfect! Carl Barks & Don Rosa's Uncle Scrooge/Duckburg stories - Classic High Adventure and silliness with globe-trotting and world history thrown in. Nothing beats these comics! Richie Rich (& other Harvey Comics) - Comedy strips with a gag every two panels! These may be a bit hard to find now, but lots of different writers and artists made thousands and thousands of pages of great Harvey comics in the 60s and 70s. Not every story is a winner, but on average they're just plain old fun. Archie - Same thing, except they're not hard to find at all! Archie Comics publishes big, fat digests every month--some of them 1000 pages long! Classic Comics - you can become culturally literate and read cool comics at the same time with these adaptations of famous books and plays made in the '40s-'70s! They're not hard to find online. For teens: Rumiko Takahashi's Maison Ikkoku. The sweetest soap opera EVER! Book after book of charming, unrequited love and general shenanigans in a Japanese boarding house!
R. Sikoryak: There are so many great kids comics coming out now, I'll just name a few. Toon Books publishes a great variety of kids comics, aimed at everyone from early readers to high school students. They've published Neil Gaiman (Hansel and Gretel), Fred (Cast Away on the Letter A), Eleanor Davis (Stinky), James Sturm (Ape & Armadillo Take Over The World), and more. I also really like the First Second series of anthologies featuring classic stories drawn by contemporary cartoonists: Nursery Rhyme Comics, Fairy Tale Comics, and Fable Comics. Full disclosure: I'm in the Fable Comics book.
What do you like about Free Comic Book Day?
Jay: For one day a year anyone can afford a comic... and for one day a year trying something different is easy! There's a lot of great stuff out there--so even if you already read comics, you can try something new!
What do you like about comic book stores?
Jay: It's great to have access to everything online... but a comic book store is a community! Talk to the people you meet there. Find out what they read, and why. You'll always learn something, and you may just discover something amazing!
R.: I love comic books shops that carry everything from superhero pamphlets to kids graphic novels, and from alternative comics to non-fiction graphic books. Basically, I like seeing all the genres and permutations of comics stacked next to each other.
What is your FCBD cover a tribute to?
R.: My cover is a tribute to the wraparound cover of Famous Funnies #1, from July 1934, the first 10-cent, newsstand comic book.
You're known for a lot of comics related to politics, serious literature, and Terms and Conditions...how does SpongeBob fit into your career?
R.: Besides politics, literature, and legal agreements, I also like fun. SpongeBob (the character and the comic book) is flexible enough to let me indulge in my love for comics parodies, which you can see in all my books: Masterpiece Comics, Terms and Conditions, and the forthcoming Unquotable Trump (all published by Drawn & Quarterly).
---
Where do you plan to spend Free Comic Book Day 2017?
Jay: In bed. Making comics is hard! But I guess I'll stop by Meltdown Comics first and see what everybody else made for Free Comic Book Day!