Batman Beyond and Spider-Man 2099 Duke It Out in New Super Power Beat Down
Apr 06, 2017
BatInTheSun, producers of the unparalleled Super Power Beat Down, have released a new video pitting together the two heroes of the future: Batman Beyond and Spider-Man 2099! See for yourself who would win in the battle between the two. If you disagree, make sure you vote in their poll for their next fight: Boba Fett vs. Star Lord!
Batman Beyond, or Terry McGinnis, is the future hero of Neo Gotham, created by Bruce Timm and Paul Dini in 1999 as a sequel to their acclaimed Batman: The Animated Series. The Batman Beyond series ran between 1999 and 2001 and McGinnis didn't make his first appearance in the comics until 2010 in Superman/Batman Annual #4. McGinnis took up the mantle of Batman after Bruce saw potential; together, with Terry armed with a state-of-the-art futuristic batsuit, the duo patrolled Neo Gotham with Bruce acting in an Oracle role. Their story continued in a digital first series called Batman Beyond 2.0 and was collected as graphic novels.
Spider-Man 2099, or Miguel O'Hara, is the Spider-Man of the future created by Peter David and Rick Leonardi in 1992. O'Hara grew up in a future timeline after the Heroic age and led research inspired by the original Spider-Man; after being drugged by Alchemax, the company he worked for to perform the research, Miguel underwent genetic testing and granted himself Spider-Man's abilities. He would later work with the original Spider-Man after being flung back through time.
After watching the new episode of Super Power Beat Down, stop by your local comic shop to pick up the stories that inspired the video!
---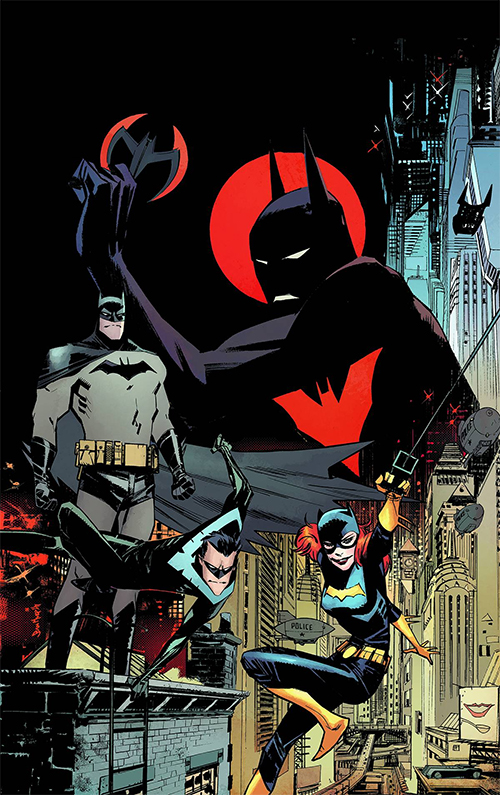 BATMAN BEYOND 2.0 VOL 1: REWIRED
AUG140338
DC COMICS
(W) Kyle Higgins
(A) Thony Silas, Eric Wight
(CA) Sean Murphy
It's a new direction for Terry McGinnis as Commissioner Barbara Gordon enlists Terry's help while investigating the death of Neo-Gotham's Mayor in the new Arkham Institute. Was it really only a heart attack? Or was one of Arkham's infamous inmates responsible? Don't miss these stories from BATMAN BEYOND UNIVERSE 2.0 #1-16!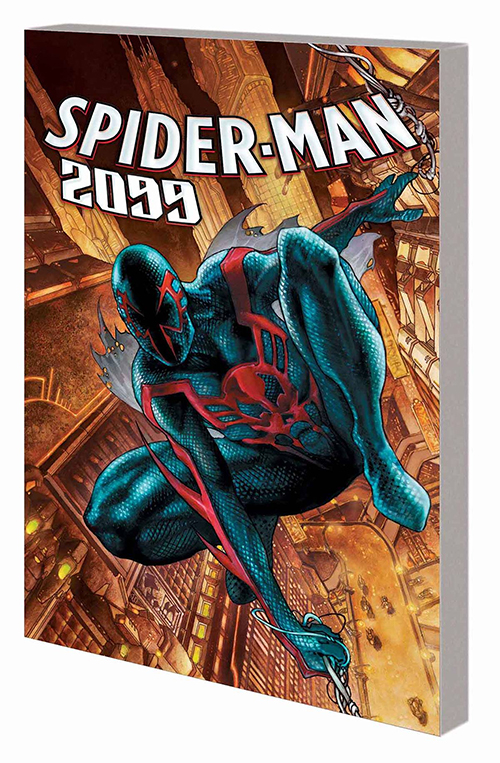 SPIDER-MAN 2099 VOL 1: OUT OF TIME
NOV140875
MARVEL COMICS
(W) Peter David
(A) Rick Leonardi, Will Sliney
(C)A Simone Bianchi
Web-spinning out of AMAZING SPIDER-MAN! Miguel O'Hara is Spider-Man in the year 2099, but he's currently stuck in the present day. But here, the evil future corporation Alchemax has just been formed - and Miguel has a chance to stop its corruption before it starts! However, Spider-Man 2099 soon discovers he's not the only one hoping for a better tomorrow. When his uneasy arrangement with Alchemax lands him in a war zone, Miguel must fight for his grandfather's soul - and when the Scorpion attacks and Morlun shows up hunting spiders, Miguel finds himself at the EDGE OF SPIDER-VERSE! Join Spider-Man 2099 creators Peter David and Rick Leonardi, and artist Will Sliney (SUPERIOR SPIDER-MAN TEAM-UP), for the most adventure you'll find this side of the 22nd century! Collecting SPIDER-MAN 2099 (2014) #1-5 and material from AMAZING SPIDER-MAN (2014) #1.
---
Be sure to find all of these at your local comic shop! If you're not sure where your local comic shop is, use the Comic Shop Locator Service.