Joe Kelley And Ilya Tell Us About The Diverse Cast Of Characters In Kid Savage
Apr 08, 2017
We sat down with writer Joe Kelley and artist Ilya to talk about their Free Comic Book Day 2017 issue Kid Savage. They tell us what makes the characters so diverse, the "over-the-top adventures," and how this dysfunctional family will learn how to coexist. Kid Savage and the "First Family in Space" will be an extraordinary addition to Free Comic Book Day 2017! Especially the monsters!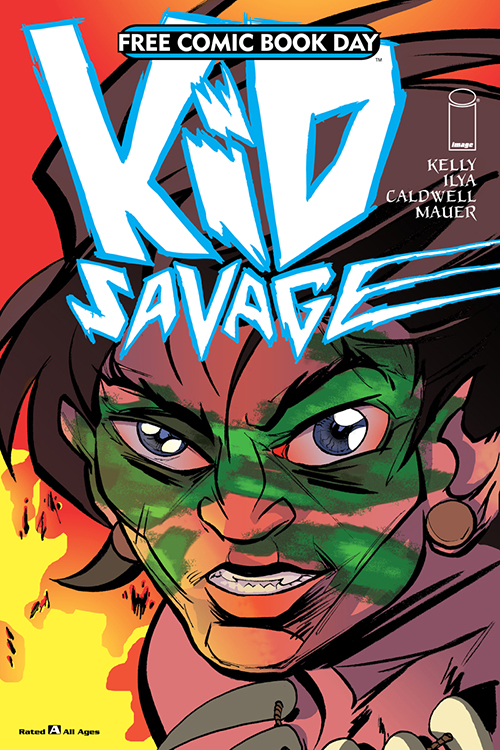 JAN170033
IMAGE COMICS
(W) Joe Kelly
(A, CA) Ilya
A mysterious wildboy becomes an unwilling guide to the dysfunctional "First Family in Space" when they crash land on his primordial and dangerous planet. "Kid Savage" must help a disconnect science-minded dad, his nervous son, and too-cool-to-care daughter survive the rigors of his world if he is to learn the true meaning of family and make amends for the sins of his mysterious past. Man of Action Entertainment (
Ben 10
,
Big Hero 6
,
Camp Midnight
,
I Kill Giants
) presents this epic all-ages adventure from the minds of Joe Kelly and Ilya. [ALL AGES]
---
Free Comic Book Day: Take us through the cast of characters: the wildboy, the science-minded dad, the nervous son, and the too-cool-to-care daughter. What makes this cast of characters so interesting?
Joe Kelley: From the beginning, I wanted to do a fun, over-the-top adventure book but with a very realistic family. They spar and snipe. They love one another but don't get a chance to show it because we meet them hours after the biggest mistake of their lives. Even if they are the "First Family in Space", they're still normal human being who have been thrust into extraordinary circumstances - some willingly and others not so much. I relate to each of the core family members in some way: I get young Ethan's fears and desire to please his dad, Alina's drive to stay cool and above it all even if she's scared witless, and Gerard's completely unbalanced approach to parenting as soon as things go lopsided. And then there's "kid"... the savage. The survivor. Crossing a dysfunctional family of the future with a self-sufficient wild child illuminates the heart of the book for me. Forces everyone in the cast to reconsider who they are and their definition of family... while being chased by space monsters. Don't forget the monsters!
Ilya: It's their having to get along to survive, despite all of their differences. Aside from Kid himself of course they are related by blood, and as the saying goes, you can't choose your family. But they will have to work together as a family unit while opening up to include a new member, Kid, and that introduces all sorts of rich character dynamics. People can allow or display their weaknesses, be dependent, be unpleasant and selfish around their relatives, and to an extent get away with it and still be accepted and loved. I guess their true selves are revealed, warts and all. That must now extend to a family of choice. Partly this is the transition from childhood to adulthood, and all that comes with that. I think every reader will find behavioral echoes in their own lives. It's also fun to be able to spectate this level of dysfunction, while aware that it probably reflects something of our own.
Where did you come up with the idea for the book?
Ilya: The title itself was our trigger, around which Joe and I emailed back and forth a whole bunch for a period of time, developing characters and concept together. Building an entire world from scratch is great fun. One easy answer is that for Joe it is a chance to riff on an old monster-cartoon that he loved, The Herculoids: for me, Kirby's 1970's comic series Kamandi. I've never seen an episode of Herculoids and Joe's never read any Kamandi – so between us we have hopefully synthesized something new.
JK: Ha! Ilya pretty much nailed it. We were trading off ideas and riffing on shows and comics that inspired us both as kids, and Kid Savage was born.
Why should fans pick your book first on Free Comic Book Day 2017?
Ilya: First? Because it's the snazziest! Who could resist that cover? It doesn't hurt that Joe penned one of last year's best-selling titles with Spideypool (Spiderman + Deadpool) – and folks had to pay for that! Kid Savage offers something totally and tonally different to a lot of what else is out there. The emotional core of the book is super strong, and it will move you. It comes from the heart.
JK: And, it looks awesome! Ilya's stye is energetic and fun and really captures the vibe I've always had in my head. Recognizable but not a straight up "homage" to our collective childhood. Layer in Gary Caldwell's colors and it's something else. And did we mention it's free? Free is good!
What got you reading comics? What are some series you're reading today?
Ilya: I'm British. My first American comic was a Barry Smith issue of Conan the Barbarian (#21). It was a little in advance of my understanding – a window on a whole other reality. Through that I soon discovered Kirby, DC war comics, Sugar & Spike…I loved it all and still read comic books of every sort, including BD and manga. I am trying a fair whack of the Marvel NOW stuff, Image titles from Remender and Aaron, a bit of everything.
JK: I started reading a pile of comics that an uncle gave me. Mostly Superman and horror books like House of Secrets and Witching Hour. The perfect alchemy to twist my impressionable mind. I picked up Spidey books on my own as a kid, but comics really took off for me with New Mutants 19 - Bill Sienkiewicz's art hooked me and pulled me in to a book that was tailor made for a Junior High Schooler trying to find his way. Now, I'm all over the place. Mostly Image titles - stuff written by my fellow MOAs (Steve Seagle, Joe Casey and Duncan Rouleau) as well as Monstress, Saga, Papergirls. Phil Jiminez's Superwoman is a title I really dig - beautiful and packed with story. Also working my way through a lot of Manga, old and new.
What books would you recommend to new readers and why?
Ilya: Anything by Tom Scioli…he's a true original. Everything he does tests the boundaries, wildly imaginative but also power-packed, primal mark-making. Jim Rugg's Street Angel has me excited – again, exploration via artful pastiche. Priest's Deathstroke presents value for money – you pretty much have to read it twice. New concepts and characters are best, though – less bound with continuity.
JK: Anything by Urasawa - ANYTHING - Though I'd start with Pluto or Monster. I Hate Fairyland if you want to laugh and see what happens when Skottie Young's Id is unleashed. Steve Seagle & Jason Katzenstein's Camp Midnight is a great one shot for all ages. Also Pix by Gregg Schigiel is another great all ages read.
Why do you think Free Comic Book Day is important to the comic book community?
Ilya: The medium is the most exciting and varied it has ever been but there is so little financial reward for creators – I am completely behind anything that promotes the joy of reading comics, thereby the demand for and creation of more comics. More than anything else, comics need more readers. That means new readers.
JK: The energy in the store during FCBD is remarkable. The first thing you notice is just how many KIDS actually show up. Young Readers! Seeing them grab comics - some for the first time ever - not only warms my dark heart but helps me have faith that a new generation of readers and creators is just around the corner at all times. It's a rejuvenating day.
Why do you think local comic shops are important to the comic book community?
Ilya: People want to feel they aren't alone in their interests and activities, instead, part of something popular – it's good to share the love, and IRL. If comics aren't readily and widely available then people won't pick them up. So every comic shop's a community hub - both a goldmine and a Mecca. Whenever I go somewhere new, I always check to see if there are any comic shops nearby.
JK: My shop - Grasshoppers Comics in Williston Park - is not only family friendly, fan friendly and new reader friendly, it's also a pillar of the community. Every year they have multiple charity events that raise thousands of dollars. You don't get to raise that kind of money unless you're a place where people go to have fun, feel secure in their geekdom and are met with like-minded pros who can guide them through the vast amount of product on the stands. The relationship between fan and store is more important now than it ever was, and you can tell a great shop the second you walk in. Retailers help put fans in touch with the right books for them in a way that the internet just can't replicate.
---
Where do you plan to spend Free Comic Book Day 2017?
Ilya: Any place that will have us. I hope to be Stateside for it…but wherever I am I'll be making the noise, drawing up a storm.
JK: I'm not sure yet - have to juggle a few family obligations so I'm trying to see where I can best work it in. But I will - and hopefully I'll see you there!