Cartoon Network Unveils Its 2017-2018 Programming, Featuring Shows You Can Find at Local Comic Shops
Mar 31, 2017

Cartoon Network announced their programming for 2017-18, featuring six new series and seven returning hits that'll provide something new to fans every day across a wide spectrum of platform. Cartoon Network has distinct ties to comics: from being the channel that debuted DC's original animation programming to Cartoon Network's original shows transferring over to comics. They've always been at the forefront of bringing together premium content, fan experiences, and an artist-first mentality to animation, taking note from the comic book industry.
"As kids' viewing habits have evolved, Cartoon Network has always been there with them," said Christina Miller, President Cartoon Network-Adult Swim-Boomerang. "From their first experience with a Kids network website and video app; to their first series VR game; and most recently, their first app to use ACR, we are keeping our sole focus on them as they inspire us to reimagine television."
Miller isn't wrong, and Free Comic Book Day is excited to remind all the Cartoon Network fans out there that the fun doesn't stop when the shows end on television: they pick up in the fantastic series from publishers like BOOM! Studios, IDW Publishing, and DC Comics at your local comic shop! From the new series announced, we're most excited for Ben 10 and OK K.O.! Let's Be Heroes, which we're sure will translate to comics sooner rather than later. From the returning series, we're excited as The Powerpuff Girls, Adventure Time, Steven Universe, and Teen Titans Go! return for new seasons.
You can see the full list of new and returning shows, as well as a full list of mobile, console games, and apps from Cartoon Network in the upcoming programming season here.
Make sure you stop by your local comic shop to check out the comics inspired by the Cartoon Network series!
---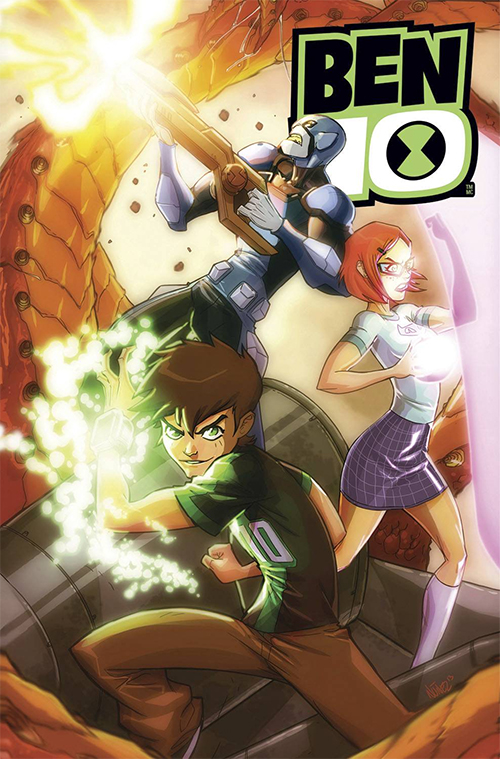 BEN 10 VOL 1
MAR140384
IDW PUBLISHING
(W) Jason Henderson
(A) Gordon Purcell, Eddie Nunez
(CA) Gordon Purcell
Ben Tennyson and his teammates kick off a maelstrom of action when an ocean cruise brings Ben in the cross hairs of Ssserpent, who's out to find a long-lost underwater society. But does Ben's new, slightly oddball love interest harbor dark secrets of her own? Aliens, superpowers, ships, and swimsuits: the perfect ingredients for high-seas adventure.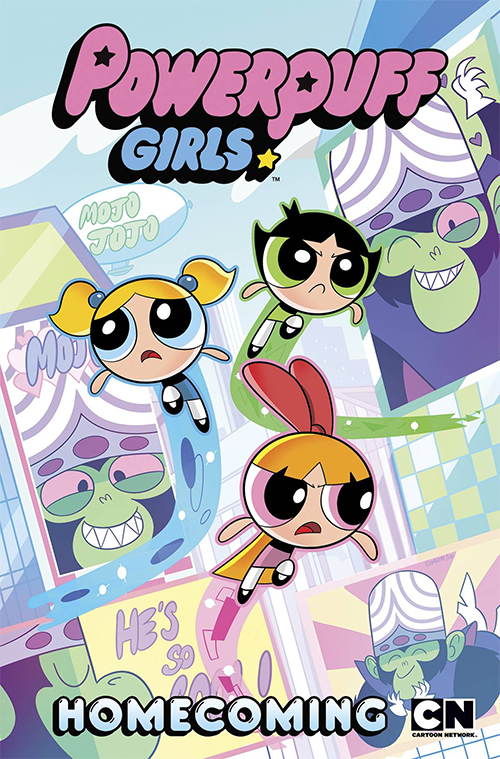 POWERPUFF GIRLS VOL 1: HOMECOMING
OCT160542
IDW PUBLISHING
(W) Haley Mancini, Jake Goldman
(A/CA) Derek Charm
Following the debut of their NEW hit Cartoon Network show, THE POWERPUFF GIRLS make a triumphant return to the world of comics! These stories, written by show-writers Jake Goldman and Haley Mancini, reintroduce us to the world of TOWNSVILLE, beautifully illustrated by Derek Charm. Collects issues #1-3 of the new series.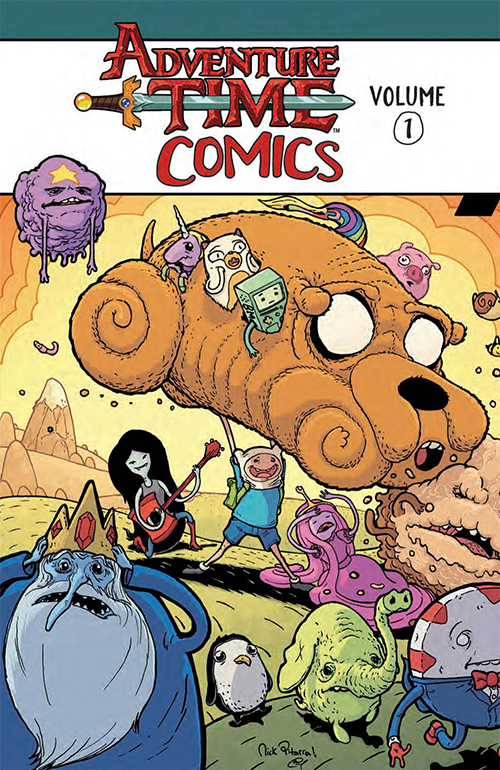 ADVENTURE TIME VOL 1
SEP161399
BOOM! STUDIOS
(W/A) Tony Millionaire & Various
(CA) Nick Pitarra
WHAT TIME IS IT?! It's Adventure Time Comics time! C'mon and grab your friends for this amazing collection of short stories from cartoonists all over the world. Featuring the amazing talent of Katie Cook (My Little Pony), Art Baltazar (Tiny Titans), Tony Millionaire (Maakies and the Sock Monkey), Box Brown (Andre the Giant) and many, many more. These sweet shorts come in many shapes and sizes, featuring all of the beloved characters from the Land of Ooo. Collects issues #1-4 of the new ongoing series.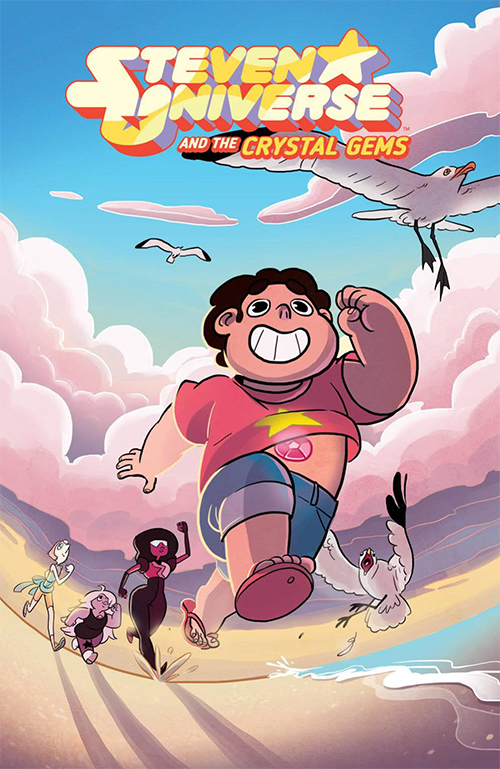 STEVEN UNIVERSE & THE CRYSTAL GEMS VOL 1
AUG161334
BOOM! STUDIOS
(W) Josceline Fenton
(A) Chrystin Garland
(CA) Kat Leyh
An all-new Steven Universe adventure! The Gems tell Steven a spooky story about a monster who turns bad Gems into glass and shatters them. Pearl assures a terrified Steven that it's just a story, but suddenly people around Beach City start turning up frozen in glass...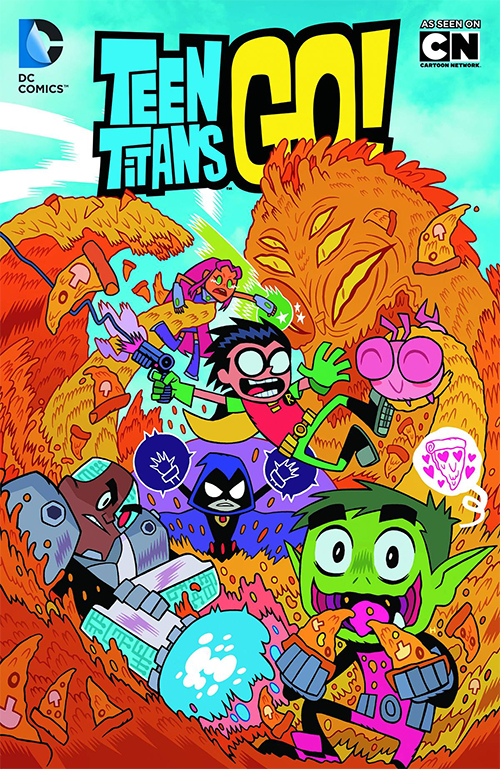 TEEN TITANS GO: TRUTH, JUSTICE, AND PIZZA
DEC140400
DC COMICS
(W) Sholly Fisch & Various
(A) Ben Bates & Various
(CA) Dan Hipp
Join Robin, Starfire, Beast Boy, Cyborg and Raven as they display their unique brand of hijinks, mayhem and justice in these stories from issues #1-6 of their new series! But giant pizza monsters aren't the only dastardly and delicious villains on the menu...so dig in, Titans!
---
Be sure to find all of these at your local comic shop! If you're not sure where your local comic shop is, use the Comic Shop Locator Service.
"As kids' viewing habits have evolved, Cartoon Network has always been there with them," said Christina Miller, President Cartoon Network-Adult Swim-Boomerang. "From their first experience with a Kids network website and video app; to their first series VR game; and most recently, their first app to use ACR, we are keeping our sole focus on them as they inspire us to reimagine television." - See more at: https://www.turner.com/pressroom/united-states/cartoon-network/test-press-release#sthash.lXK3ZTpr.dpuf
"As kids' viewing habits have evolved, Cartoon Network has always been there with them," said Christina Miller, President Cartoon Network-Adult Swim-Boomerang. "From their first experience with a Kids network website and video app; to their first series VR game; and most recently, their first app to use ACR, we are keeping our sole focus on them as they inspire us to reimagine television." - See more at: https://www.turner.com/pressroom/united-states/cartoon-network/test-press-release#sthash.lXK3ZTpr.dpuf