Valerian and the City of a Thousand Planets Gets a New Trailer, Based on French Graphic Novel
Mar 29, 2017
If you thought cities like New York were crowded, just wait until you see Alpha, an ever-expanding metropolis where species from across the universe have converged over centuries to share knowledge, intelligence, and cultures.
Valerian and the City of a Thousand Planets follows special agents Valerian and Laureline—space-and-time-traveling agents tasked with keeping order throughout the human territories of the universe—as they travel to Alpha, the aforementioned city, to investigate a mysterious dark force. They come to realize that not only Alpha, the City of a Thousand Planets, is in danger, but the future of the entire universe as well.
The trailer showcases the wide, expansive universe director Luc Besson (The Fifth Element, Lucy) will take us through in this STX Entertainment film. Just as wild as his previous films, Valerian and the City of a Thousand Planets looks like a promising comic book blockbuster film, dazzling with incredible visuals and a powerful narrative.
Starring Dane DeHaan (Valerian), Cara Delevingne (Laureline), Clive Owen (Arun Filitt), Rihanna (Bubble), and Kris Wu (Captain Neza), Valerian and the City of a Thousand Planets premieres on July 21 after Free Comic Book Day. Directed by Luc Besson, the film is based on Valerian and Laureline by Pierre Christin and Jean-Claude Mezieres, first published in Pilote magazine.
Before the film, you can stop by your local comic shop to get the comic it was based on!
---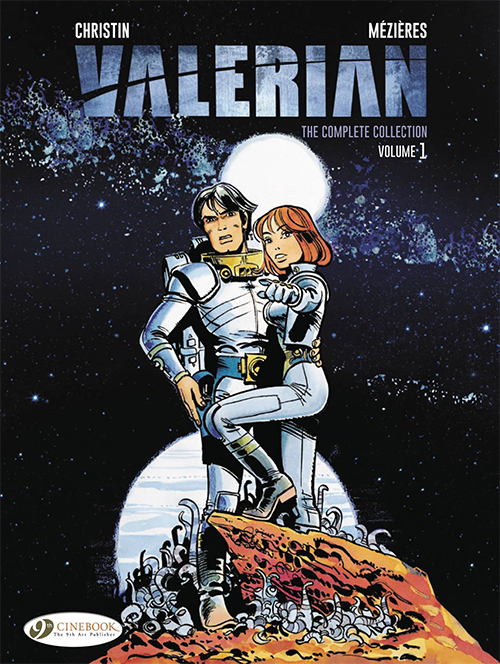 VALERIAN: COMPLETE COLLECTION VOL 1
JAN178426
This comic releases on May 31.
CINEBOOK
(W) Pierre Christin
(A/CA) Jean-Claude Mezieres
To prepare for Luc Besson's upcoming film, here's the complete collection of Valerian and Laureline's adventures in English at last, including one unpublished volume, a longer cut of another, and a lot of details on the collaboration between the director and the authors! This first volume of the collection contains books 1 and 2 of the series: The City of Shifting Waters - in its original two-part, 9 pages longer format - and The Empire of a Thousand Planets. It also includes book 0, Bad Dreams, translated into English for the first time: the very first adventures of our two heroes, published after City and retroactively numbered. Finally, linking the volumes of this collection together, a long, exclusive interview with the authors and director Luc Besson is illustrated with new art as well as numerous sketches, studies and photographs from the forthcoming big-screen adaptation.
---
Be sure to find all of these at your local comic shop! If you're not sure where your local comic shop is, use the Comic Shop Locator Service.