IDW's "Love is Love" Graphic Novel Raised More Than $165K for the OneOrlando Fund
Mar 28, 2017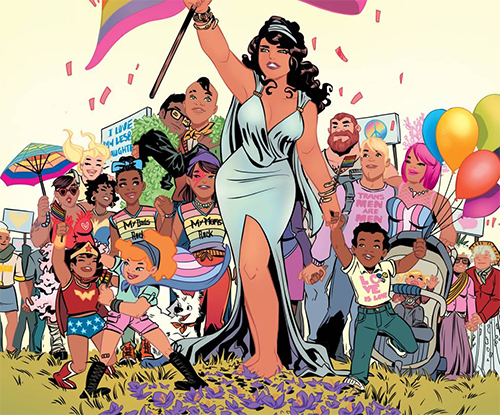 If you haven't heard about Love is Love now is the time to check it out. Conceived and curated by Marc Andreyko (Manhunter), and edited by IDW Publishing's Sarah Gaydos and DC Entertainment's Jamie S. Rich, Love is Love is a New York Times best-selling anthology graphic novel that united the comic book community in support of the victims and families affected by the tragedy at Pulse nightclub. The comic has raised more than $165K for the victims and families impacted by the Pulse nightclub shooting, through Equality Florida and the OneOrlando Fund.
Together, this team called upon industry colleagues to lend their talents to a benefit comic book. The overwhelming response he received in support of the project resulted in contributions from comic and entertainment luminaries including Grant Morrison, Gail Simone, Jim Lee, Paul Dini, Amanda Conner, Scott Snyder, Tom King, Brian Michael Bendis, Steve Orlando, Cat Staggs, Kieron Gillen, Mark Millar, Marguerite Bennett, Phil Jimenez, David Mack, Brad Meltzer, Taran Killam, Patton Oswalt, Damon Lindelof, Morgan Spurlock and Matt Bomer, among many others.

"Words cannot express how grateful we are for the outpouring of generosity our community has received," said Orlando Mayor Buddy Dyer. "People from around the globe continue to contribute funds to OneOrlando to deliver the critical help and healing the victims' families and survivors need to aid in their recovery."

I am overwhelmed by the response to LOVE IS LOVE," said Marc Andreyko. "Never in my wildest dreams could I have imagined that this project would not only raise so much money, but touch so many lives around the globe. In these divisive and difficult times, seeing the outpouring of love and support for victims of hate by people of every race, creed, orientation and nationality shows me that there is much good in the world. We just need to keep fighting the good fight and love will win."

Anticipation for LOVE IS LOVE ran so high that retailers could barely keep up with demand. The graphic novel is currently in its fourth printing, and the remaining copies will be donated to Equality Florida and sold as fundraising items.

"Equality Florida is so grateful for this project – it has been such an inspiring and powerful way to respond in the face of tragedy," said Nadine Smith, CEO of Equality Florida. "We must uproot the hatred that breeds discrimination and violence, and having top storytellers and illustrators combine their talents makes LOVE IS LOVE a potent and accessible tool."

A fifth printing is forthcoming, with all proceeds from this and future editions of LOVE IS LOVE being donated to LGBTQA charities.

You can pick up your copy of Love is Love now at your local comic shop.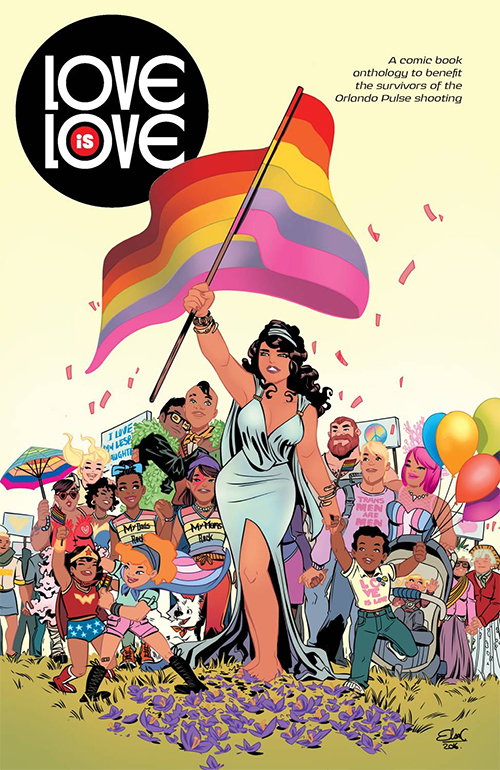 LOVE IS LOVE
OCT160480
IDW PUBLISHING
(W/A) Phil Jimenez & Various
(CA) Elsa Charretier
The comic book industry comes together to honor those killed in Orlando this year. From IDW Publishing, with assistance from DC Entertainment, this oversize comic contains moving and heartfelt material from some of the greatest talents in comics - - mourning the victims, supporting the survivors, celebrating the LGBTQ community, and examining love in today's world.

All material has been kindly donated, from the creative to the production, with ALL PROCEEDS going to the victims, survivors and their families via EQUALITY FLORIDA.

Be a part of an historic comics event! It doesn't matter who you love. All that matters is that you love.
Featuring an introduction by the project's organizer, Marc Andreyko!
Featuring contributions from some of the biggest names in comics!