Spider-Man: Homecoming's Second Trailer Shows Spidey's In For Some Trouble
Mar 28, 2017
Sony Pictures dropped the new trailer for Spider-Man: Homecoming today and it's convinced us that this is going to be the breakout blockbuster of the summer.
After the events of Captain America: Civil War, Spider-Man finds himself back in New York trying to live the life of a normal teenager. Tony Stark gives him a new suit, but something happens to make Stark lose confidence in Spider-Man's abilities. Without Iron Man's new suit, Peter Parker has to discover what it means to really be a hero on his own. The trailer showcases the Vulture, who we learned has taken scraps of super technology to make his own suit--the fights between Spider-Man and Vulture look epic from the trailer. Between Spider-Man's classic charm, the overarching narrative of the Marvel Cinematic Universe, the strong cast of friends surrounding Peter Parker, and the menacing villain in the Vulture, it appears that Spider-Man: Homecoming will be a welcome addition to the Marvel Cinematic Universe.
Starring Tom Holland (Spider-Man), Michael Keaton (Vulture), Zendaya (Michelle), Jacob Bateman (Ned Leeds), Laura Harrier (Liz Allan), TOny Revolori (Flash Thompson), Bokeem Woodbine (Shocker), Maria Tomei (May Parker), and Robert Downey Jr. (Iron Man), Spider-Man: Homecoming releases July 7, after Free Comic Book Day. Directed by Jon Watts, the film is based on the iconic Spider-Man franchise from Marvel Entertainment by Stan Lee and Steve Ditko.
Before seeing Spider-Man: Homecoming, make sure you stop by your local comic shop on Free Comic Book Day to pick up Marvel's Silver title, featuring an original story leading into the new Spectacular Spider-Man series out in June.
---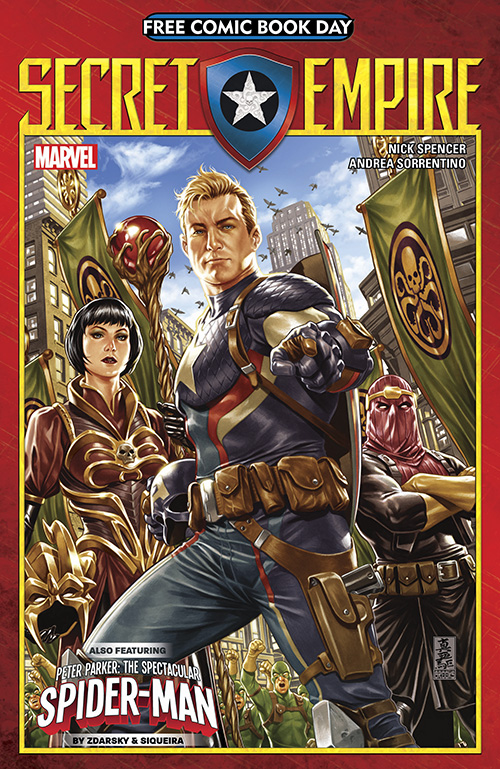 SECRET EMPIRE #1 FCBD 2017 EDITION
JAN170008
This comic releases on Free Comic Book Day, Saturday, May 6.
MARVEL COMICS
(W) Nick Spencer, Chip Zdarsky
(A) Andrea Sorrentino, Paulo Siqueira
The Marvel Universe is under siege from the greatest threat it has ever known! Everything has been leading to this as Nick Spencer and Andrea Sorrentino bring the entire Marvel Universe together for the highly-anticipated SECRET EMPIRE series! UNITED THEY STAND against a common foe, the Avengers, the X-Men, the Defenders, the Champions, the Inhumans, Spider-Man and more must hold together as an unwavering front! Yet even their combined might may not be enough to withstand the awesome power of Hydra!
Then, after his globetrotting adventures Spider-Man has returned to his friendly neighborhood as Chip Zdarsky and Paulo Siqueira present a sneak peek at PETER PARKER: THE SPECTACULAR SPIDER-MAN! A new companion series to the best-selling Amazing Spider-Man, Peter Parker is back in the Big Apple he's brought the Ol' Parker Luck with him! Don't miss your first taste of this back-to-basics and high-flying ongoing series! [TEEN]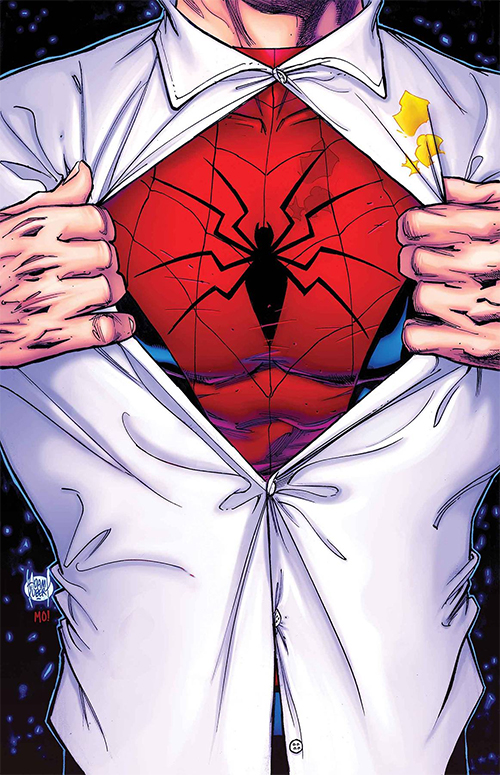 PETER PARKER: SPECTACULAR SPIDER-MAN #1
APR170970
This comic releases on June 21.
MARVEL COMICS
(W) Chip Zdarsky
(A/CA) Adam Kubert
SPIDER-MAN RETURNS TO THE FRIENDLY NEIGHBORHOOD!
The webslinging, wallcrawling wonder returns to New York City in the all-new PETER PARKER: THE SPECTACULAR SPIDER-MAN. A companion series to the best-selling Amazing Spider-Man series, Peter Parker is going back-to-basics for big heroics in the Big Apple. Featuring adversaries old and new, be there as Spider-Man returns to his friendly neighborhood for his never ending battle against crime and the dreaed "Parker Luck".