A New Age of Heroes Begins with New Justice League Trailer
Mar 27, 2017
The new Justice League trailer dropped last weekend, showcasing the DC heroes that'll unite to fight against the forces of Apokolips.
From the San Diego Comic Con trailer, we already knew the lineup would be Batman, Wonder Woman, Aquaman, the Flash, Cyborg, and the absent Superman, but this new trailer shows us a few new heroes. Mera, the Queen of Atlantis, make a short appearance, as does Commissioner Gordon. While the trailer doesn't specify who exactly the main villain will be, we do see the Amazons fighting against a Parademon army. It's been rumored that Steppenwolf, the General of Apokolips' forces, will be the major antagonist for Justice League, setting up Darkseid, one of the evil New Gods, as the main villain of the DC Universe.
Starring Ben Affleck (Batman), Henry Cavill (Superman), Gal Gadot (Wonder Woman), Amy Adams (Lois Lane), Jason Momoa (Aquaman), Ezra Miller (Flash), Ray Risher (Cyborg), Jesse Eisenberg (Lex Luthor), Jeremy Irons (Alfred Pennyworth), Connie Nielsen (Queen Hippolyta), and J.K. Simmons (Commissioner Gordon), Justice League premieres November 17, 2017 after Halloween ComicFest.
Before seeing Justice League, make sure you stop by your local comic shop to get up to speed on the adventures of the Justice League!
---
JUSTICE LEAGUE VOL 1: THE EXTINCTION MACHINE
OCT160295
DC COMICS
(W) Bryan Hitch
(A) Tony S. Daniel and Various
(CA) Tony S. Daniel
In these stories from JUSTICE LEAGUE: REBIRTH #1 and issues #1-5 of the new series, a new day dawns for the Justice League as they welcome a slew of new members into their ranks. The question remains though, can the world's greatest superheroes trust these new recruits? And will the members of the League be able to come together against an ancient evil that threatens to reclaim not just the world, but the entire universe?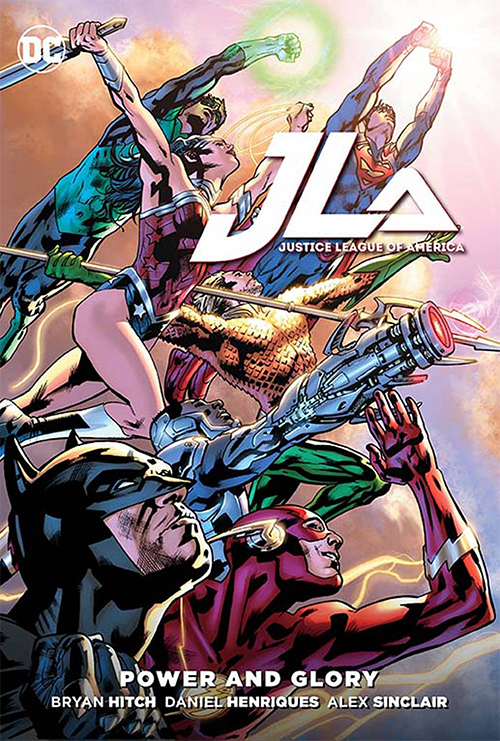 JUSTICE LEAGUE OF AMERICA: POWER AND GLORY
DEC160377
DC COMICS
(W) Bryan Hitch, Antony Bedard
(A) Bryan Hitch & Various
(CA) Bryan Hitch
It's massive widescreen action and adventure from superstar writer/artist Hitch, as the League comes up against an armada of aliens heading for Earth that claims to be a peaceful religious tribe. But something sinister is lurking in their ranks...something with ties to ancient Krypton! And more importantly...whose side will the Man of Steel fall on? This new hardcover collects issues #1-4 and 6-10.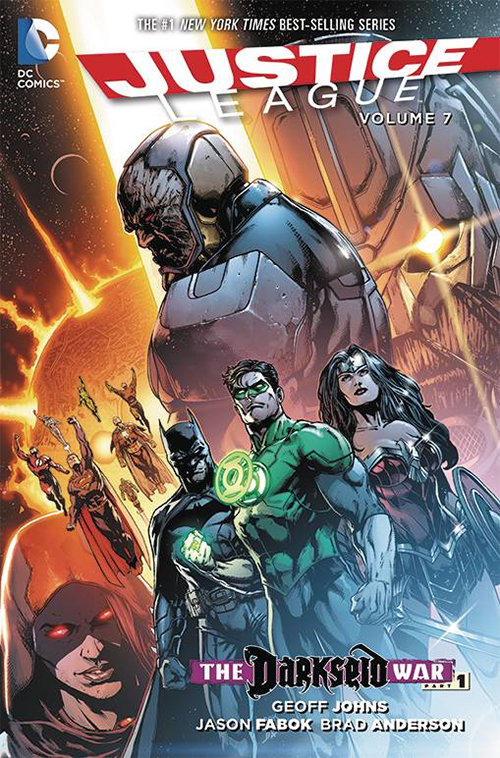 JUSTICE LEAGUE VOL 7: DARKSEID WAR PART 1
NOV150281
DC COMICS
(W) Geoff Johns
(A) Jason Fabok & Various
(CA) Jason Fabok
The Justice League came together to stop the forces of Darkseid from destroying Earth five years ago. Now the ruler of Apokolips returns, but this time he's set his sights on the world-shattering Anti-Monitor. Will the combined might of the Justice League be enough to protect Earth from becoming collateral damage as gods fight? This new JUSTICE LEAGUE hardcover collects JUSTICE LEAGUE #40-44 and a story from DC COMICS DIVERGENCE #1.
---
Be sure to find all of these at your local comic shop, and check out DC's two Free Comic Book Day comics: Wonder Woman and DC Super Hero Girls! If you're not sure where your local comic shop is, use the Comic Shop Locator Service.