Get Into Comics with Ghost in the Shell
Mar 27, 2017
Scarlett Johansson headlines her next film with Ghost in the Shell, premiering this week.
Ghost in the Shell is a manga series first serialized in 1989, created by Masamune Shirow. Unlike western creators, mangaka like Shirow wrote and drew their series. The series tells the story of a fictional counter-cyberterrorist organization Public Security Section 9, led by protagonist Major Motoko Kusanagi, set in mid-21st century Japan. There have been several successful anime adaptations of the series, but this is the first attempt at a live-action film.
Starring Scarlett Johannson (The Major), Takeshi Kitano (Chief Daisuke Aramaki), Michael Pitt (Kuze), Pilou Asbaek (Batou), Chin Han (Togusa), Juliette Binoche (Dr. Ouelet), Lasarus Ratuere (Ishikawa), and Pete Teo (Tony), the film premieres on March 31. Directed by Rupert Sanders (Snow White and the Huntsman) and produced by Avi Arad (Iron Man), Ghost in the Shell is based on a manga series, which is now distributed in America by Kodansha Comics.
Before the film, check out the Ghost in the Shell titles available at local comic shops now!
---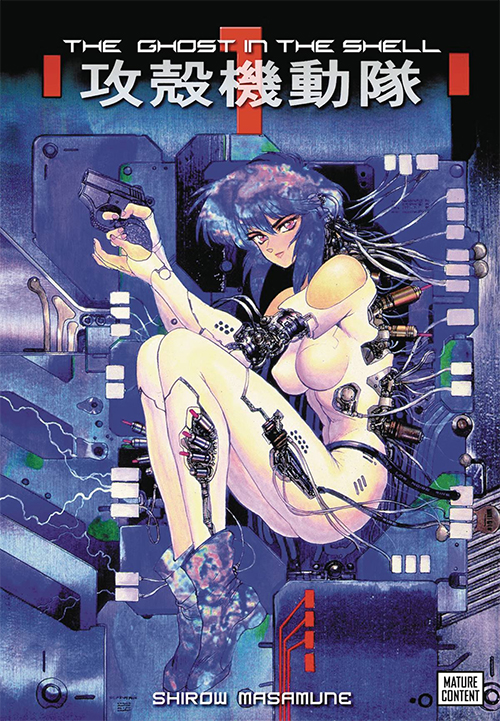 GHOST IN THE SHELL DELUXE EDITION VOL 1
NOV161661
KODANSHA COMICS
(W/A/CA) Shirow Masamune
This deluxe edition will mark the first time the book has been published in its original Japanese right-to-left format in English. Supervised by the creator, this will be the definitive edition of The Ghost in the Shell. Deep into the twenty-first century, the line between man and machine has been blurred as humans rely on the enhancement of mechanical implants and robots are upgraded with human tissue. In this rapidly converging landscape, cyborg superagent Major Motoko Kusanagi is charged to track down the craftiest and most dangerous terrorists and cybercriminals, including "ghost hackers" who are capable of exploiting the human/machine interface and reprogramming humans to become puppets to carry out the hackers' criminal ends.
GHOST IN THE SHELL STAND ALONE COMPLEX VOL 1
APR111079
KODANSHA COMICS
(W/A/CA) Yu Kinutani
Stand Alone Complex takes place in the year 2030, in the fictional Japanese city of New Port. The story follows the members of Public Security Section 9, a special-operations task-force made up of former military officers and police detectives. The manga presents individual cases that Section 9 investigates, along with an ongoing, more serious investigation into the serial killer and hacker known only as "The Laughing Man."
---
Be sure to find all of these at your local comic shop and check out Kodansha Comics' Free Comic Book Day 2017 title: Attack on Titan (JAN170034) on Saturday, May 6! If you're not sure where your local comic shop is, use the Comic Shop Locator Service.