FCBD 2013: From The Walking Dead to Hello Kitty, 2013 Had Something For Everyone!
Apr 13, 2017
Everyone loves Free Comic Book Day! Who wouldn't? Awesome comics available free of charge provided by the best publishers in the business and the most incredible comic stores across the world make Free Comic Book Day a holiday like none other. This year, Free Comic Book Day celebrates its sixteenth year introducing millions of people to the wonders of comics!
It all started in 2002, where retailer Joe Field, owner of Flying Colors Comics & Other Cool Stuff, saw the success of other days like Free Cone Day and posed the question to other retailers and publishers: shouldn't we do this too? By having a day where publishers offered up their best and most accessible titles to retailers at a low price, comic stores could give away comics for free to the public and encourage those who loved superhero films and multimedia to pick up the comics! Sixteen years later, Free Comic Book Day has become one of the most beloved events in the entire industry!
Following the previous years trends, Free Comic Book Day 2013 was the same weekend as the premier of the movie Iron Man 3! Free Comic Book Day 2013 was not lacking in variety either, with twelve gold titles and forty silver titles that included fan favorites for all ages! From the Walking Dead Free Comic Day exclusive to a Elmo/Strawberry Shortcake flip book, Free Comic Book Day 2013 had something for everyone!

Here are the books and publishers that participated in the twelfth Free Comic Book Day! Which one would you have picked up? Let us know on Facebook and Twitter--if you have any of these comics around, post them to social media with #FCBD2013 so everyone can take a look!
Free Comic Book Day 2013 Gold Sponsor Comics
---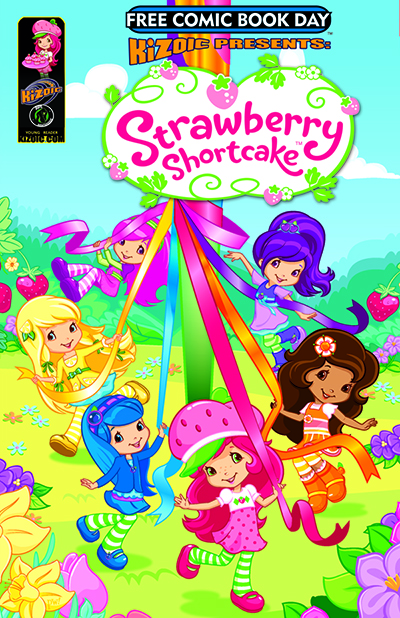 FCBD 2013 SESAME STREET & STRAWBERRY SHORTCAKE
APE ENTERTAINMENT
(W) Georgia Ball, Jason M. Burns
(A, CA) Amy Mebberson
On side one, Elmo, Cookie Monster, The Count and Super Grover teach you about the magic of reading comics! It's GUARANTEED to chase the clouds away! On side two, join Strawberry Shortcake and friends on 3 berry sweet adventures! Includes "The Blue Flu", "The Hunt for Blackberry's Treasure", and "Blueberry's Book Tour". It's a bushel of fun!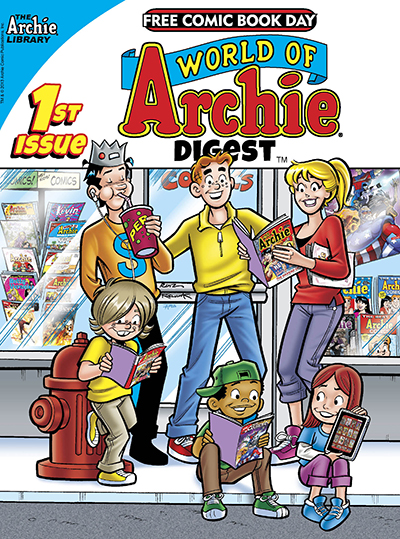 FCBD 2013 WORLD OF ARCHIE DIGEST
ARCHIE COMICS
(W) Various
(A) Various
Archie, Betty, Veronica, Jughead! The world's most famous teenagers for over seven decades are all here in this FREE digest! Packed with non-stop laughs and gaffs that the Riverdale gang is known for, we challenge you to find a Free Comic Book Day offering with more pages than this! The perfect introduction to the world of Archie and friends, this digest is a great primer to the double digests that Archie Comics are known for. Filled with stories from some of the best creators in the business, this is the one to pick up on Free Comic Book Day!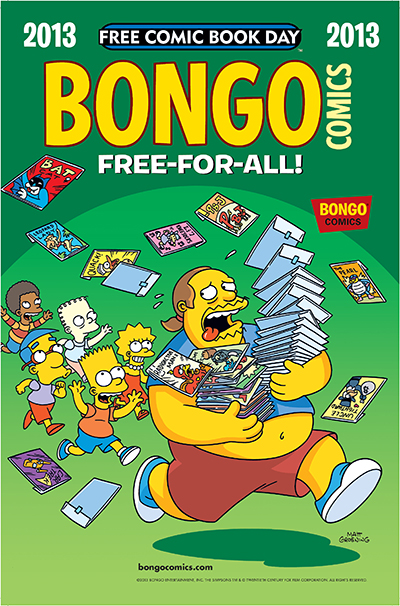 FCBD 2013 BONGO FREE-FOR-ALL
BONGO COMICS
(W) Matt Groening
(A, CA) Matt Groening
Bongo rings in another Free Comic Book Day with a comical cornucopia of four-color comics and games. First, Bart becomes a model citizen for a day...with disastrous results. Then, Jimbo and the gang escalate and elevate their juvenile delinquency to new heights. Stick around for a bedtime tale with the dim but adorable Li'l Homer and go in search of the Happy Little Elves with Maggie.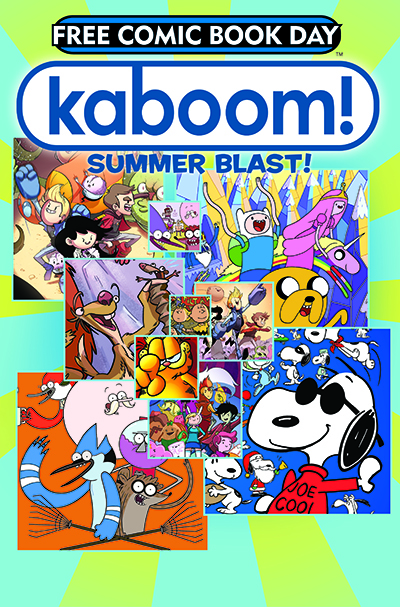 FCBD 2013 KABOOM SUMMER BLAST
BOOM! STUDIOS
(W) Various
(A, CA) Various
An explosion of All-Ages awesomeness from KaBOOM! this Free Comic Book Day! Sure to be one of the most popular offerings this Free Comic Book Day, the KaBOOM! Summer Blast is 48 pages chock-full of the most popular all-ages comics on the stands today! Featuring excerpts from Adventure Time, Peanuts, Regular Show, Bravest Warriors, Garfield, Ice Age and some brand-new surprises, these series will keep readers young and old coming back to your comic shop again and again!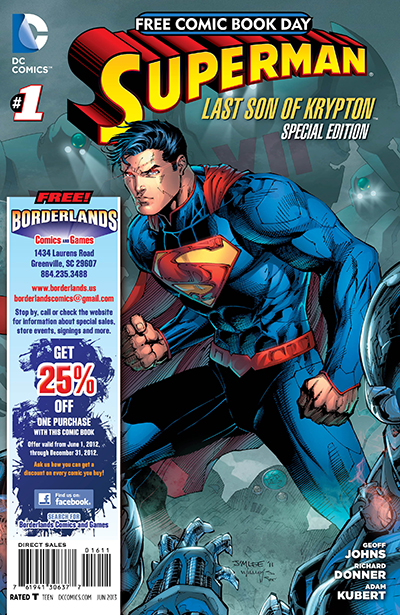 FCBD 2013 SUPERMAN SPECIAL EDITION
DC COMICS
Superman: The Last Son of Krypton #1 is a great jumping-on point for fans who can't wait to see Warner Bros. Pictures' Man of Steel major motion picture! This issue features the first chapter of the Superman: Last Son of Krypton graphic novel, written by Richard Donner and Geoff Johns and illustrated by Adam Kubert, featuring Superman's epic battle with General Zod and the Phantom Zone villains. In addition, it includes a special sneak preview of the blockbuster new monthly series starring The Man of Steel by the all-star team of Scott Snyder and Jim Lee!
FCBD 2013 DH STAR WARS CAPTAIN MIDNIGHT AVATAR
BOOM! STUDIOS
(W) Joshua Williamson, Brian Wood, Gene Luen Yang
(A) Ryan Odagawa, Roger Robinson, Pere Perez
(CA) Doug Wheatley
(A, CA) Ryan Hill
All-ages adventure! Star Wars joins fan-favorite villains Darth Vader and Boba Fett! Then explore the upcoming Dark Horse series Captain Midnight, where the search for the missing superhero is on! And the smash hit Avatar: The Last Airbender follows Mai as she deals with her broken heart . . .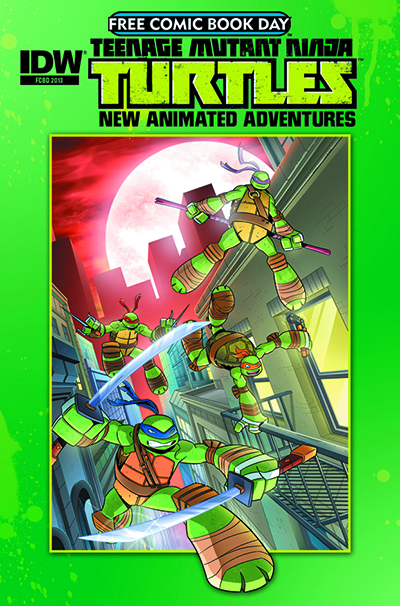 FCBD 2013 TMNT NEW ANIMATED ADVENTURES
IDW PUBLISHING
(W) Various
(A) Various
(CA) Dario Brizuela
Jumping from screen to page, it's Teenage Mutant Ninja Turtles NEW ANIMATED ADVENTURES! This unique series captures the heart of the smash Nickelodeon television show with brand-new stories. Full of action, excitement and laughs, this is the perfect all-ages comic to get you seeing green!!
FCBD 2013 WALKING DEAD SPECIAL


IMAGE COMICS
(W) Robert Kirkman
(A, CA) Charlie Adlard, Cliff Rathburn
This special Walking Dead issue contains a new Tyrese short story, who made his television debut in The Walking Dead Season 3! It also reprints short stories featuring Michonne, The Governor and Morgan. This special issue is a must-have for Walking Dead fans--none of these stories will be reprinted in the trade paperbacks! S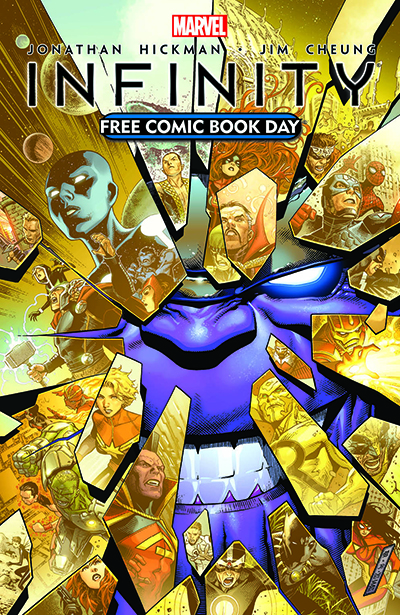 FCBD 2013 INFINITY
MARVEL COMICS
(W) Jonathan Hickman
(A, CA) Jim Cheung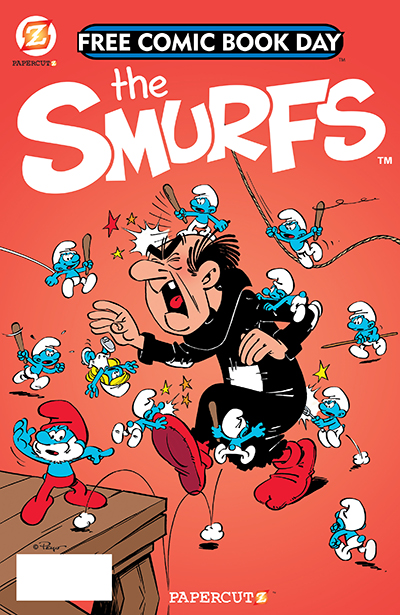 FCBD 2013 THE SMURFS


PAPERCUTZ
(W) Peyo, Scott Shaw, Mike Kazaleh, Emmanual Guibert
(A) Mike Kazaleh, Scott Shaw, Marc Boutavant
(A, CA) Peyo
THE SMURFS return to Free Comic Book Day with two stories never-before-seen in the US! Gargamel has tormented the Smurfs time and time again, always vowing his revenge on the small creatures. But what happens when he is forced to tangle with someone bigger than him- a nasty Ogre? Will the Smurfs let the Ogre destroy Gargamel, or will they decide to help their oldest foe? Find out in "The Ogre and the Smurfs"! Also featuring comics from two of the hottest new Papercutz series-ANNOYING ORANGE and ARIOL, a new series from Emmanuel Guibert!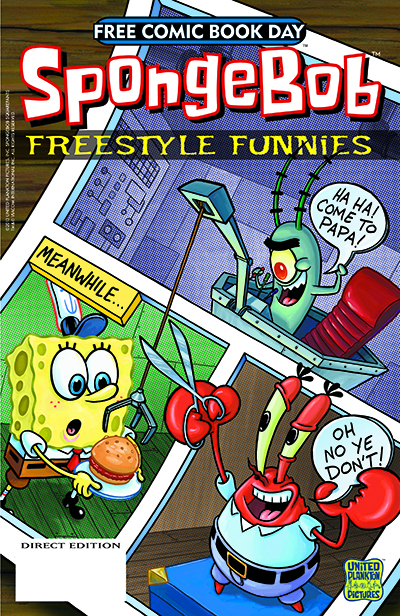 FCBD 2013 SPONGEBOB COMICS FREESTYLE FUNNIES

UNITED PLANKTON PICTURES
(W) Maris Wicks
(A) Graham Annable, Gregg Schigiel, Andy Rementer
United Plankton brings you a completely original collection of SpongeBob comics for FCBD 2013. In "Paint Misbehavin'" Squidward teaches SpongeBob and Patrick how to paint realistically--but how did they learn to bring their painted creations to life? Then in "Day of the Free Comic" SpongeBob must foil Plankton's latest plan: invading the Krusty Krab inside a...giveaway comic book! Will funny books ever be the same? And: Mermaid Man and Barnacle Boy take on a new villain: the sultry Catfishstress. All this plus facts about the colorful cuttlefish, a fill-in comic, and a preview of this summer's SpongeBob superhero-themed annual!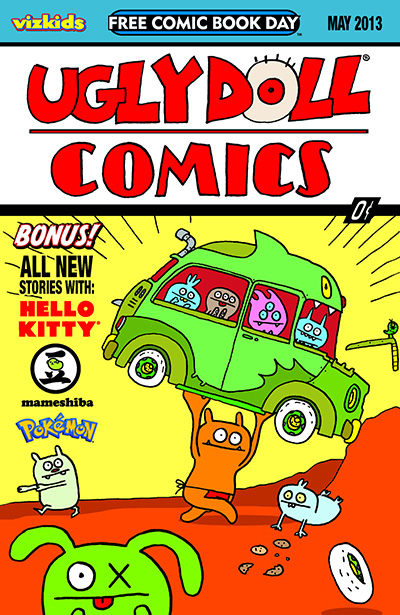 FCBD 2013 ITS AN UGLY DOLL COMIC & OTHER STUFF

VIZ MEDIA LLC
(W) David Horvath, Sun-Min Kim, Various
(A) James Kolchaka, Andrew McGinn, Various
Say, Friend. Do you need a hero? Then this comic isn't for you. (Though being Ugly is a super power - "ugly" means unique!) Do you need a cookie? Then this is your book! Join OX™, Wage™, Babo™, Ice-Bat™ and all their friends in the Uglydolls' first ever comic book adventure. The Uglydolls may not be able to leap tall buildings in a single bound, but they sure will eat your candy! And don't miss the bonus features from other famous members of the VIZ Kids family! It's An Uglydoll Comic will also feature samples of the upcoming Pokemon Pocket Comics [coming Fall 2013] which are a collection of full color, self contained, fun and funny comic strips featuring pokemon from Pokemon Black and White. Also featured are samples of the upcoming Hello Kitty graphic novels [October 2013] which are full color original stories by American artists such as Jacob Chabot [Mighty Skullboy Army]. The last property to be included is Mameshiba, the strange, unique, and absolutely adorable combination of a bean and a dog put together.
Free Comic Book Day 2013 Silver Sponsor Comics
---
FCBD 2013 ENDANGERED WEAPON B
AAM MARKOSIA

FCBD 2013 FUBAR SPECIAL
ALTERNA COMICS

FCBD 2013 MOLLY
DANGER / PRINCELESS
ACTION LAB ENTERTAINMENT

FCBD 2013 NFL RUSH ZONE SEASON
O/T GUARDIANS
ACTION LAB ENTERTAINMENT

FCBD 2013 ACTION TIME BUDDIES
ANTARCTIC PRESS

FCBD 2013 STEAM ENGINES OF OZ
ARCANA STUDIO

FCBD 2013 MOUSE GUARD/
RUST FLIP BOOK
ARCHAIA ENTERTAINMENT LLC

FCBD 2013 SONIC THE HEDGEHOG
MEGA MAN FLIPBOOK
ARCHIE COMIC PUBLICATIONS

FCBD 2013 WORLDS OF ASPEN
ASPEN MLT INC

FCBD 2013 ABSOLUTION
THE BEGINNING

AVATAR PRESS INC

FCBD 2013 BLEEDING COOL
MAGAZINE
BLEEDING COOL

FCBD 2013 CAPSTONE PRESENTS
MR PUZZLE
CAPSTONE PUBLISHING

FCBD 2013 THE RED TEN #0
COMIXTRIBE

FCBD 2013 DH MASS EFFECT
KILLJOYS RIPD
DARK HORSE COMICS

FCBD 2013 DC NATION SUPER
SAMPLER #1
DC


FCBD 2013 DAMSELS
DYNAMITE ENTERTAINMENT

FCBD 2013 GRIMM
DYNAMITE ENTERTAINMENT

FCBD 2013 MARBLE SEASON
DRAWN & QUARTERLY

FCBD 2013 PIPPI LONGSTOCKING
COLOR SPECIAL
DRAWN & QUARTERLY

FCBD 2013 FANTAGRAPHICS
PRINCE VALIANT
FANTAGRAPHICS BOOKS

FCBD 2013 OVERSTREET
COMIC BOOK MARKETPLACE
GEMSTONE PUBLISHING

FCBD 2013 BUCK ROGERS
HERMES PRESS

FCBD 2013 SCRATCH9
HERMES PRESS

FCBD 2013 JUDGE DREDD
CLASSICS
IDW PUBLISHING

FCBD 2013 APHRODITE IX #1
IMAGE COMICS

FCBD 2013 STAN LEE CHAKRA
THE INVINCIBLE PREVIEW
LIQUID COMICS LLC

FCBD 2013 RAMAYAN RELOADED
PREVIEW
LIQUID COMICS LLC

FCBD 2013 AVENGERS ASSEMBLE HULK
AGENTS OF SMASH #1
MARVEL COMICS

FCBD 2013 THE TICK

NEW ENGLAND COMICS

FCBD 2013 RATED FREE FOR EVERYONE
CROGAN ADV & MERMIN

ONI PRESS INC.

FCBD 2013 MYSTERIOUS STRANGERS #1

ONI PRESS INC.

FCBD 2013 DISNEY FAIRIES

PAPERCUTZ

FCBD 2013 2000 AD SPEC

REBELLION / 2000AD

FCBD 2013 ATOMIC ROBO & FRIENDS

RED 5 COMICS

FCBD 2013 FINDING GOSSAMYR
STUFF OF LEGEND

TH3RD WORLD STUDIOS

FCBD 2013 TOP SHELF
KIDS CLUB

IDW - TOP SHELF

FCBD 2013 HARBINGER WARS SPEC

VALIANT ENTERTAINMENT LLC

FCBD 2013 VALIANT MASTERS
SHOWCASE ED

VALIANT ENTERTAINMENT LLC

FCBD 2013 KELLERMAN L AMOUR
SAMPLER

VILLARD BOOKS

FCBD 2013 DRAGONBALL & RUROUNI
KENSHIN RESTORATION

VIZ MEDIA LLC
---
Make sure to get to your local comic book shop on May 6, 2017 and participate in the exciting event that is FCBD!