Get Into Comics with Power Rangers
Mar 20, 2017
Mastodon! Pterodactyl! Triceratops! Sabretooth Tiger! Tyrannosaurus!
No, this isn't a science lesson--it's the dinosaur themes of each of the original Mighty Morphin' Power Rangers, the series upon which the new Lionsgate Power Rangers film is based. Following Jason Scott, Kimberly Hart, Billy Cranston, Trini, and Zack, Power Rangers brings together five teenagers to save the world. With the enigmatic mentor Zordon and their robot assistant Alpha 5, the Power Rangers are tasked to protect the world from the villainous Rita Repulsa as she fights to steal the source of the Power Rangers' power for Lord Zedd.
Starring Dacre Montgomery (Jason Scott), Naomi Scott (Kimberly Hart), RJ Cyler (Billy Cranston), Becky G (Trini), Ludi Lin (Zack), Bill Hader (Alpha 5), Bryan Cranston (Zordon), and Elizabeth Banks (Rita Repulsa), the film premieres on Friday, March 24. Directed by Dean Israelite, Power Rangers is a Lionsgate film based on the popular Power Rangers franchise by Haim Saban and Super Sentai by Toei.
What are you waiting for? Go go, Power Rangers, to your local comic shop to find series based on the original Mighty Morphin' Power Rangers and the sequel to the new Power Rangers film from BOOM! Studios.
---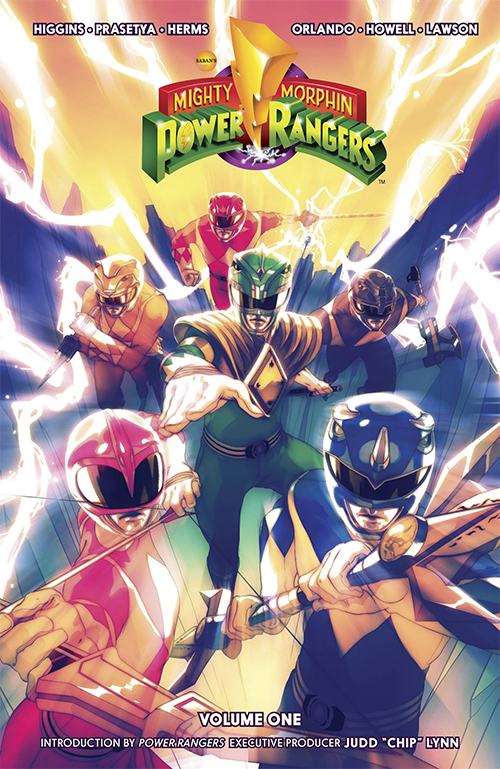 MIGHTY MORPHIN POWER RANGERS VOL 1
JUN161226
BOOM! STUDIOS
(W) Kyle Higgins & Various
(A) Hendry Prasetyo & Various
(CA) Goni Montes
Dive into the first collection of our best-selling, modern, ongoing Mighty Morphin Power Rangers series. After escaping Rita Repulsa's mind control, Tommy Oliver, the Green Ranger, joins the Power Rangers to combat the onslaught of evil attacks plaguing Angel Grove. Any semblance of a normal life is gone for Tommy now, but with his newfound family there lies hope for a brighter path. Collects issues #1-4, plus the prequel issue #0.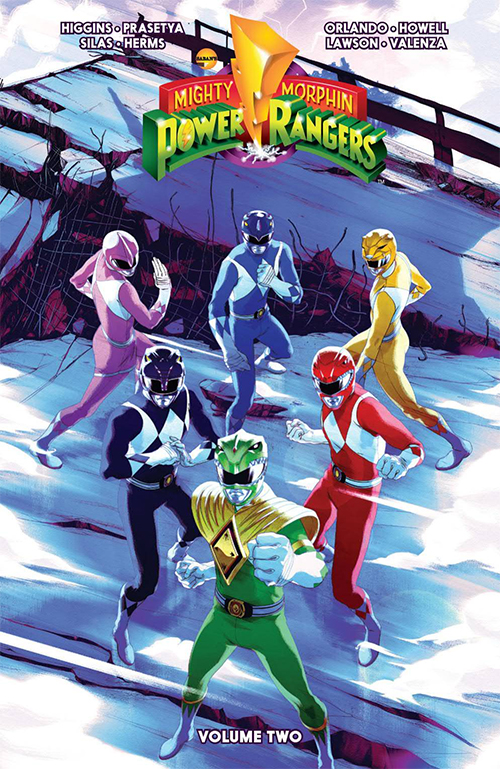 MIGHTY MORPHIN POWER RANGERS VOL 2
NOV161226
BOOM! STUDIOS
(W) Kyle Higgins, Steve Orlando
(A) Hendry Prasetyo & Various
(CA) Goni Montes
As Rita Repulsa enacts her plans for world domination, the Rangers are left powerless and without Zordon to call on. This is the greatest threat they have ever faced and the world hangs in the balance. Enter the age of the Black Dragon from writer Kyle Higgins (Nightwing, Batman Beyond 2.0) and artist Hendry Prasetya (Power Girl). Continue the adventure with the untold origin of the Green Ranger with art by Thony Silas (Batman Beyond 2.0), and the continuing adventures of Bulk and Skull from Steve Orlando (Supergirl) and Corin Howell (Bat-Mite). Collects issues #5-8.
POWER RANGERS
JAN171401
This comic releases on Wednesday, March 29th.
BOOM! STUDIOS
(W) Ryan Parrott
(A) Lucas Werneck
(CA) Photo
From the publisher of the critically acclaimed Mighty Morphin Power Rangers comic series comes an original story set in the universe of the upcoming Power Rangers feature film! This explosive, all-new tale picks up immediately after the events of Lionsgate's highly anticipated movie, in theaters March 24, 2017! See the film, then deep dive into the continued adventures of Jason, Kimberly, Trini, Zack, and Billy! Written by Ryan Parrott (Star Trek: Starfleet Academy, Batman: Gates of Gotham) and illustrated by artist Lucas Werneck. Features an exclusive Previews cover edition by Greg Smallwood (Moon Knight) available only at your local comic book shop!
---
Be sure to find all of these at your local comic shop! If you're not sure where your local comic shop is, use the Comic Shop Locator Service.