Comic Shop Spotlight: Gardner's Used Books
Apr 05, 2017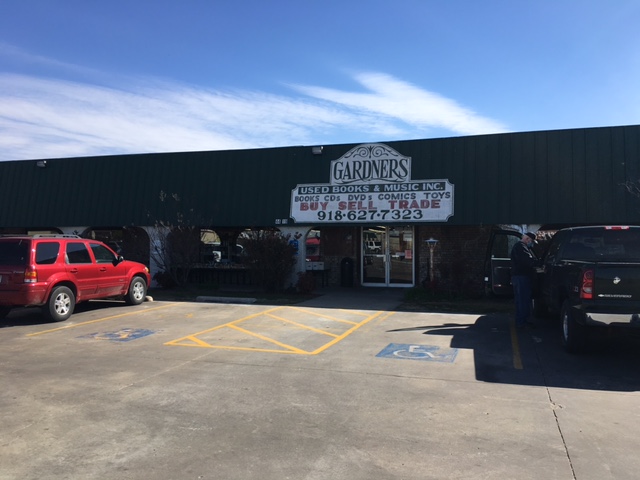 Click to see larger image.
Gardner's Used Books in Tulsa, Oklahoma.

OWNER: Richard Gardner

MANAGER: Sean Wells

NUMBER OF LOCATIONS: 1 plus an outlet store

NUMBER OF EMPLOYEES: 20

YEAR OPENED: 1991

STORE SIZE (square feet): 20,000


Favorite Recent Comic Book? Marvel's X-Men
How was your Halloween ComicFest event? It was good. Not a huge event for us, but the dress up and costumes customers wore were a lot of fun.
What has been your best promotion or event? Our themed ladies nights have really been a hit for us.
What recent changes have you made in the store? We added an outlet store behind the main building that is almost the same square footage as our main store. It is open on weekends and allows us to move through more inventory.
What steps have you taken to expand your customer base or to reach out to individuals unfamiliar with your store or comics in general? We do quite a few promotions, use social media more and more, and the word of mouth is really helpful too as the store is sort of an attraction unto itself.
What are your plans for the near future? We are giving some thought to adding some in-store gaming events.
How did you choose your store name? It's all in the name.
What superpower would you most like to have? Mind reading.
Angela Stone poses with some of Marvel's heavy hitters

The entrance to the comics and other collectables section of the store.

Big signs make sure customers can navigate this huge store without a problem.

The neighboring café is a good spot to read your latest purchases

Lots of CD's to peruse

Part of the comic offerings can be found just off of Sesame Street

Gardner's is always buying collections and has a vast selection of back issues

Used books means used trade paperbacks too.

Click to see larger image.

This large street sign also advertises their newly opened annex discount store

Click to see larger image.
Click here to see more stores featured in the Comic Shop Spotlight!