David Petersen Tells Us How Mouse Guard Is About More Than Just Cute Characters
Mar 18, 2017
We sat down with artist David Petersen to talk about Mouse Guard, his story in the BOOM! Studios Free Comic Book Day issue, Summer Blast! The characters are cute on the surface, but Peterson hopes that fans can look past just their cuteness and see the compelling story that is offered in Mouse Guard. We know we're excited to see the depth of these characters on Free Comic Book Day 2017!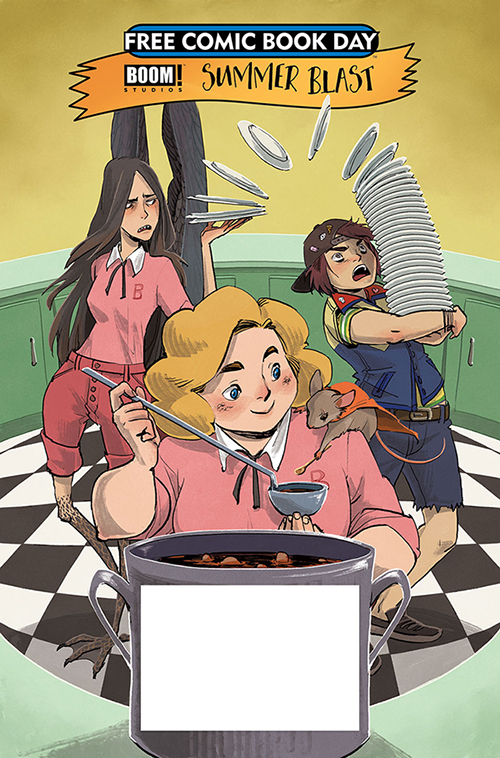 FCBD 2017 BOOM STUDIOS SUMMER BLAST
(W) David Petersen, Sam Sykes, Liz Prince
(A) David Petersen, Selina Espiritu, Amanda Kirk
(CA) Kyla Vanderklugt

BOOM! Studios Summer Blast is jam-packed with three stories of mice, monsters, and one supernatural punk band. In an original Archaia short story of David Petersen's Mouse Guard, a pair of youngfurs learn a lesson from a grizzled guardmouse on what it means to be a hunter. Next, get a sneak peek of the upcoming KaBOOM! series Brave Chef Brianna. To prove herself as a great chef, Brianna starts her own restaurant... but the only town she can afford to set up shop in is Monster City! Finally, the Lumberjanes introduce your new favorite BOOM! Box series Coady and the Creepies. Coady and her sisters are members of a band heading for the gig of their lives... so long as no one realizes that Coady is actually a ghost! [ALL AGES]
---
Free Comic Book Day: What about Mouse Guard do you think makes it so popular?
David Petersen: On the surface, I think it's the blend of "cute" and "fierce." That's what I find draws a lot of new readers to my table or booth at conventions; they see the little mouse with the sword and a scrunched-up, determined face and they want to know more. On a deeper level, I hope it's because people relate to the very small overcome and triumph against all odds much larger than them.
What got you reading comics? What are some series you're reading today?
DP: I read some of my older sisters' Archie comics, but it wasn't until I discovered that early run of Eastman & Laird's Teenage Mutant Ninja Turtles and reprints of Cockrum/Claremont's X-Men that I started collecting books of my own and following storylines. Today I read Gotham Academy, Hellboy, Table Titans, and Locke & Key.
What books would you recommend to new readers and why?
DP: I try and find out what other shows, books, movies, etc. a new-to-comics reader likes before I recommend, but things I often find myself suggesting are Craig Thompson's Blankets, Usagi Yojimbo, Hellboy, Locke & Key, Rick Geary's Victorian and 20th Century Murder series, Bone... All of those I think are accessible narratives and prime examples of storytellers who know how to pace and reveal a story to the reader.
Why do you think Free Comic Book Day is important to the comic book community?
DP: Barrier-free access with no threshold of understanding for a new reader. From the outside, comics can seem like a tricky thing to get into if you don't already know something about them, so a day where new readers or returning readers are celebrated and rewarded by everyone in comics (creators, publishers, distributors, and shops) to try something! It would be unusual if someone you knew had never utilized another one of the storytelling mediums, someone who'd never read a novel or poetry, listened to music, watched TV or movies, seen a play... but somehow never having read a comic is prevalent. And the first Saturday in May is the day you can take your non-comic-familiar friends and relatives to a shop and help them find something they like.
Why do you think local comic shops are important to the comic book community?
DP: Comic shops should be the purveyor of good taste. There are a LOT of comics out there, too many for most readers (especially new or casual readers) to keep track or keep an eye out for. The shop staff is there to help every reader—no matter what age, gender, or interests—find a comic that is going to appeal to them. The shop is also a community made up of the people who shop there, friendships are made, reading/discussion groups formed, debates waged; it can be a social place that should include everyone.
---
David Petersen plans to spend Free Comic Book Day in San Francisco at Isotope! He is hoping to meet lots of fans (old and new), sign copies of the BOOM! offering with his new Mouse Guard short inside, and perhaps be involved in some festivities.