FCBD 2012 Assemble! May 5th Was Free Comic Book Day And The Premiere Of The First Avengers Movie!
Apr 06, 2017
Everyone loves Free Comic Book Day! Who wouldn't? Awesome comics available free of charge provided by the best publishers in the business and the most incredible comic stores across the world make Free Comic Book Day a holiday like none other. This year, Free Comic Book Day celebrates its sixteenth year introducing millions of people to the wonders of comics!
It all started in 2002, where retailer Joe Field, owner of Flying Colors Comics & Other Cool Stuff, saw the success of other days like Free Cone Day and posed the question to other retailers and publishers: shouldn't we do this too? By having a day where publishers offered up their best and most accessible titles to retailers at a low price, comic stores could give away comics for free to the public and encourage those who loved superhero films and multimedia to pick up the comics! Sixteen years later, Free Comic Book Day has become one of the most beloved events in the entire industry!
Free Comic Book Day 2012 shared the premiere day with the first Avengers movie! Free Comic Book Day beat its record for most comics ordered by retailers with an astounding 3.5 million comics! Along with the astonishing comic numbers, there were also 59 cities that had creators come to do signings in their local comic shops! With the Avengers creating an extreme draw into comics, Free Comic Book Day 2012 was a hit!

Here are the books and publishers that participated in the eleventh Free Comic Book Day! Which one would you have picked up? Let us know on Facebook and Twitter--if you have any of these comics around, post them to social media with #FCBD2012 so everyone can take a look!
Free Comic Book Day 2012 Gold Sponsor Comics
---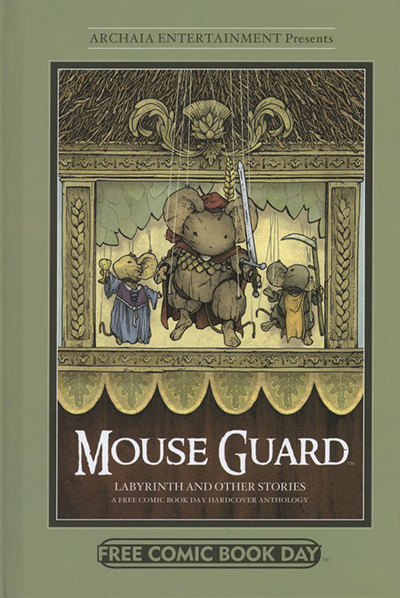 MOUSE GUARD LABYRINTH & MORE HC
ARCHAIA ENTERTAINMENT LLC
(W, A) Jeremy Bastian
(W) Nate Cosby, Royden Lepp, Jim McCann, Ted Naifeh
(A) Chris Eliopoulos, Cory Godbey, Janet Lee, Royden Lepp
(CA, W, A) David Petersen

This Free Comic Book Day, Archaia offers readers the chance to experience history in the making with a FREE, gorgeous, 48-page, 6" x 9" full-color original anthology hardcover featuring all-new material! David Petersen returns with an all-new Mouse Guard tale that's guaranteed to tug at your heartstrings! Lose yourself once again in Jim Henson's amazing world of Labyrinth, featuring a fantastical story from Eisner Award-nominee Ted Naifeh (Courtney Crumrin) and Cory Godbey (Fraggle Rock). Get a new perspective on Jet Jones in Royden Lepp's critically acclaimed Rust, with a short story seen through the eyes of younger brother Oswald Taylor. Jeremy Bastian's acclaimed Cursed Pirate Girl hits the high seas in this whimsical, swashbuckling tale of wonderland journeys and unimaginable dangers. Nate Cosby (Pigs) and Chris Eliopoulos (Franklin Richards) present Cow Boy, a comedy/western that tells the tale of a young bounty hunter determined to send his entire outlaw family to jail. And Jim McCann and Janet Lee follow up their Eisner Award-winning Return of the Dapper Men with an all-new short story that leads into the upcoming sequel, Time of the Dapper Men. Witness the origin of a new, major character! And...the return of 41?!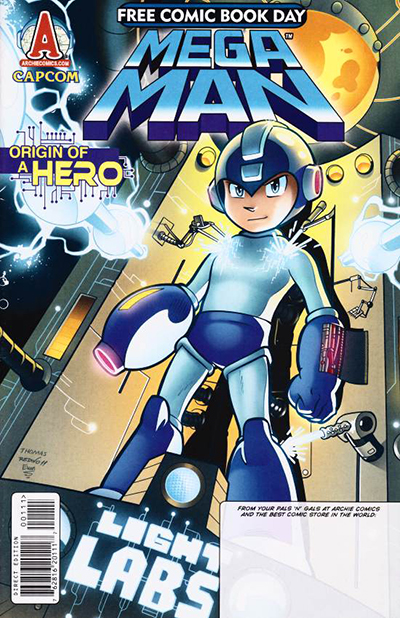 MEGA MAN
ARCHIE COMIC PUBLICATIONS
(W) Ian Flynn
(A, CA) Patrick Spaz Spaziante
"Let the Games Begin!" Part One: Don't miss the first classic issue of the hit new MEGA MAN comic series! The future looks bright when brilliant and benevolent Dr. Light unveils his latest creations: the Robot Masters! But when the nefarious Dr. Wily steals them for his own sinister purposes, there is no one left to stop him. No one -except Mega Man! Plus bonus features and a preview of the all-new series: The New Crusaders!

BONGO FREE-FOR-ALL / SPONGEBOB FREESTYLE
BONGO COMICS
(W, A) Matt Groening, Various
Bongo offers the best in humor comics with a proud tale from the boasting barflies of Moe's Tavern, as they recount their close encounter with marauding beasts as members of the Springfield Bear Patrol. And Sergio Aragonés joins the fun with a story from his own past of how he made his first peso as an underground and underage artist. Then, flip over the book for two of the swimmingest SpongeBob sagas from the series' hard-to-find earliest issues. In "Squidward and the Golden Clarinet," SpongeBob reads an issue of Mermaid Man to a less-than-welcoming Squidward. But this story has a musical hook even Squidward can't resist. Plus: a page of gags that go off the deep end by indie artiste James Kochalka.

PEANUTS/ADVENTURE TIME FLIPBOOK
BOOM ENTERTAINMENT
(W, A, CA) Charles M. Schulz & Various
(W) Vicki Scott, Ryan North
(A) Ron Zorman, Vicki Scott, Paige Braddock
(CA, A) Shelli Paroline, Braden Lamb

Two stories of two boys and their dogs -- on one side, Charlie Brown and Snoopy, along with the entire Peanuts gang, come to Free Comic Book Day! On the other side -- boy Finn and his dog Jake, along with the entire cast of the hot new Cartoon Network series Adventure Time, adventure in the Land of Ooo for Free Comic Book Day! Get your full KABOOM! dose of "Good Griefs" and "Algebraics" all in one book!

STAR WARS SERENITY
DARK HORSE COMICS
(W) Zack Whedon
(A) Fábio Moon, Christian Dalla Vecchia
(CA, A) Adam Hughes, Daniel Dos Santos
Han Solo and Chewbacca have a falling-out after a deal with a shady customer goes bad. When the client gets designs on the Millennium Falcon, Han and Chewie present a united front that can't be beat! "Mal" Reynolds, captain of the outlaw vessel Serenity, is no stranger to jobs gone wrong. But when the chips are down, he's able to rely on an amazing, odd, and diversely talented crew for help! Two great space epics in one issue!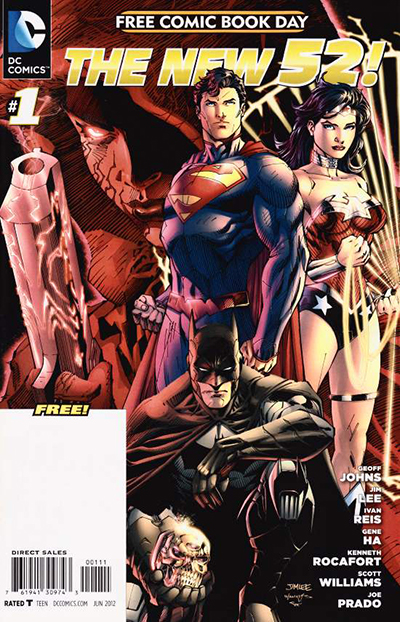 DC COMICS THE NEW 52 SPECIAL ED
DC COMICS
(W) Geoff Johns, Various
(A) Jim Lee, Various
Get an exclusive look at what's happening at DC in 2012 - Featuring art by legendary illustrator Jim Lee and other top talents, DC Comics - The New 52 FCBD Edition will include a new story by New York Times bestselling writer Geoff Johns. There will also be preview material from DC Comics - The New 52 "Second Wave" titles, including Batman Incorporated, Dial H, Earth 2, G.I. Combat, The Ravagers and Worlds' Finest. But that's not all; there are still more surprises to come. Stay tuned for details!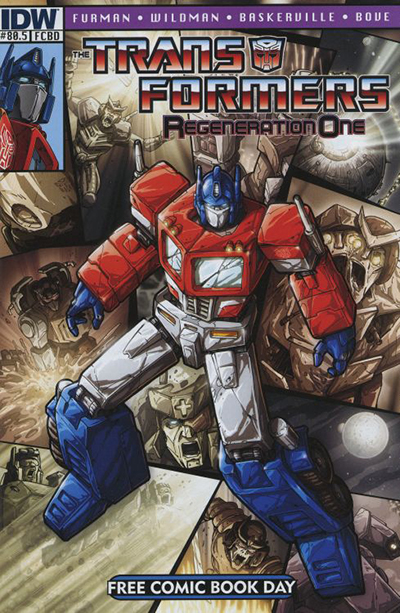 TRANSFORMERS #80.5
IDW PUBLISHING
(W) Simon Furman
(A, CA) Andrew Wildman
The wait is over - after a 20-year hiatus, IDW proudly returns to the original Transformers comic book universe, picking up right where 1991's Transformers #80 left off! Optimus Prime, Grimlock, Kup, Hot Rod and all your favorite Generation One Transformers characters charge into the future as fan-favorite writer Simon Furman and legendary Transformers artist Andrew Wildman present Transformers #80.5! Reflecting back on the dizzying highs and the terrifying lows of the original run of Transformers comics, Optimus Prime watches over a Cybertron that hasn't faced Megatron for decades. But that peace shudders to an end, as we dive headlong into July's Transformers #81! Because the Fans demanded it! Thousand of Transformers fans signed petitions urging us to make this book - and IDW listened! Created by the same writer, penciler, and inker of Transformer #80 in 1991! Bonus features make clear IDW's current Transformers line of comics, as well as our extensive reprint program!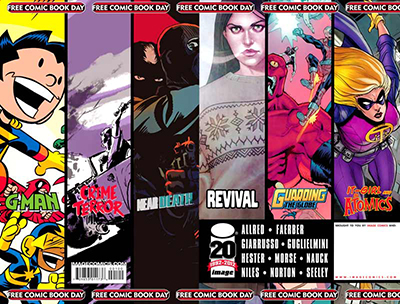 IMAGE 20
IMAGE
(W, A) Various
Image Comics presents its 20th anniversary anthology with six, all-new original stories promoting upcoming Image Comics titles! Look for "Revival" by Tim Seeley & Mike Norton, G-Man by Chris Giarrusso and additional stories to be announced later.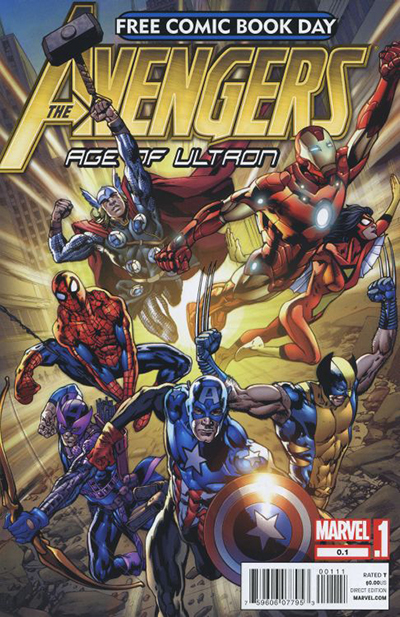 AVENGERS AGE OF ULTRON POINT ONE
MARVEL COMICS
(W) Brian Michael Bendis
(A, CA) Bryan Hitch
Start reading with this POINT ONE issue. Prepare for the upcoming high-stakes Avengers event with a battle between the Avengers and the Intelligencia, the return of SWORD, and the disappearance of Spider-Woman!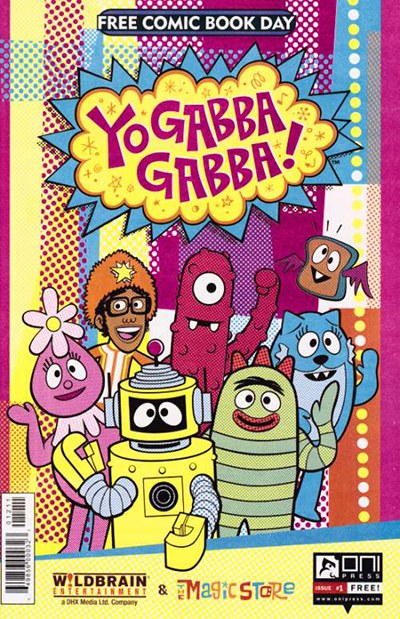 YO GABBA GABBA FREE COMIC BOOK TIME
ONI PRESS
(W) Jamie S. Rich & Various
(A) Mike Allred & Various
(CA) Parker Jacobs
From the hit Nickelodeon show! Come join your Gabba Land pals Muno, Foofa, Brobee, Toodee, Plex and, of course, DJ Lance Rock, for a series of fun-filled adventures! Plus, an awesome Super-Martian-Robot-Girl tale, too!
Free Comic Book Day 2012 Silver Sponsor Comics
---
ANTI/RIDE
12 GAUGE COMICS


ANTARCTICS ZOMBIE KID
ANTARCTIC PRESS

SONIC THE HEDGEHOG
ARCHIE COMICS


WORLDS OF ASPEN
ASPEN MLT COMICS


LADY DEATH: THE BEGINNING
AVATAR PRESS


BURT WARD BOY WONDER
BLUEWATER COMICS


THE CENSORED HOWARD CRUSE
BOOM! STUDIOS

THE HYPERNATURALS
BOOM! STUDIOS

BUFFY/THE GUILD
DARK HORSE COMICS


MOOMIN COLOR SPECIAL
DRAWN AND QUARTERLY


BARNABY AND MR. O'MALLEY
FANTAGRAPHICS BOOKS


DINOSAURS VERSUS ALIENS
LIQUID COMICS


SPIDER-MAN SEASON ONE
MARVEL


BAD MEDICINE #1
ONI PRESS


ATOMIC ROBO AND FRIENDS
RED 5 COMICS

ANIMAL PLANET WORLD'S
MOST DANGEROUS ANIMALS
SILVER DRAGON BOOKS

TOP SHELF KIDS
TOP SHELF PRODUCTIONS

VALIANT PREVIEW
VALIANT ENTERTAINMENT

VOLTRON FORCE
VIZ MEDIA
---
Make sure to get to your local comic book shop on May 6, 2017 and participate in the exciting event that is FCBD!