FCBD 2011 And A Mighty Premiere!
Mar 30, 2017
Everyone loves Free Comic Book Day! Who wouldn't? Awesome comics available free of charge provided by the best publishers in the business and the most incredible comic stores across the world make Free Comic Book Day a holiday like none other. This year, Free Comic Book Day celebrates its sixteenth year introducing millions of people to the wonders of comics!
It all started in 2002, where retailer Joe Field, owner of Flying Colors Comics & Other Cool Stuff, saw the success of other days like Free Cone Day and posed the question to other retailers and publishers: shouldn't we do this too? By having a day where publishers offered up their best and most accessible titles to retailers at a low price, comic stores could give away comics for free to the public and encourage those who loved superhero films and multimedia to pick up the comics! Sixteen years later, Free Comic Book Day has become one of the most beloved events in the entire industry!
Free Comic Book Day 2011 was accompanied by the debut of Chris Hemsworth in the first Thor movie! This year's Heroclix figure was a DC Green Lantern figure, which had a corresponding comic book in the Gold Sponsor list! Along with the movie title and corresponding books there was the usual ensemble list, including Archie, Mickey Mouse, Avatar, Star Wars, and many more!
Here are the books and publishers that participated in the tenth Free Comic Book Day! Which one would you have picked up? Let us know on Facebook and Twitter--if you have any of these comics around, post them to social media with #FCBD2011 so everyone can take a look!
Free Comic Book Day 2011 Gold Sponsor Comics
---

KIZOIC KUNG FU PANDA & RICHIE RICH
APE ENTERTAINMENT
(W, A) Various

Kizoic presents DreamWorks Animation's Kung Fu Panda and Classic Media's Richie Rich. Featuring stories from the artists and writers of the upcoming all-ages titles, due in stores April 2011. Also a never-before-seen sneak peek at the upcoming Strawberry Shortcake series and more! Ape Entertainment, it's evolution in progress.
MOUSE GUARD DARK CRYSTAL FLIP BOOK
ARCHAIA ENTERTAINMENT
(W) David Petersen, Brian Holguin
(A) David Petersen, Alex Sheikman
Archaia presents two, amazing, all-new stories in one fantastic flip book-David Petersen's Eisner Award-winning MOUSE GUARD and Jim Henson's beloved DARK CRYSTAL share the spotlight on Free Comic Book day!
On one side of the book, a brand-new tale of the fan-favorite Mouse Guard, elite warrior mice tasked with protecting common mice from predators, the elements and other dangers. It's the perfect introduction to Mouse Guard for new fans, and a rewarding treat for existing ones! On the other side of the book, Archaia Entertainment is proud to present an exclusive prelude to its forthcoming series of DARK CRYSTAL graphic novels, featuring covers, art direction and concepts by Brian Froud, conceptual designer of the original film! This prelude begins the epic creation story of the world of Thra, and explores the origins of the world of the Dark Crystal!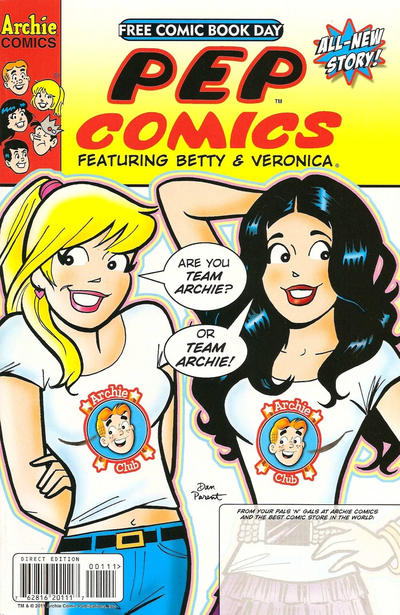 PEP COMICS BETTY & VERONICA
ARCHIE COMICS
(W, A) Dan Parent
"You've Been Clubbed!!" Betty and Veronica stubble upon the old Archie Club House and become inspired to bring back their clubbing days! But when the new club splits in two it's a battle of friendship! With Jughead pushing her buttons can Veronica let go of her competitive spirit in order to save her greatest friendships?

DARKWING DUCK & CHIP DALE RESCUE RANGERS
BOOM! STUDIOS/BOOM KIDS!
(W) Ian Brill
(A) James Silvani, Leonel Castellani
An all ages flip book from BOOM! On one side, experience Darkwing Duck! Reprinting the blockbuster sold-out first issue of the Darkwing Duck ongoing series. But don't forget to flip this comic over, or you'll miss Chip 'n Dale Rescue Rangers, reprinting the first issue of the critically acclaimed bestseller from BOOM! Two hit series, both all ages, one flip book of pure fun! Don't miss the return of the Disney Afternoon Revolution that grabbed the attention of Disney fans everywhere!
AVATAR LAST AIRBENDER STAR WARS CLONE WARS
DARK HORSE COMICS
(W) Johane Matte, J. Torres, Ryder Wyndam
(A) Johane Matte, Gurihiru, Ben Dewey
Dark Horse is thrilled to bring to readers of all ages Nickelodeon's Avatar: The Last Airbender and Star Wars: The Clone Wars. Both FCBD stories are excellent entry points to these wonderfully charming and imaginative worlds!
- A spin-off television miniseries Avatar: Legend of Korra will premiere on Nickelodeon in 2011!
- Features Savage Opress - the vicious new character from The Clone Wars TV show, as well as Breakout Squad, from Grosset & Dunlap's Clone Wars: Secret Missions novels!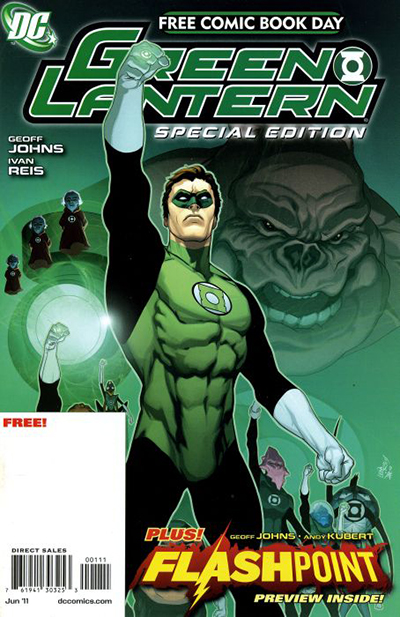 GREEN LANTERN FLASHPOINT SPECIAL ED
DC COMICS
(W) Geoff Johns
(A) Ivan Reis, Andy Kubert
This is the perfect jumping-on point for new readers who can't wait to see the Green Lantern major motion picture from Warner Bros.! Discover how and why Hal received the power ring that changed his life forever with this reprinting of Green Lantern #30, a pivotal chapter of the Green Lantern: Secret Origin graphic novel by Geoff Johns and Ivan Reis. Plus: No comic fan can afford to miss this exclusive first sneak peek of Flashpoint, DC's blockbuster event of 2011, by the all-star team of Geoff Johns and Andy Kubert!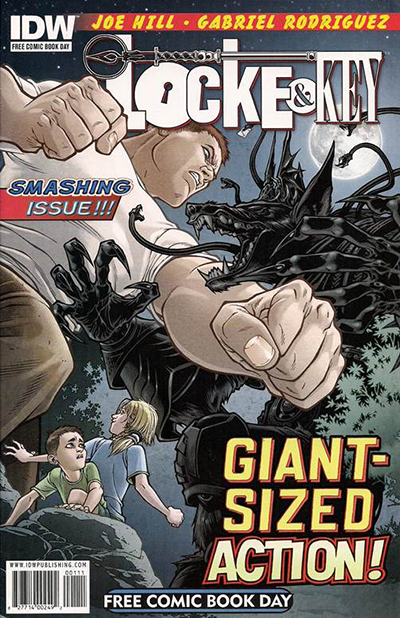 LOCKE & KEY FREE COMIC BOOK DAY EDITION
IDW PUBLISHING
(W) Joe Hill
(A) Gabriel Rodriguez
The acclaimed comic that is on its way to being a Fox television series is now yours for free! This special issue presents a 26-page story by creators Joe Hill and Gabriel Rodriguez that sees the Locke family and their wondrous Keyhouse mansion beset on all sides by shadowy threats. The malevolent spirit Dodge continues his relentless quest to find the key to the black door, and raises an army of shadows to wipe out anyone who might get in his way. Surrounded and outnumbered, the Locke children find themselves fighting a desperate battle, all alone, in a world where the night itself has become their enemy.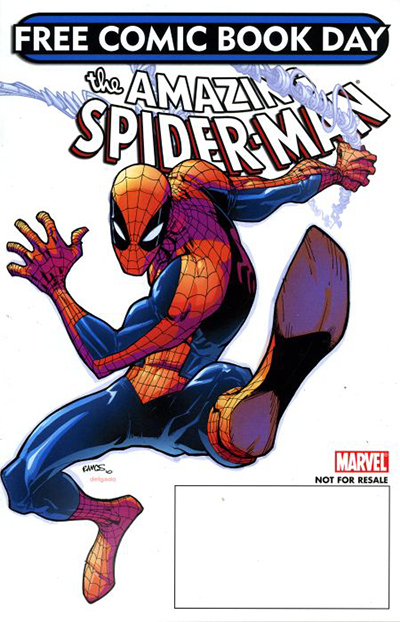 AMAZING SPIDER-MAN
MARVEL
(W) Dan Slott
(A) Humberto Ramos
This first week of May, award-winning Spider-Man writer Dan Slott and comics legend Humberto Ramos give you first, fateful glimpses at the biggest Spider-Man epic in years (coming later this summer)! It's a crime that we're giving this one away!
The new MADAME WEB can sense a great conflict brewing in SPIDER-MAN'S future and his only hope for survival lies in the hands of SHANG-CHI, THE MASTER OF KUNG FU! Can Spidey gain mastery of the martial arts in time to stop a deadly foe from his past? Watch out, True Believers, 'cause this is the issue that changes up Spider-Man like never before!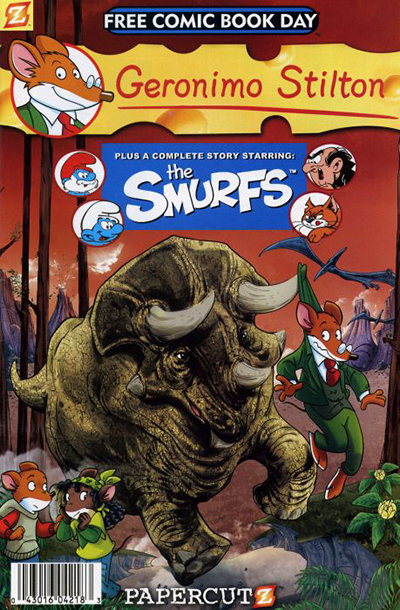 GERONIMO STILTON & SMURFS
PAPERCUTZ/NBM
(W, A) Geronimo Stilton (Stilton)
(W) Peyo (Smurfs)
(A) Yvan Delporte (Smurfs)
A sampling of one of the bestselling children's books characters (over 12 Million sold, 300,000+ this year) plus a full-color Smurfs story! Geronimo Stilton, editor of the Rodent's Gazette stars in "Play it Again, Mozart", as the Pirate Cats travel back in time to Milan, Italy in the year 1770, to steal a symphony composed by Mozart. Plus: The evil Gargamel takes his battle with the Smurfs to the seas - with surprising results - in "The Smurf Submarine"!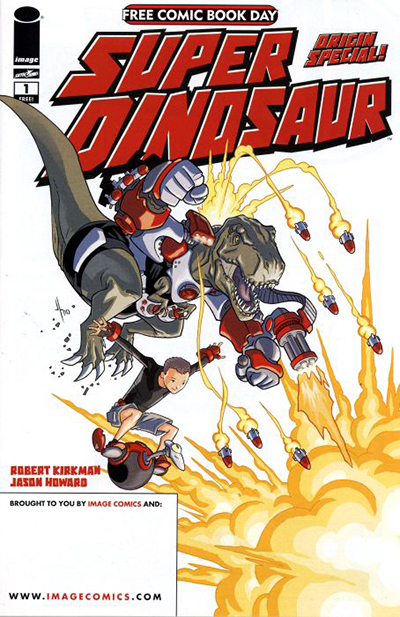 SUPER DINOSAUR ORIGIN SPECIAL #1
Skybound Entertainment (Image)
(W) Robert Kirkman
(A, C) Jason Howard
Super Dinosaur is finally here! In this standalone origin special you will learn everything there is to know about Derek Dynamo's best friend, Super Dinosaur! Where did he come from? How did he avoid extinction? What is Inner-Earth? And what the heck is DynOre and why is it so dangerous? All this and more will be revealed - and all for FREE!
Free Comic Book Day 2011 Silver Sponsor Comics
---
ICE
12 GAUGE COMICS


SONIC THE HEDGEHOG
ARCHIE COMICS


WORLDS OF ASPEN
ASPEN MLT COMICS


MISADVENTURES OF ADAM
WEST #1
BLUEWATER COMICS


BONGO COMICS FREE-FOR-ALL
BONGO ENTERTAINMENT, INC.


ELRIC BALANCE LOST
BOOM! STUDIOS


BALTIMORE CRIMINAL MACABRE
DARK HORSE COMICS

YOUNG JUSTICE BATMAN
BB SUPER SAMPLER
DC COMICS

JOHN STANLEY'S SUMMER FUN
DRAWN & QUARTERLY

WALT DISNEY'S MICKEY MOUSE
FANTAGRAPHICS

OVERSTREET GUIDE TO
COLL COMICS #1
GEMSTONE PUBLISHING


CIVIL WAR ADVENTURE
HISTORY GRAPHICS PRESS


SILVER SCORPION
LIQUID COMICS


CAPTAIN AMERICA AND THOR
MARVEL


THE TICK
NEW ENGLAND COMICS


RATED FREE FOR EVERYONE
ONI PRESS


SPONTANEOUS
ONI PRESS


JAKE THE DREAMING
RADICAL COMICS


2000 AD
REBELLION

ATOMIC ROBO AND FRIENDS
RED 5 COMICS

DEADLIEST SHARKS AND
PREHISTORIC PREDATORS
SILVER DRAGON BOOKS


INTREPID SCAPEGOAT AND
THE STUFF OF LEGEND
TH3RD WORLD STUDIOS

DARKNESS 2 PREQUEL
TOP COW PRODUCTIONS (IMAGE)


TOP SHELF KIDS CLUB
TOP SHELF PRODUCTIONS


INSPECTOR GADGET
VIPER COMICS

MTG PLANESWALKER II PREVIEW
WIZARDS OF THE COAST

JAMES PATTERSON WITH AND WIZARD
YEN PRESS
---
Make sure to get to your local comic book shop on May 6, 2017 and participate in the exciting event that is FCBD!