Frank Beddor Tells Us How The Looking Glass Wars is "the True Story" of Wonderland
Feb 25, 2017
We sat down with writer Frank Beddor to talk about his story The Looking Glass Wars. Beddor explains how the story told in Alice in Wonderland is not true. After being torn away from Wonderland for her own protection, Alyss seeks refuge and ends up telling her story to Charles Dodgson in an effort to reach her Royal Bodyguard Hatter Madigan. However, Dodgson betrays her and writes the story known as Alice in Wonderland! The twists and turns on a classic tale presented in The Looking Glass Wars: CrossFire is an intriguing addition to Free Comic Book Day 2017!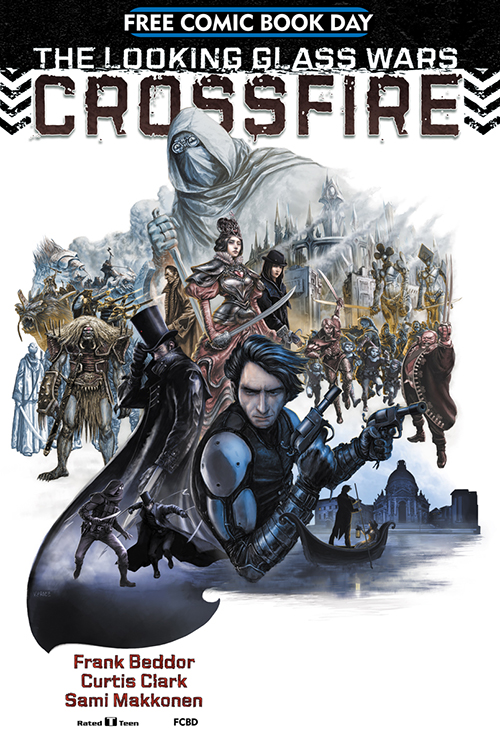 FCBD 2017 LOOKING GLASS WARS CROSSFIRE
(W) Frank Beddor, Curtis Clark
(A) Sami Makkonen
(CA) Vincent Proce

Queen Alyss Heart of Wonderland faces great difficulty as she fends off assaults from rival suit families while struggling to prevent with the tribes of Boarderland. No longer sure whom to trust, she turns to disgraced rogue millinery Ovid Grey to uncover a conspiracy that threatens both Wonderland and our world. [TEEN]
---
Free Comic Book Day: The Looking Glass Wars is one of the freshest takes on the Alice in Wonderland story. For those unfamiliar with the New York Times best-selling series, what's the premise of this Alice in Wonderland universe?
Frank Beddor: This isn't an alternative take on Alice in Wonderland—it's the true story! Everyone knows the story of Alice, who tumbled down a rabbit hole and stumbled through a fairy-tale Wonderland. The true story is far more dark and sinister. Princess Alyss (not Alice!) was born in Wonderland, a war-ravaged Queendom. On Alyss' seventh birthday, the villainous Redd staged a coup. Redd's forces stormed the palace, killing Alyss' parents. In the knick of time, Royal Bodyguard Hatter Madigan pulled Alyss away from certain death and whisked her away from the Heart Palace. With Redd's assassins in hot pursuit, they escaped through the Pool of Tears, a portal to our world. Alyss emerged in London, alone. Hatter was nowhere to be found. During their portal travel, Hatter was ripped away, doomed to embark on a mad odyssey to find Alyss. Alyss was rescued from the streets by the Liddell family, who brought her to Oxford. There, she met eccentric mathematician Charles Dodgson. She entrusted him with telling her harrowing tale to the world. The retelling was traumatic, but she hoped it would allow Hatter to find her and bring her home. However, Dodgson betrayed her! He wrote Alice in Wonderland, a bogus fairytale that turned the ugly reality of Wonderland into a candy-coated piece of fluff. Hatter Madigan found a copy of Alice in Wonderland in Cairo. The book was nonsense, but he recognized it as a bastardized version of Alyss' story. Hatter raced to England just in time to find Redd's top assassin, The Cat, poised to attack Alyss. Hatter fought The Cat off, rescuing Alyss. Reunited, they returned to Wonderland to fight the evil Queen Redd and regain her rightful place as the true warrior Queen of Wonderland. Alyss' war to take back the Queendom spans three novels: The Looking Glass Wars, Seeing Redd, and ArchEnemy.
With the book trilogy concluded in 2009, why is Crossfire something to watch out for amidst this year's Free Comic Book Day books?
FB: Readers of the trilogy often comment that my writing is very visual and cinematic. With CrossFire, I wanted to give readers a written and visual experience that continued the saga while allowing new readers to jump in and be immersed in Wonderland without reading any of the prior novels. CrossFire is both a fulfilling continuation of the series and a stand-alone graphic novel adventure. CrossFire follows the story of a conspiracy to topple Queen Alyss' reign. The adventure spans both Wonderland and our world, lending itself to great visuals from artist Sami Makkonen. The Free Comic Book Day issue follows Ovid Grey, a rogue thief who's half-James Bond, half Doctor Strange. Queen Alyss recruits him for a secret mission to uncover a sinister plot that threatens her rule and all of Wonderland. The trail leads Ovid to Venice, Italy where he infiltrates and fights an evil cult bent on destroying Wonderland…but it might already be too late to stop them! Pick up CrossFire on Free Comic Book Day to see if Ovid will succeed or if the ferocious hordes of Boarderland will end Queen Alyss' reign!
What are some of the challenges in adapting and putting your own spin on a beloved franchise like Alice in Wonderland?
FB: I discovered the true story of Alyss by chance. When in London for the premiere of my movie There's Something About Mary, I stopped by the British Museum, where I discovered an incomplete deck of cards. The cards summoned images of Lewis Carroll's Wonderland, but they were dark and twisted. My search for the rest of the deck led me to a London antiquities dealer. He had a chest full of hundreds of cards revealing the full story of Wonderland. I purchased the chest and brought it back to Los Angeles, where I worked feverishly to decipher their meaning and share the harrowing tale of Queen Alyss with the world.
What got you reading comics? What are some series you're reading today?
FB: I worked with many of Hollywood's top concept artists to turn the cryptic images on the cards into spectacular images of Wonderland. In the process, I was introduced to many great comics and began reading them obsessively. One of the first comics that hooked me was 30 Days of Night. Ben Templesmith's exquisite art on that book led me to work with him on my Eisner-nominated Hatter M. graphic novel series. Right now, the series I'm following are Saga, Southern Bastards, and Thor. With my daughters, I'm reading Drama, Smile, and anything Raina Telgemeier writes.
What books would you recommend to new readers and why?
FB: For new readers, I think Saga is the best series right now. For young readers, I recommend Smile and Star Wars: The Clone Wars. Smile's worldview is geared toward young girls and draws them in with a relatable female protagonist. Clone Wars is a very engaging book that convinced my son to start reading comics.
Why do you think Free Comic Book Day is important to the comic book community?
FB: I'm always proud to participate in Free Comic Book Day. It's a tremendously important opportunity to draw in new readers and build engagement between Comic Shops and the general public. It's a day of outreach where Comic Shops from all over the country open their doors and invite hundreds of thousands of readers—of all ages and reading levels—to discover the world of comics for free. FCBD is the best way I know of to bring in new readers and keep the comic book community thriving. Bringing new readers into the fold and introducing them to the wide array of comics in print today is a win for stores, a win for creators, and a win for the community
Why do you think local comic shops are important to the comic book community?
FB: Local Comic Shops truly are the unsung heroes of the business. They're curators and community leaders. They welcome new readers, introducing them to the amazing world of comics. There's never been a better time to read comics—the titles being published today are more creative and diverse than ever before. Comic Shops are a bridge between creators and readers. They read new titles before everyone else and champion books to their loyal readers. Speaking from personal experience, Mimi Cruz and her team at Night-Flight Comics have helped thousands of readers from across the country to discover my books.
---
Frank Beddor plans to spend Free Comic Book Day at local Comic Book Shops in Los Angeles, spreading the Love of Wonderland!