Writer/Artist Joe Benitez How "Lady Mechanika Is Herself a Mystery"
Feb 07, 2017
Lady Mechanika, following typical Steampunk fashion, is set in Victorian England and follows a woman who is a mystery even to herself. The mystery that is Lady Mechanika is a welcome addition to Free Comic Book Day! We sat down with Lady Mechanika's writer and artist Joe Benitez to find out what makes Lady Mechanika more than "just a pretty face."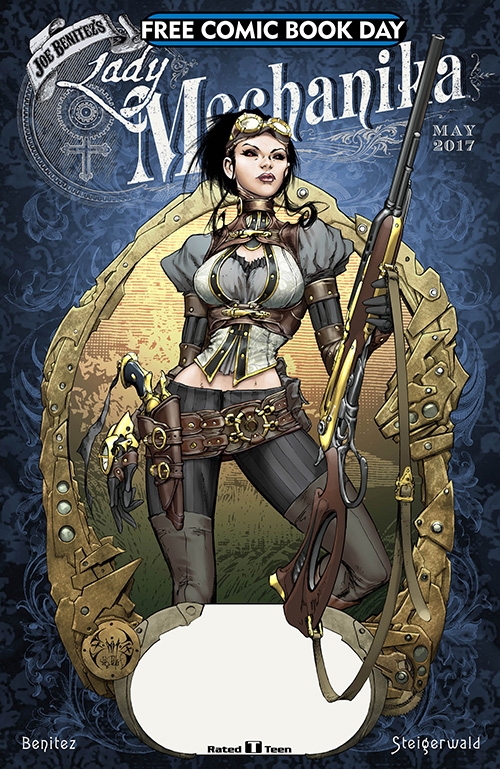 FCBD 2017 LADY MECHANIKA
(A/CA) Joe Benitez, Peter Steigerwald
Introduce new readers to this steampunk bestseller, which has been remarkably successful with female readers as well as fans of the popular steampunk genre, with this FCBD special that includes the original 14-page one-shot introducing Lady Mechanika, a young woman in Victorian England with mechanical limbs and no memory of how she got them, searching desperately for the secrets to her past, plus excerpts from the Lady Mechanika trades and comics! [TEEN]
---
Free Comic Book Day: For those who might be unfamiliar with the character, what can you tell us about Lady Mechanika herself?
Joe Benitez: Lady Mechanika is herself a mystery in an alternate history, steampunk Victorian England. She was found in some kind of secret, mad scientist laboratory with all of her limbs replaced by mechanical components. No one, including Lady Mechanika herself, knows who she is or where she came from, or how or why she has these mechanical parts. It is now several years after she was first found, but she's no closer to finding the answers to her lost past, despite years of obsessive searching. She's made a name for herself as an adventurer and investigator, but she's still hunting for the mystery of her origins, for the person or persons who did this to her. Lady Mechanika isn't even her real name, it's just what everyone calls her, after the city she was found in, Mechanika City, the City of Tomorrow. She's strong, beautiful and sexy, but not overly sexualized. Lady Mechanika, both the character and the book, has substance; she's not just a pretty face. The trauma she's been through has made her tough and strong on the outside, but with a vulnerability and pain on the inside that she doesn't willingly share with others. I hope I am able to convey all these ideas and subtleties through the stories, and it's why - among other reasons - I am working with a female co-writer.
What's so compelling about the steampunk genre?
I find that there's a beauty and romanticism about Victorian Era aesthetics. That vintage feel with all the fashion and architecture, and being able to take that and imagine a science fiction world with technology using that look and feel. It's just a lot of fun playing around with that, modifying the overall look of that era in my own way. Plus, it's interesting to consider the politics and ideas of that time, and how people from that era might view certain things such as science and supernatural (or just unexplained at the time) phenomena.
Why should fans pick your book first on Free Comic Book Day 2017?
Because it's cool!!! LM actually seems to be particularly popular among people who are new to comics. I've heard a lot of testimonials from people saying that LM was the first comic they ever read, often a gift from a friend or spouse, and it seems to get a lot of non-comic fans started into reading and collecting comic books. So give it a try. Every story is designed to be stand-alone, so you don't need to read any of the previous stories. But reading them in order will give you a greater understanding of the characters, and you may pick up hints and clues about what's coming up, or what's happened in the past.
What got you reading comics? What are some series you're reading today?
GI Joe. Actually my first comics were some Archies and Veronicas that a neighbor gave us. I didn't start collecting my own until the 80s. I was a big fan of the GI Joe toys and cartoons. Then I saw there were comics so I picked one of those up and that got me hooked and started reading other titles. Unfortunately I don't have time to really read anything these days. I'd like to, I have a big stack of books I want to read but haven't gotten around to, and I also collect a lot of books for the art. In my stack right now: 100 bullets, Greg Capullo's Batman, Punk Rock Jesus, Tokyo Ghost.
What books would you recommend to new readers and why?
Lady Mechanika, of course, for the reasons above. Hellboy is another good one, I think, for new readers.
Why do you think Free Comic Book Day is important to the comic book community?
It gives an opportunity for people who have never bought a comic to come in and try some, and also gives readers a chance to try titles they maybe haven't heard of before. American comics still seem to suffer from the stigma that they're just silly picture books for kids, when they're so much more. It's a medium for telling and showing stories and has a wide range of genres and styles, just like any other story telling medium such as novels or film or tv. There's a comic for pretty much everyone, whether you like something lighthearted and fun or dark and serious; superheroes, fantasy, sci-fi, comedy. You name it, we've got it.
Why do you think local comic shops are important to the comic book community?
They are the backbone of our industry. Because it's a visual medium, you want to flip through books to see what appeals to you, something that isn't easy to do online. Plus, shop owners tend to be super fans and are very knowledgeable about books and can help you find new books you might never have heard of. There have been several times where a store recommended something based on the books I was getting or that were in my pull list, and it turned out to be something I really liked and continued to collect.
---
Joe Benitez has not finalized his plans for Free Comic Book Day, but you can check out his website or Facebook for updates!