Writer Sarah Kuhn Talks Why She Wanted Barbie To Be "Surrounded By Other Strong Female Characters"
Feb 04, 2017
Barbie, created in 1959 by Ruth Handler, has become an icon across the world in her more than 5 decades of existence. Barbie has served as an inspiration for girls to be whatever they dreamed to be, which makes her and her story a welcome addition to Free Comic Book Day. We sat down with one of Barbie's writers Sarah Kuhn to learn more about Barbie and her Free Comic Book Day story.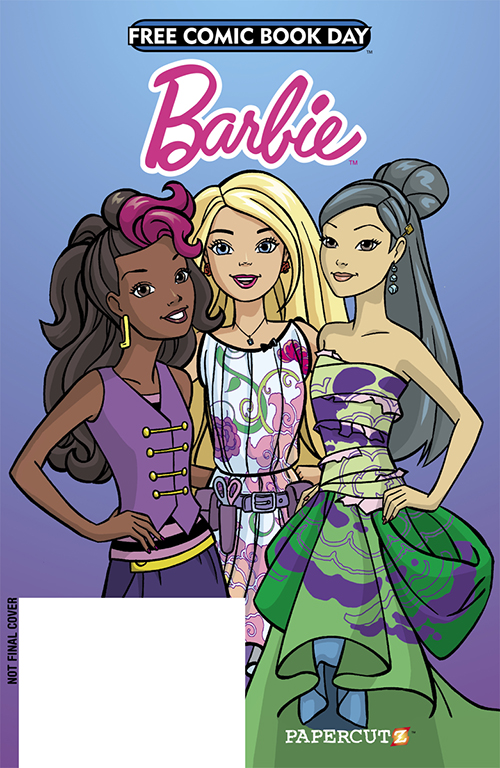 FCBD 2017 BARBIE
JAN170040
PAPERCUTZ
(W) Sarah Kuhn, Tini Howard
(A/CA) Jules Rivera, Alitha Martinez
Barbie makes her triumphant return to comics with two all-new adventures. First, Barbie starts her new career in the fashion industry! But is working as an intern to top designer Whitney Yang what she always dreamed of? Then, Barbie is the space Princess Barbie as she heads on a Star Light Adventure! Soar off with Barbie and her friends as she saves an endangered eco-system on the planet Para-Den! Let Papercutz be your cosmic guides! [ALL AGES]
---
Free Comic Book Day: Barbie is known for being anything she wants to be, whether it be a firefighter, a chef, veterinarian, and so much more. What can you tell us about Veterinarian and Space Princess Barbie?
Sarah Kuhn: In my story, Barbie is actually a fashion designer — she's had a lot of success making clothes for her friends and herself, but she's finally ready to pursue her dreams and make design a career. She's very enthusiastic and determined and can't wait to prove herself. She gets an opportunity to assist a famous designer at a big runway show and she's super excited and ready for anything and devises something called a "fashion tool belt" that contains everything she's going to need for emergencies — but of course nothing goes according to plan. Fashion chaos ensues!
When people think of Barbie, they usually also think of Ken—what characters aside from Barbie herself can we expect to see in this Free Comic Book Day issue?
I really wanted to surround Barbie with other strong female characters who would be awesome friends, allies, and colleagues. I'm a big fan of the superteam concept — like, a group of superheroes that becomes all the more powerful working together. I thought it would be cool if Barbie had her own superteam of sorts. The other main characters in FASHION SUPERSTAR are Liz, Barbie's best friend, who's an ace fashion photographer, and Whitney Yang, a top designer Barbie looks up to. Liz is a very chill, logical, problem-solver type and Whitney's artistic, flamboyant, and mercurial, so they balance each other out. I was especially excited to write Whitney because she's an Asian American woman pursuing a career in the arts — like me! Growing up, I wish I had seen more characters like her in comics.
Knowing that Barbie is such an awesome role model to young girls, what kinds of messages are you trying to send with this issue?
I really wanted to show Barbie using her ingenuity and can-do spirit to overcome obstacles, solve problems, and find her creative voice. Barbie finding her creative voice is a big theme in the book, actually, and she has to work out what exactly it is that makes her uniquely her, what she's trying to say with her designs. That's something I certainly think about a lot as a writer, and I hope showing her doing that — struggling with it, but ultimately triumphing — will be inspiring to kids interested in pursuing careers in the arts. I also wanted to show strong women working together to accomplish their dreams — Barbie, Liz, and Whitney are all powerful figures in different ways and they are all really excellent at their chosen careers.
Why should fans pick your book first on Free Comic Book Day 2017?
These Barbie stories are a lot of fun — she's such an iconic figure and everyone probably has an idea of what she is or isn't and I think it's cool to see how all of us working on these stories envisioned her. I think these stories show new sides to Barbie, tell really entertaining stories, and feature some fresh new characters and situations.
What got you reading comics? What are some series you're reading today?
I was an X-Men and Archie kid — I don't even remember exactly how it started, I just know that little spinner rack at the grocery store became my favorite place on Earth. I loved superheroes with all their over-the-top outfits and (sometimes literally) earth-shattering powers and I was fascinated by Betty and Veronica's best friendship/rivalry (I mostly loved the stories where Archie wasn't even involved and they just went to the mall or whatever). I remember crying when I read the Dark Phoenix Saga — I love that comics tell stories that make you feel that deeply. These days, I'm still obsessed with the X-Men — I'm really looking forward to Sina Grace and Alessandro Vitti taking on Iceman this Spring, I think that book will have a very cool, fresh voice. I love the G. Willow Wilson/Adrian Alphona Ms. Marvel (and am loving the current run with artist Takeshi Miyazawa as well) — that book is delightful, moving, just everything superhero comics should be. I adore Monstress by Marjorie Liu and Sana Takeda — that book consistently blows both my mind and my eyeballs and tells such an epic, sweeping story that still feels personal and intimate because the characters are so specific and wonderful. I could probably name a ton more, but it would take up all the space on your website.
What books would you recommend to new readers and why?
It depends what kind of reader — what their tastes are, what kinds of stories they enjoy. If the reader is anything like me, I definitely recommend the G. Willow Wilson/Adrian Alphona Ms. Marvel, mentioned above. I think that book is a great intro to superhero comics and has a coming-of-age hero story that feels both classic and completely fresh. Goldie Vance by Hope Larson and Brittney Wiliams is tons of charming fun for fans of all ages — it appeals to the side of me that loved Nancy Drew and Trixie Belden girl detective books as a kid. And if I can mention something I was actually part of — the Fresh Romance anthology, which contains a bunch of different love stories, kind of has something for everyone, features a wide variety of awesome creators, and is very easy to jump right into.
Why do you think local comic shops are important to the comic book community?
The best comic book shops build communities around them — they become places to hang out, places to meet new people and creators you admire, places to get great recommendations from people you trust. Comics can feel intimidating — I think new readers worry about being judged by fans who have been reading all their lives or like the ongoing titles have so much continuity attached, they'll be impossible to understand. Having a shop that fosters an inclusive, welcoming community brings more readers in, keeps the comics community as a whole vibrant and diverse, and hopefully helps readers discover books that could be important to them. There were very few Asian characters front and center in comics when I was growing up — if I walked into a shop as a kid today and saw the range of characters out there now, it would blow my mind. Being able to see someone who looks like me as a superhero on a comic book cover, knowing it was possible to be the star of a story, would have given me a lot of confidence and helped my sense of self.
---
On Free Comic Book Day, Sarah will be at House of Secrets in Burbank, one of her favorite shops in the world. She enjoys their enthusiastic and welcoming staff, and knows they will provide great recommendations on comics.