Artist Pasquale Frisenda Takes Us Through Italy's Favorite Comic Book Character Tex
Jan 31, 2017
Tex is one of Italy's oldest comic book characters, created back in 1948. Calling back to many of the western movies beloved by fans worldwide, Tex: Patagonia is a welcome addition to Free Comic Book Day. We sat down with Tex's artist and cover artist Pasquale Frisenda to learn more about Tex's journey and Free Comic Book Day story.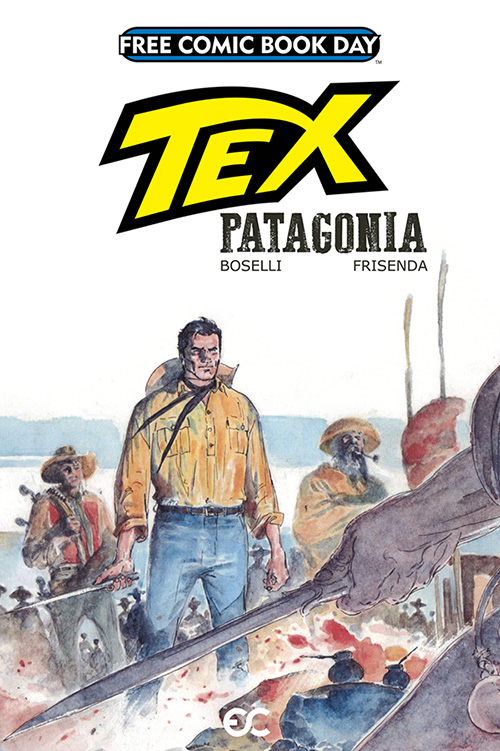 FCBD 2017 TEX: PARAGONIA
JAN170027
EPICENTER COMICS
(W) Mauro Boselli
(A/CA) Pasquale Frisenda
Tex gets a letter from the other end of the world sent by an Argentinian army officer asking him for help in an extremely sensitive mission. Tex chooses to help a friend, but situation quickly escalates forcing him to make a difficult moral decision. Don't miss this international multiple-award winner! [TEEN]
---
Free Comic Book Day: Tell us a bit about the history behind the Tex series and where it comes from.
Pasquale Frisenda: Tex has a long history in Italy, considering that the character was created in 1948. He is the son of the many western movies that were seen, and the books (such as the novels by Jack London, Zane Grey and Alexander Dumas) that were read by Giovanni Luigi Bonelli, the literary creator of Tex. In those years, after the end of World War II, Tex comic books offered a much appreciated, low-cost leisure to readers, both young and old, who were happily lost in reckless adventures of the new hero of the West. Since then, Tex never missed Italian newsstands, selling considerable numbers over the years and becoming a cultural phenomenon, entering the Italian conscience, being analyzed by journalists and sociologists, as well as being subject of many dissertations, and for many people in Italy it has become a name synonymous with comics themselves.
What about Tex makes him such a compelling main character?
The Tex stories have always been characterized by a strong adventurous dimension, issue after issue. Also, G.L. Bonelli created a narrative style that is proper to Tex that became a reference to all the other writers who have been writing Tex stories after him.
Tex is a character with a strong and determined character, always fair and tied to his ideals of justice, above the social conditioning or hierarchy of power, making him virtually incorruptible, and to get to punish those who deserve it he does not look to anyone. The perfect embodiment of the best idea of a hero.
Why should fans pick your book first on Free Comic Book Day 2017?
"Patagonia" is a very special story in the saga of Tex, because although at first glance it seems to be a simple variant of a western, when in reality, the environment in Argentina has offered the possibility of being able to tell a real historical fact, a very dramatic period of that country, with a war going on against the natives that had tragic consequences, not unlike what happened in the U.S. during the conquest of the West.
What got you reading comics? What are some series you're reading today?
I have always been interested in the images, and therefore also in comics, which were also a wonderful tool where you are able to read and get into stories of every genre, set in various historical periods or even science fiction. Comics allowed me to relentlessly feed my imagination. Today I still read a lot of comics, although without following any exact series, but mostly reading works of certain authors I like, such as Vittorio Giardino, Sergio Toppi, Moebius, Hugo Pratt, Attilio Micheluzzi, Jack Kirby, Hermann, Alberto Breccia, and to keep up with what's coming out.
Why do you think Free Comic Book Day is important to the comic book community?
I believe it is a good opportunity to regularly show to the public the presence and vitality of the world of comics.
---
On Free Comic Book Day, Pasquale will be in Italy where he lives. Epicenter Comics, the publisher of this FCBD edition of Tex: Patagonia will be a part of the celebration at one of the comic book stores in San Diego: Comickaze.