FCBD 2002: Star Wars, Bruce Timm's Justice League, Ultimate Spider-Man, and more!
Jan 26, 2017
Everyone loves Free Comic Book Day! Who wouldn't? Awesome comics available free of charge provided by the best publishers in the business and the most incredible comic stores across the world make Free Comic Book Day a holiday like none other. This year, Free Comic Book Day celebrates its sixteenth year introducing millions of people to the wonders of comics!
It all started in 2002, where retailer Joe Field, owner of Flying Colors Comics & Other Cool Stuff, saw the success of other days like Free Cone Day and posed the question to other retailers and publishers: shouldn't we do this too? By having a day where publishers offered up their best and most accessible titles to retailers at a low price, comic stores could give away comics for free to the public and encourage those who loved superhero films and multimedia to pick up the comics! Sixteen years later, Free Comic Book Day has become one of the most beloved events in the entire industry!
That first Free Comic Book Day gave away more than two million comics at over two thousand locations, timed to the release of Sony's first Spider-Man with Tobey Maguire!
Here are the books and publishers that participated in the very first Free Comic Book Day! Which one would you have picked up? Let us know on Facebook and Twitter--if you have any of these comics around, post them to social media with #FCBD2002 so everyone can take a look!
---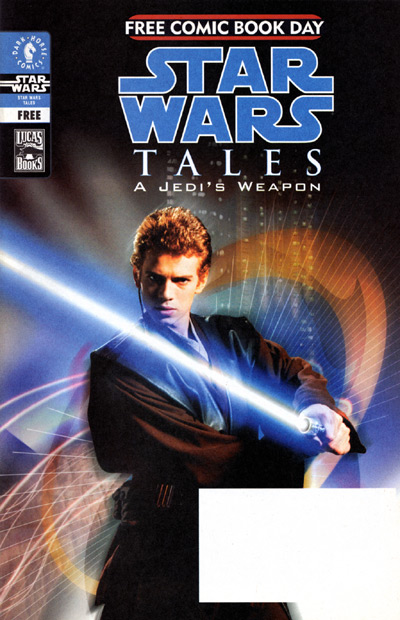 STAR WARS TALES #12 FCBD 2002 EDITION
DARK HORSE COMICS
(W) Brett Matthews, Henry Gilroy, Kevin Rubio, C.B. Cebulski, Christian Read
(A) Tsuned Sanda, Adrian Sibar, Guy Major, Steve Dutro, Manuel Garcia, Jimmy Palmiotti, Rick Zombo, Randy Emberlin, Dan Brown, Makoto Nakatsuka, Dave Nestelle, John McCrea, Giulia Brusco
(CA) John McCrea, Jimmy Palmiotti, and Dan Jackson
The Star Wars universe is painted with a wide and varied palate and this issue highlights that variety! Join Wedge Antilles as he valiantly fights squadrons of Imperial TIE fighters. Be there as Qui-Gon Jinn and his Padawan, Obi-Wan Kenobi, face off against Jedi killer Aurra Sing! Face the evil genius of Darth Vader! Witness a panicked Anakin Skywalker as he struggles to retrieve his stolen lightsaber! And stumble to a halt in the belly of the almighty Sarlacc with the bumbling Tag and Bink...This is one issue of Tales you won't want to miss!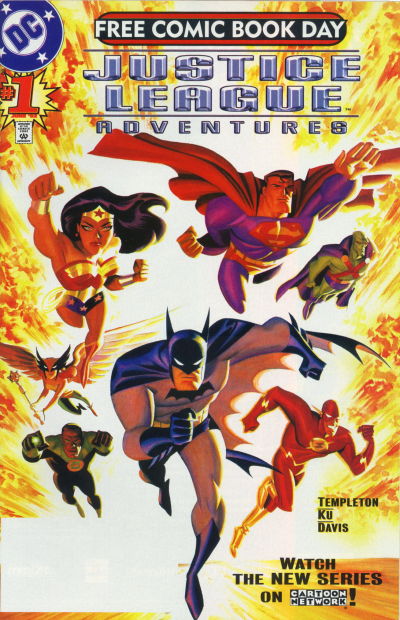 JUSTICE LEAGUE ADVENTURE FCBD 2002 EDITION
DC COMICS
(W) Ty Templeton
(A) Min S. Ku, Dan Davis, John Kalisz, Kurt Hathaway
(CA) Alex Ross, Bruce Timm
Disarmed. When an alien race mistakenly attacks Earth, the Justice League finds itself drawn into an intergalactic war!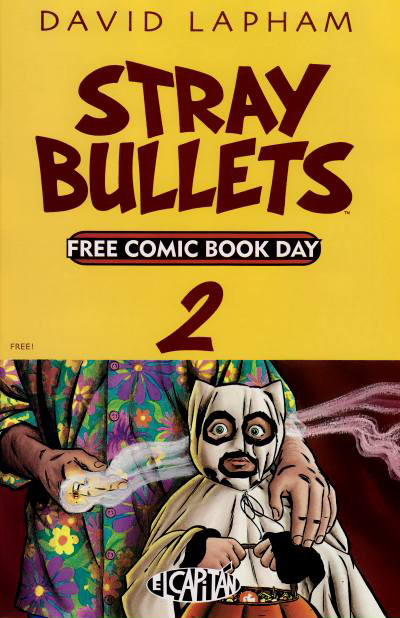 STRAY BULLETS FCBD 2002 EDITION
EPICENTER COMICS
(W/A) David Lapham
A child witnesses a murder in Victimology, reprinted from Stray Bullets #2. Also, There Are No Flowers in the Real World, a Matrix story later reprinted in Matrix Comics Volume 1. Script and art by David Lapham. Includes biographical information on Latham and his involvement with the Matrix comics.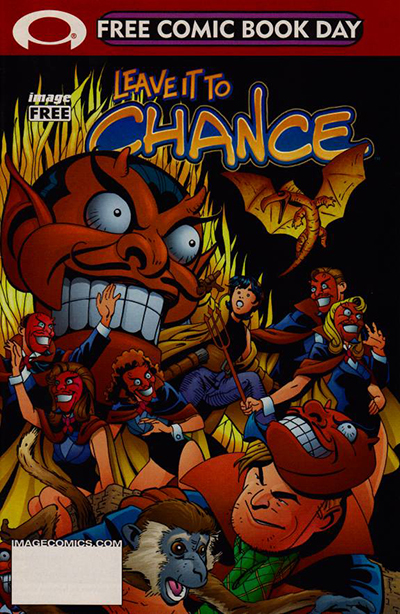 LEAVE IT TO CHANCE FCBD 2002 EDITION
IMAGE COMICS
(W) James Dale Robinson
(A) Paul Martin Smith, Jeromy N. Cox, Amie Grenier
(CA) Paul Martin Smith
At the annual Halloween parade Chance meets a boy whose monkey has been abducted.
TOMB RAIDER #1 FCBD 2002 EDITION
IMAGE COMICS/TOP COW PRODUCTIONS
(W) Eric Basaldua, Michael Lopez
(A) Marlo Alquiza, Eric Basaldua, John Livesay, Jonathan D. Smith, Dennis Heisler, Robin Spehar
(CA) Andy Park, Jonathan Sibal, Jonathan D. Smith
Delving into Lara's origin, the Tomb Raider 1/2 issue is sure to please fans of the statuesque beauty. Questing for a legendary relic, Lara must stay alive long enough to make amends for an error from her past. Eloquently illustrated by the talents of Michael and Eric Basaldura and surrounded with a brand new cover by series artist Andy Park, this special half issue is sure to find its way into your heart.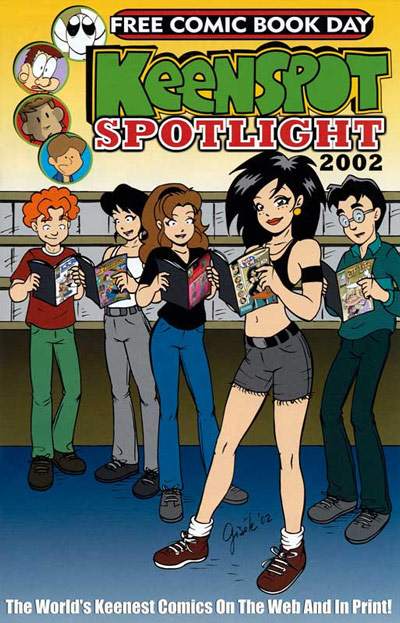 KEENSPOT SPOTLIGHT FCBD 2002 EDITION
KEENSPOT
(W/A) Chris Crosby, Gisèle Lagacé
Keenspot, a top webcomics site, presents a sampler of their most popular titles. There's a little bit of everything in this collection: a half-elf whose ability to graduate from magic school depends on creating a dangerous senior project, newscaster dogs, a magician who tries the old "pull a rabbit out of a hat" trick with surprising results, traditional superheroes with modern problems, a delusional king held hostage and much more. A mix of chapters from longer works and one-shot humor, the Keenspot Spotlight works as a standalone volume, but will leave you wanting more.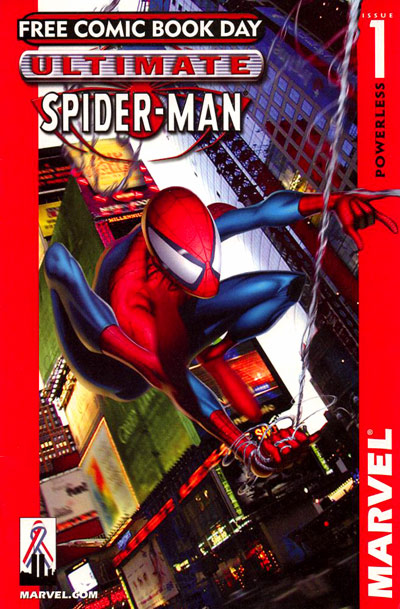 ULTIMATE SPIDER-MAN #1 FCBD 2002 EDITION
MARVEL COMICS
(W) Brian Michael Bendis, Bill Jemas
(A) Mark Bagley, Arthur Edward Thibert, Steve Buccellato, Richard Alan Starkings
(CA) Steve Firchow, Joe Quesada
The supporting cast of Peter Parker's life are set up. He's a chump among chumps. He's tormented by just about everyone in school, with the exception of Harry Osborne, and he has a crush on a girl who won't recognize him. Being Peter Parker sucks... until the field trip the next day. Peter is bitten by a genetically altered spider that escaped at Oscorp and he starts going through changes. His reflexes are heightened, he can sense danger and he quickly figures out that he can stick to walls.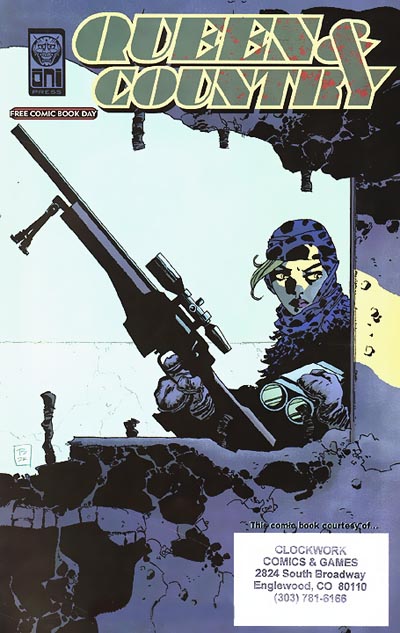 QUEEN & COUNTRY #1 FCBD 2002 EDITION
ONI PRESS
(W) Greg Rucka
(A) Steve Rolston, Sean Konot
(CA) Matt Hollingsworth, Tim Sale
Here it is! A brand-new, ongoing bimonthly series from Greg Rucka, the writer of Detective Comics and Eisner-winning creator of Whiteout. Tara Chace goes by many names. You know her as Lily Sharpe, the cool-as-ice British spy from the pages of Whiteout, but the guys on the other end of her rifle don't know her at all until it's too late. Tara is in Kosovo to take out several key political figures. She has no backup and no aid, and once the assassination is complete, she's on her own to get out of the hotbed she's in the dead center of. Queen & Country is the new espionage comic from Greg Rucka, illustrated by Steve Rolston with covers by Tim Sale.
---
Make sure to get to your local comic book shop on May 6, 2017 and participate in the exciting event that is FCBD!